Sounds good? Well it looks good too.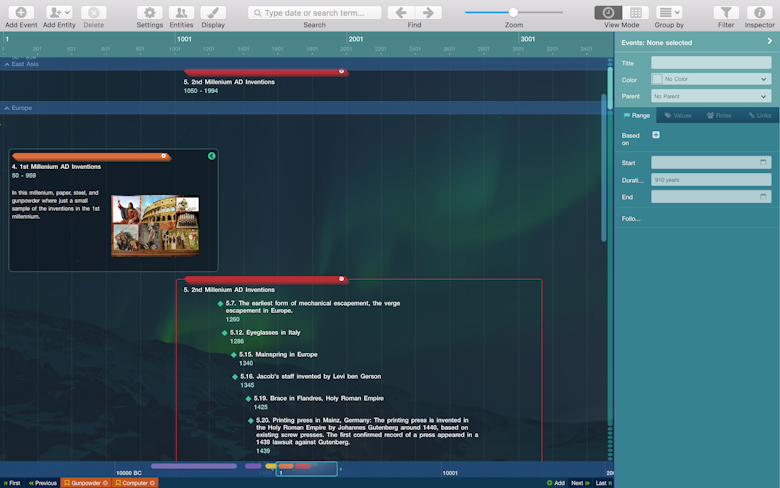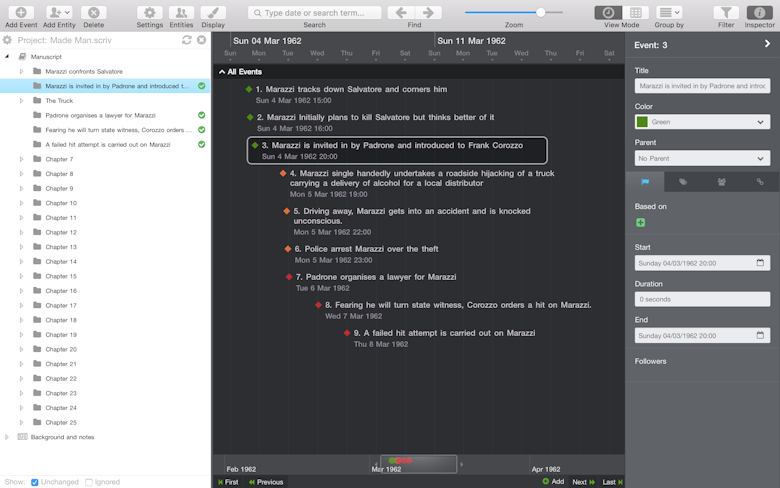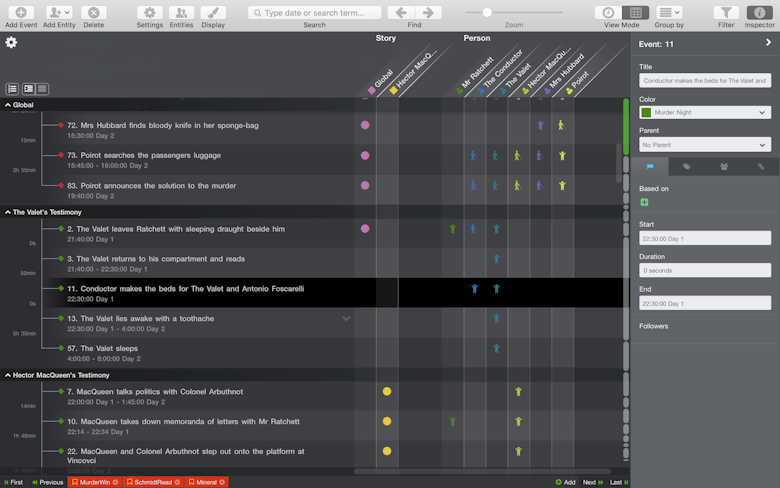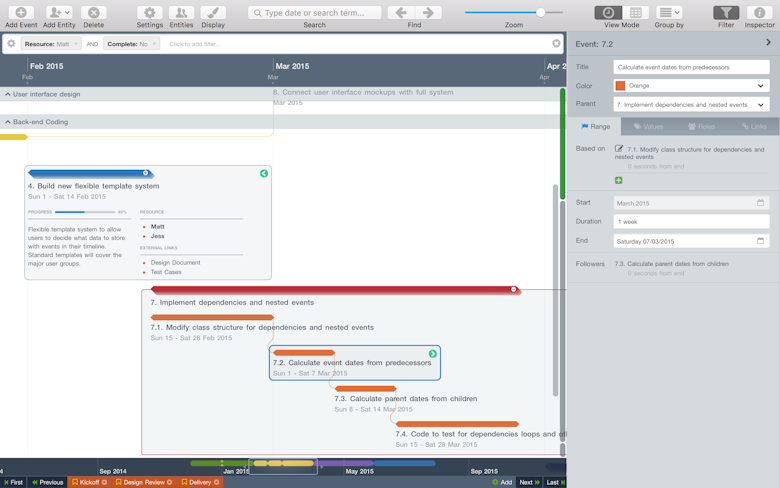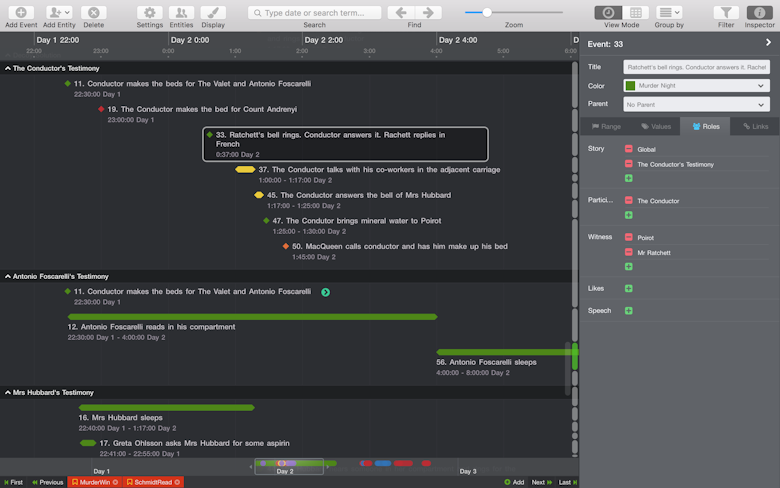 Aeon Timeline features
Advanced story structuring for writers
Aeon Timeline is an effective tool to plan a story structure piece by piece. Use a time chart to track events, locations, and characters, and link them all together so you can see a bigger picture of the project. Aeon Timeline lets you map out your character's back story as well as your current novel, and add additional notes, keywords, linked documents and images to help you stay on top of your entire project. And finally, Aeon Timeline syncs with favorite writing tools, Scrivener and Ulysses.
Gantt-chart alternative for planning projects
Developed with project managers in mind, Aeon Timeline is more flexible than any traditional timeline software for Mac. You can plan several projects, divide work into smaller subtasks, link tasks with dependencies, and assign the employees and resources needed to make the project happen. And since life is unpredictable, Aeon Timeline makes it easy to move events around to keep your timeline up to date as your schedule changes.
Tools for legal practitioners
This storyboard app is a useful visualization device for legal cases. Use a timeline to build case architecture, map key witness statements, and link events with their supporting evidence to help build a logical structure to your legal argument. When all documents for the case are placed in chronological order, presenting them in a courtroom is much easier.
Editable templates
Aeon Timeline is visual timeline software for just about any project. There are many ready-made templates and the ability to create your own. This makes your projects not only visually appealing, but also customized to the tiniest details. For example, you can set your script in fictional time using an imaginary calendar of your own.
Flexible export/import
Export data to an interactive online presentation, image, or PDF document. Import CSV files to create timelines from an existing data source. Need to attach pictures, notes or supporting links? With Aeon Timeline you can grow a project as big as you like.
Visualization for better thinking
Visualizing events on a timeline chart can boost your analytical skills. Zooming in and out of the timeline lets you view fine details without ever losing track of the broader context. And if your timeline data grows too large, you can apply filters to gain new insights and focus on important details.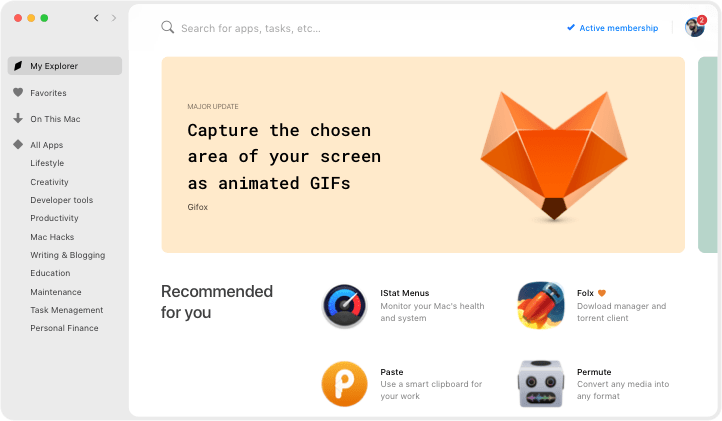 We love Setapp
---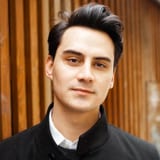 Very impressed with World Clock Pro @setapp @minimuminc. Making light work of time differences 🤘yew. How MacOS still doesn't have some kind of digital clock widget is mind boggling.
jessengatai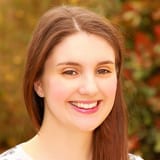 I have used Endurance (http://enduranceapp.com ) which is on @setapp to try and extend my battery life, 12 hour flight from Vienna to LAX and I spent about 8 hours working on an essay - not bad going!
Rosemary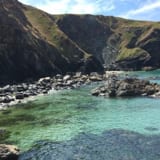 Wow just downloaded Setapp for my Mac - the value here is amazing. Some of the apps cost more than the monthly subscription alone and there are some amazing apps like Ulysses, RapidWeaver etc. @setapp
Mark Mitchell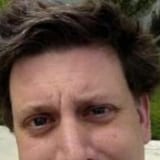 Discovered @PDFpen via @Setapp. Worth it just for the stellar OCR job it does on poorly-scanned assigned readings. Now to start playing with all those PDF editing features...
Nate Dickson