Manuscripts: an app to excel at academic writing
Manuscripts app is a full word processor that do pretty much anything you could imagine with text. It helps you face down the daunting task of academic writing with a suite of features that go beyond a standard word processor.
Purpose-built to handle sections and subsections, bibliography citations, equations, and tables, the app helps keep track of supporting evidence and requirements while giving you a distraction-free writing environment. Plus, its simple layout and easy export features mean that your work will look great both on-screen and spiral-bound. Let's look how to get the most out of it.
Starting points
The Manuscripts gives you three options for new documents to speed up your writing. You can import an existing document or start from scratch, but it also offers an extensive selection of suitable templates. In addition to a set of dissertation formats by subject, choose from templates formatted to the unique specifications of many peer-reviewed journals to make submission quick and easy.
How to write better and faster using templates:
Select the relevant section
Click the document type you need (use the search bar if necessary), and click Choose
Enter any supplemental information or requirements in the window that pops up, then click Create Manuscript.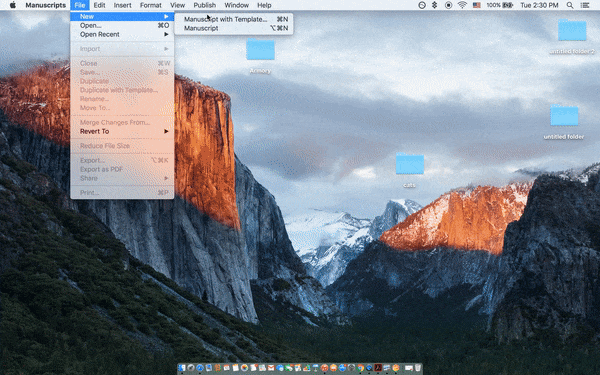 Navigation
The app window gives you a simple roadmap to your work. The left-hand pane organizes your document by section; click the section heading to see that section. To activate Focus Mode that will hide everything but the section you're working on, hover over the section and click the square icon that appears at right.
The right-hand panel lets you manage style and formatting requirements. In the Paint Brush tab, you can enter word requirements and manage page numbering; in the Stamp tab you can adjust citations, style, and layout.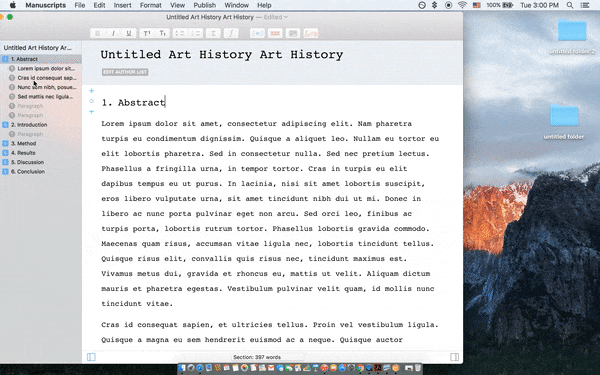 The bells and whistles: more visual options to create, edit, and format your content
No piece of research is complete without careful citations, and most need to be illustrated with images, equations, or tables. The buttons at the top of the screen let you insert each with ease.
The Citations button lets you sync with your reference library or third-party reference manager, allowing you to place citations easily and create bibliographies effortlessly. Images and tables can be added and captioned with a click, and equations can be inserted right into the text. What's more, once added, all your images, citations, and tables can be seen in the left-hand panel, allowing you to revisit them with ease.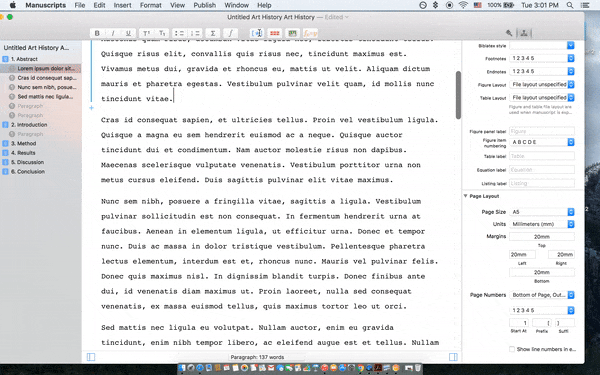 Sharing your work
When you're ready to submit your final draft, Manuscripts ensures that your formatting will stay the same regardless of the submission format. Under the Publish tab, you'll find options for sending or publishing your work as a PDF, Word document, or Markdown document for web publication.
Any way you choose to distribute it, you'll have peace of mind that it will look consistent.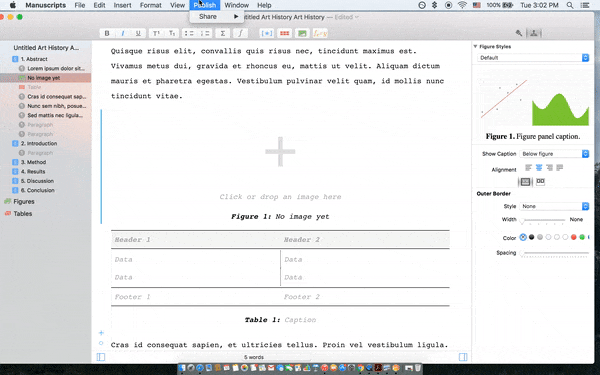 Academic writing is challenging enough without trying to master the formatting and citation quirks of a mass-market word processor. With Manuscripts in Setapp, you can focus on what matters: making your case and sharing your research with the world.
---
These might also interest you:
---