Meet Wokabulary, the powerful flash card vocabulary learning app for Mac
Wokabulary is a highly customizable tool for language learners. It's not a language course— instead, you populate its flashcards with the words you want to practice.
When you're ready to test your knowledge, you can take its built-in quizzes, which automatically update your familiarity with each word based on your performance. These quizzes help the app learn as you practice, recommending the words you need to focus on and giving you an accurate picture of your growth. Plus, you can rank your familiarity with each word manually, group flashcards by tags, and sync them across devices.
Whether you're refreshing your Turkish or taking your first stab at French, Wokabulary can help raise your game. Here's how to get the most out of it:
Create vocabulary flashcards
Once you've chosen your preferred language pair, you can start building your library of flashcards. These can be entered manually, or you can import wordlists as comma-separated values all at once.
When creating a new word pair, make sure that you record your initial familiarity with it, as well as tags to help group your flashcards into relevant categories.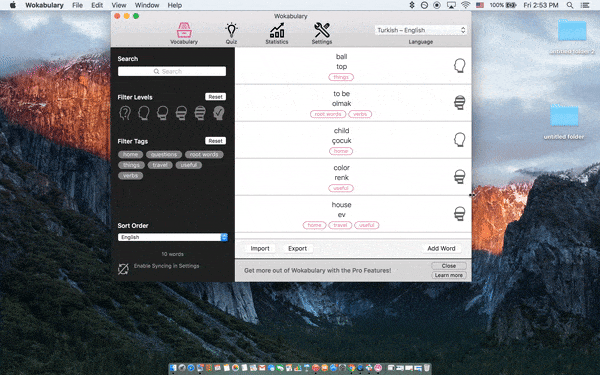 Make your own vocabulary quizzes
Once you're satisfied with your flashcard library, it's time to start quizzing yourself. The "Quiz" tab offers both verbal and typed quizzes.
Before you start, you can filter the flashcards that the quiz will use by familiarity and by tag. With each correct quiz answer, the app will automatically raise your familiarity with that word by one level. Once you've correctly translated a word, it won't appear on a quiz again that day.
At the end, your results will be presented as a graph, showing where you were successful and where you need more practice, and you'll have the opportunity to repeat questions you missed.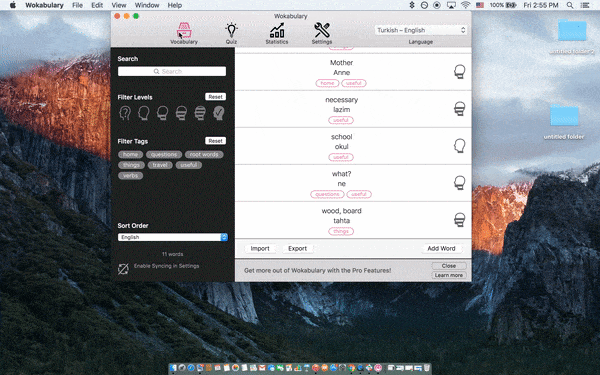 View your statistics
As you continue to take quizzes, the app will track your progress. In the "Statistics" tab, you can see how many words you've successfully learned over time. These graphs of your successes and snags can help you see where you stumble and motivate you to tackle stubborn words. They can also help you set a pace for learning new words that works for you.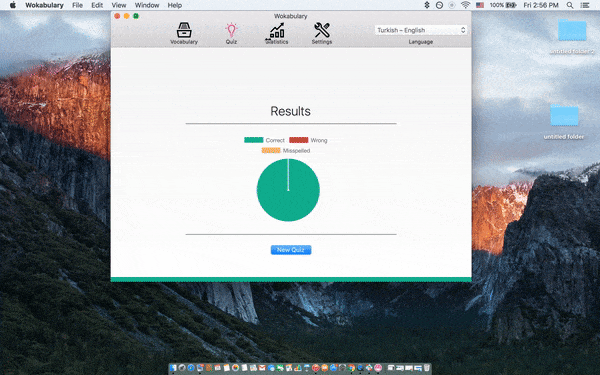 Sync your vocabularies with iCloud, and other settings
In the "Settings" tab, you can sync your flashcards with any other device where Wokabulary is installed using iCloud. You can also set the question language for your quizzes, which helps ensure that you can translate both into and out of the language you're learning.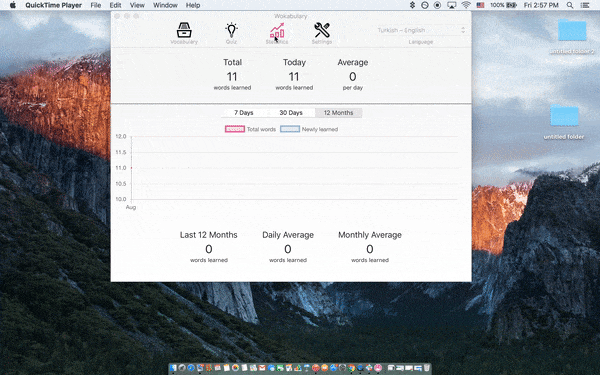 As you build your flashcard collection, make sure to take advantage of the app's tagging system. Once you have a vocabulary of hundreds or even thousands of words, you'll be glad you can sort through them easily.