How to convert HEIC to PDF on Mac
One of the most frustrating things that happens millions of times every day when we use computers is the inability to open a file because it's not supported by any app we currently have installed.
For users of iPhones and Macs, the most likely culprit is HEIC. HEIC (high-efficiency image container) is Apple-specific image format, which is a variation of HEIF (high-efficiency image file format) that uses the HEVC (high-efficiency video coding) compression technology.
Apple adopted HEIC as its default image format in 2017 (starting iOS 11) and plans to use it to replace JPEG in the future. There are quite a few benefits HEIC has over JPEG, the most important of which is the ability to contain animations. HEICs also take up half the space JPEGs do with equivalent quality.
The problem is that JPEG is the most supported image format in the world, while HEIC is still relatively unknown. This means that when you send a photo from your iPhone to your Mac, it might be difficult to view it, share it, and manipulate it with default apps.
One specific issue iPhone users might be having is sharing HEIC photos and documents with others. A universal workaround here is to convert HEIC file to PDF, so let's see how you can do that quickly.
Why convert HEIC to PDF?
A frequent problem iPhone users face when trying to share photos with others is sending them as HEICs. This happens when you try to attach a photo from your iPhone library to an email (even if you're using Outlook or Gmail), for example. Instead of being attached as a JPEG file, you'll find that the photo is embedded in the email body itself as HEIC. As a result, some recipients might not be able to open the photo correctly. Creating a PDF out of HEIC would solve this issue.
There are at least two other ways to avoid the HEIC problem. You can use AirDrop to send files between your iPhone and Mac, which seems to automatically convert your photos to JPEGs. However, this method won't work for PCs.
Another interesting strategy is to keep photo originals. To do so on your iPhone:
Open Settings ➙ Photos
Scroll down to "Transfer to Mac or PC"
Tap Keep Originals
Now when you attach photos to emails, they should save as JPEGs. Since there's no guarantee that Apple wouldn't change this setting in the future (Apple is trying to move on from JPEGs after all), it's still a good idea to learn how to convert HEIC to PDF in a few different ways.
How to quickly convert HEIC to PDF on Mac
If you come across a HEIC image, the fastest way to transform it into a PDF is by using a good third-party media converter, such as Permute.
Permute is the only media converter you'll ever need for your Mac. With its large library of formats, it can transform any image, audio, and video into any other compatible format, including HEIC to PDF. The best part is that you only have to click a single button to do it. Permute also has a few extra features that can simplify your workflow, such as merging videos together or adding subtitles.
To convert HEIC to PDF with Permute:
Launch the app
Drag and drop your HEIC image onto Permute
In the dropdown, select PDF
Click the play icon to convert the file and save it in the original folder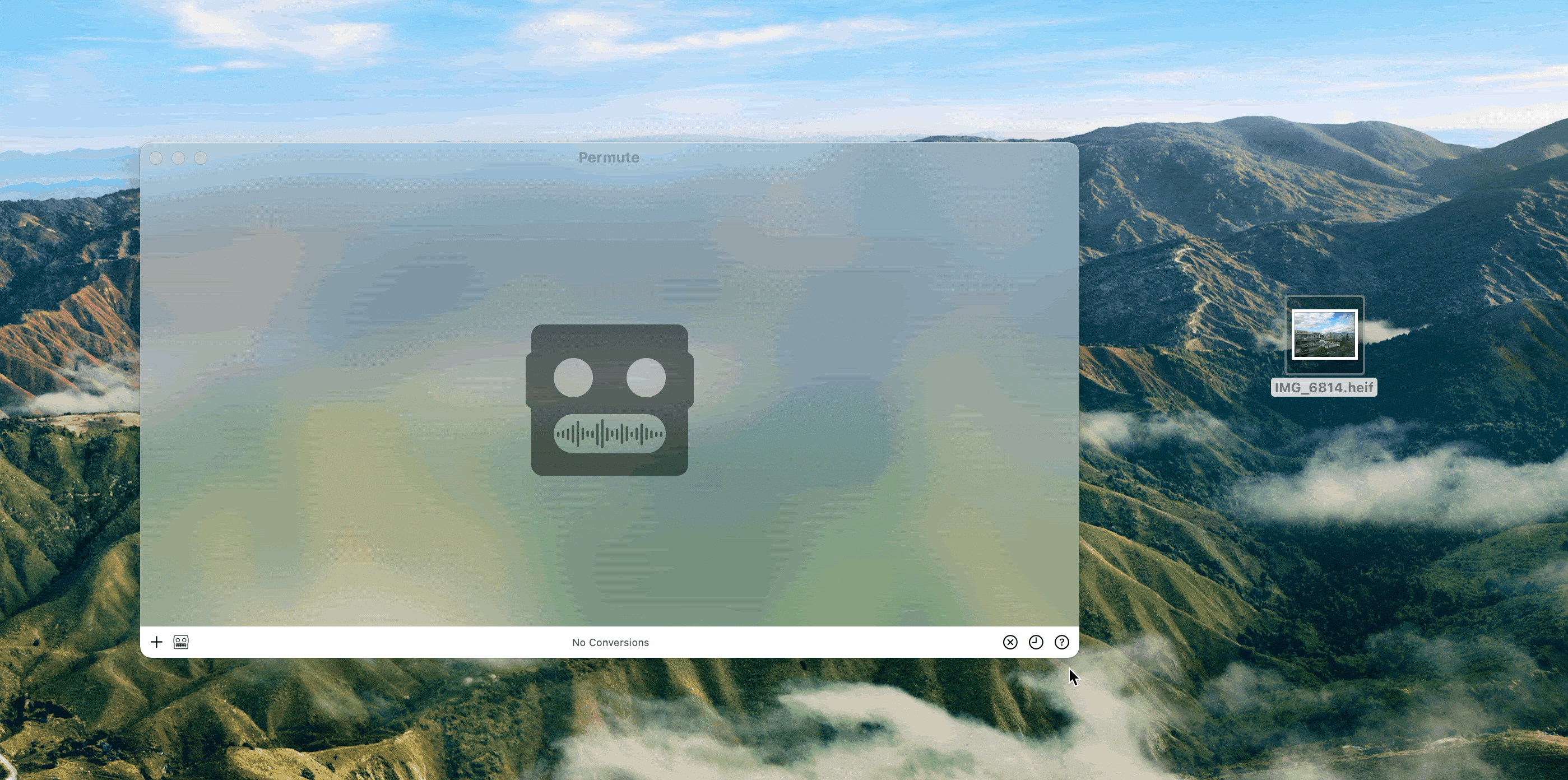 How to transform HEIC file to PDF with default Mac tools
Even if you don't have any third-party apps, when you get a HEIC image on your Mac, you can still check it out with Quick Look (press Space), Preview, or the Photos app.
Preview, in particular, can also be used to convert images into various formats, including PDFs. To convert HEIC to PDF using Preview:
Double-click your HEIC file to open in Preview
In the menu bar, go to File ➙ Export…
Select PDF in the dropdown, your preferred destination, and any other applicable options
Click Save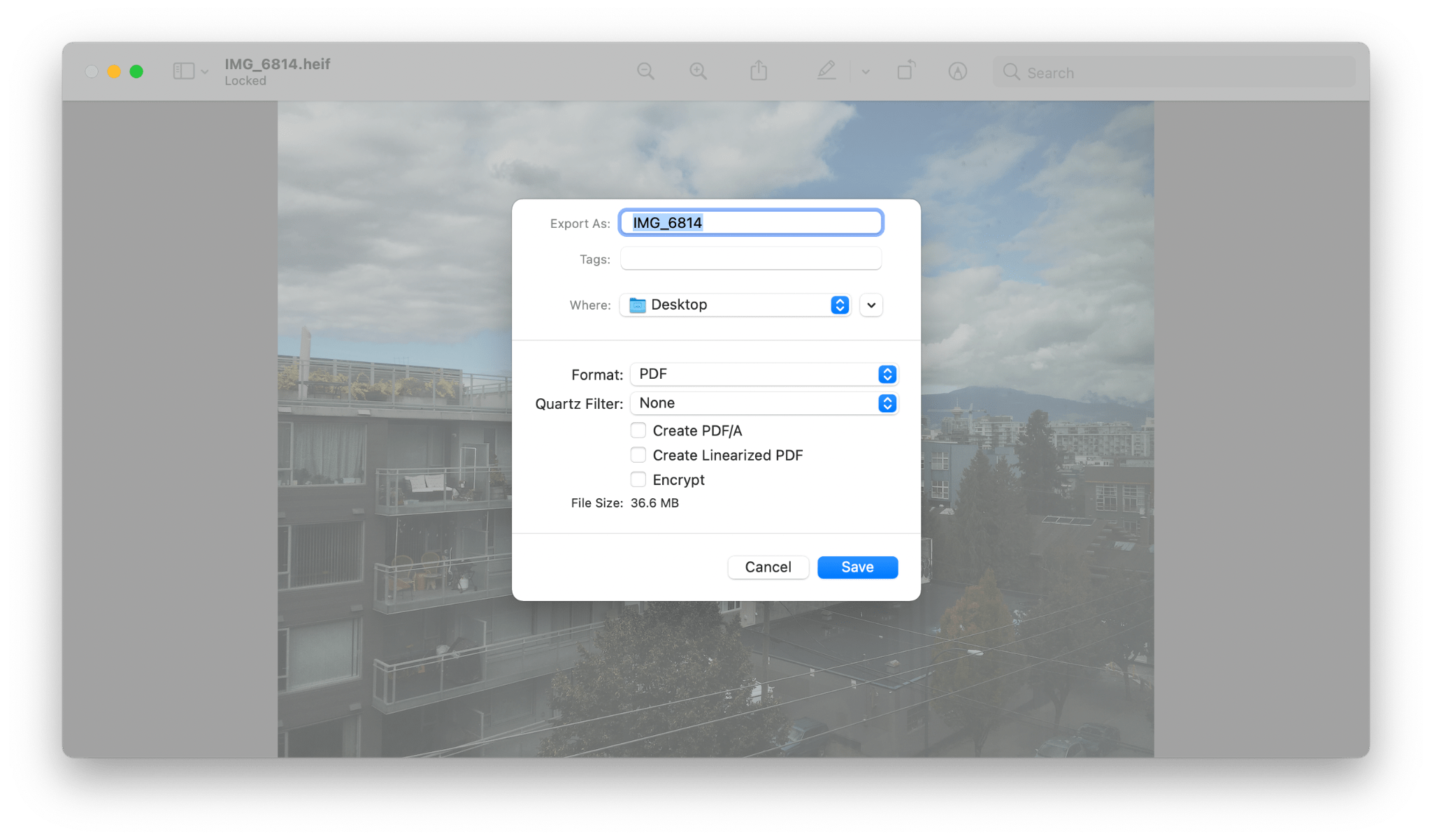 Another issue that you might want to make more straightforward is to get your photos from and to your Mac faster (than emailing, for example). You can do so with AnyTrans for iOS.
AnyTrans for iOS is a more advanced and flexible alternative than using a slew of Apple's native transfer features (iTunes? Finder? TV?). You can manage everything you need, from media downloads to transfers to backups in just one single app. The interface is very intuitive as well — just connect your device and follow a few easy instructions.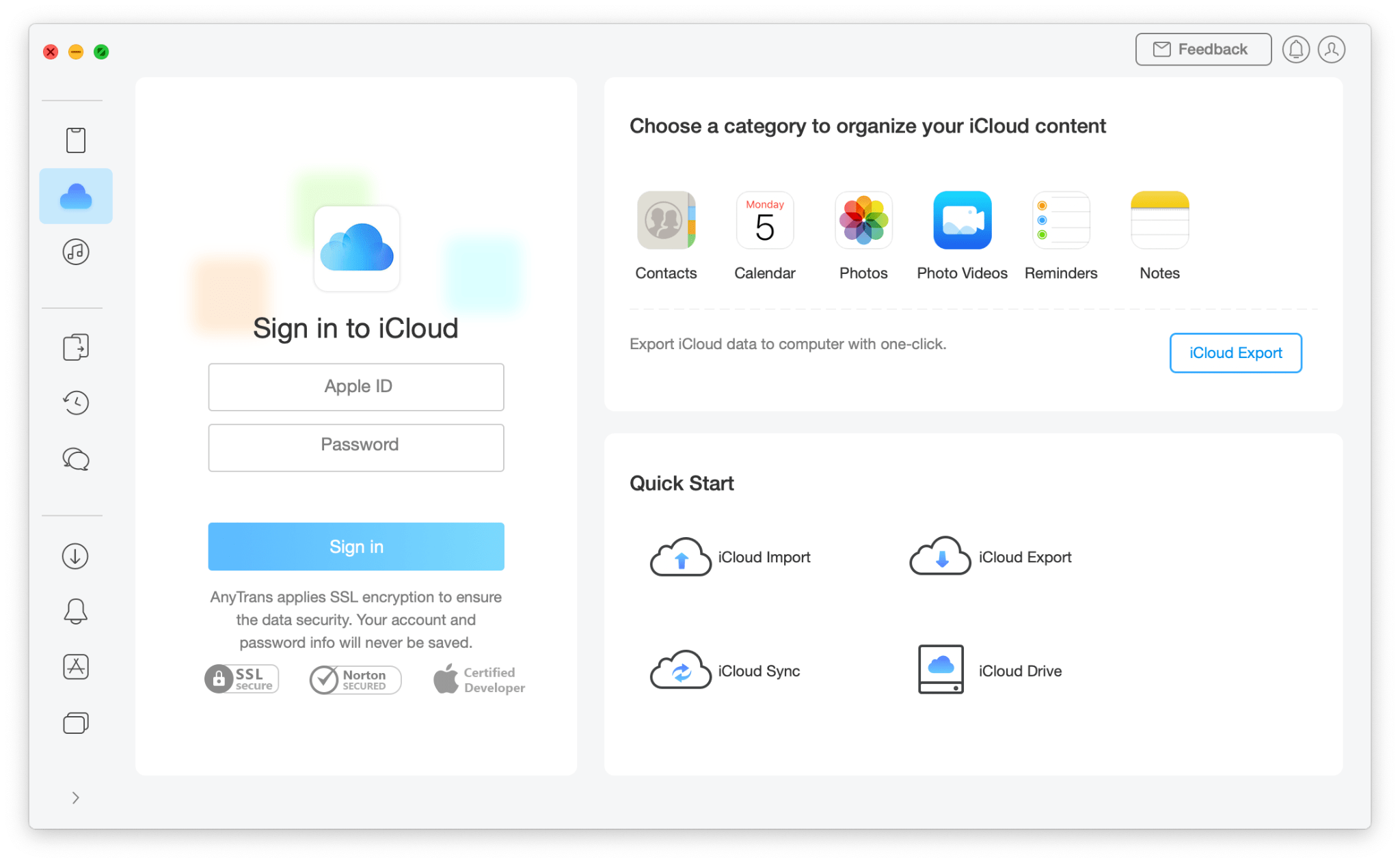 How to convert HEIC to PDF using a PDF editor
When you convert HEIC to PDF using Permute or Preview, you get the job done, without doubt, but your control over the resulting PDF remains limited. If you need your PDF files to be a certain way (e.g. small in size or password-protected), it makes sense to convert them using a professional PDF editor such as PDFpen.
PDFpen is one of the best PDF editors on Mac available today. At the same time, it remains very intuitive and easy to use, so there's no training required for you to quickly sign PDF documents, move pages around, merge files, remove sensitive information, and convert formats. You can even take advantage of the cutting-edge OCR (optical character recognition) technology to turn scanned documents into editable text, thus making your daily workflow even faster.
To convert HEIC to PDF with PDFpen:
Open your HEIC file in PDFpenGo to File ➙ Create Optimized PDF…
Pick the most optimal settings for you
Click Create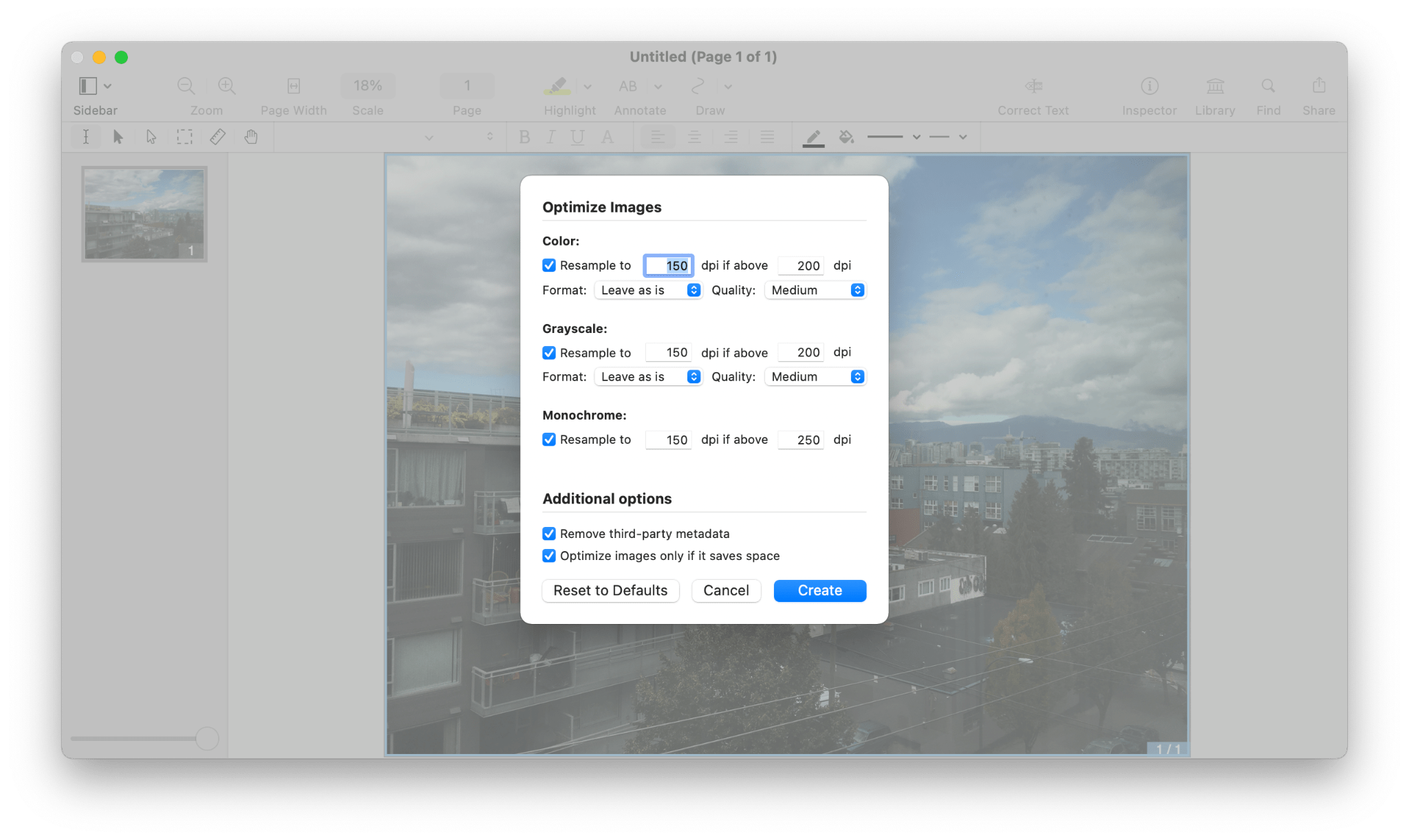 How to convert HEIC file to PDF online
The possibilities of the web and web apps have expanded dramatically in recent years, introducing lots of features that were only available on desktop before. Converting files is one of them.
So when you need to simply convert HEIC to PDF, with no fancy settings, you can do so with an online converter like Convertio:
Visit convertio.co
Drag and drop your HEIC file
Select PDF from the dropdown menu
Click Convert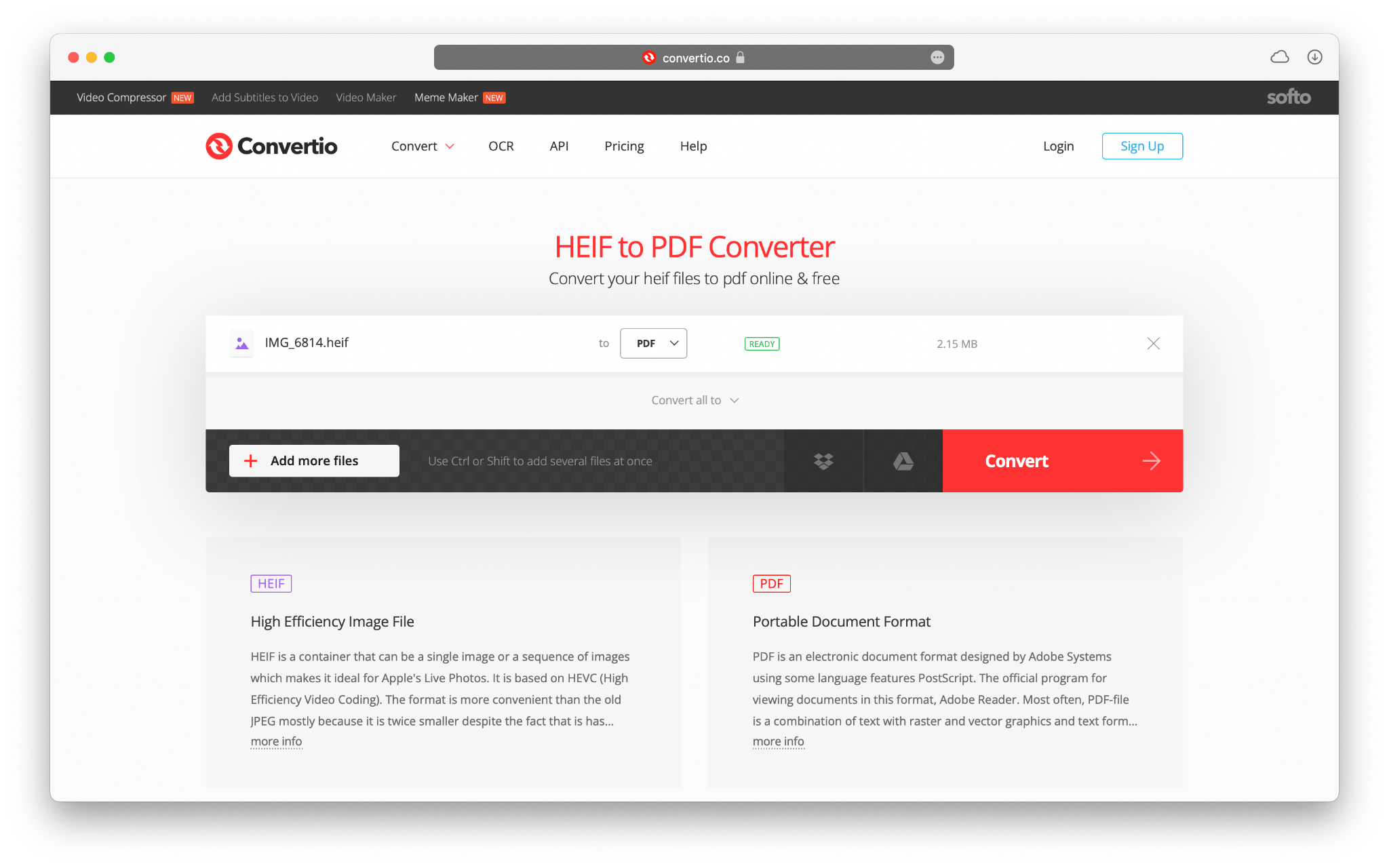 Converting online certainly has the benefit of being fast and free, without requiring you to download any Mac apps. On the other hand, the options for conversion are quite limited and you'd have no idea what's being done to your data (thus we highly advise against online converters for any sensitive information).
As you can see, even when you need to convert such an obscure file format as HEIC to PDF, there are more than a few options available. You can do so online or you can use Preview for basic conversions. If you need more options, apps like Permute and PDFpen are indispensable. And don't forget AnyTrans for iOS to make quick Mac to iPhone transfers.
Best of all, Permute, AnyTrans for iOS, and PDFpen are available to you absolutely free for seven days through the trial of Setapp, a platform with more than 220 top-of-the-line Mac and iPhone apps ready to take on any job, from creating GIFs (Gifox) to downloading media content from the internet (Pulltube).