Black Friday and Cyber Monday 2019: The best deals
Every fall ends with big deals. In anticipation of Black Friday and Cyber Monday offers, millions of people around the world start working on their shopping lists in advance. Let us help you with that. At least we can save you some time for hot chocolate sipping.
What is Black Friday & Cyber Monday?
Black Friday is the biggest shopping day of the year, which is usually happening on the last Friday of November. Cyber Monday is the same — but for online shopping. On these days, Apple, Amazon, Best Buy, and other big brands provide discounts on all varieties of products, from clothing items to electronics.
This year, Black Friday is on November 29 and Cyber Monday on December 2, which means you have one extra week to prepare. And we recommend not to wait for the best bargains. Some of them might already be out there.
The top pre-sale deals
Although Black Friday and Cyber Monday sales ads will be released in the end of November, many big retailers have already started heating things up.
Amazon Cyber Monday deals 2019
On blackfriday.com, you can find the first pre-sale Amazon Cyber Monday deals:
Amazon Coupons (up to 50% off) — different items across categories like electronics, books, toys, etc.

($299) $275 Nintendo Switch — the latest version of a popular gaming system.

($199) $189 Apple Watch Series 3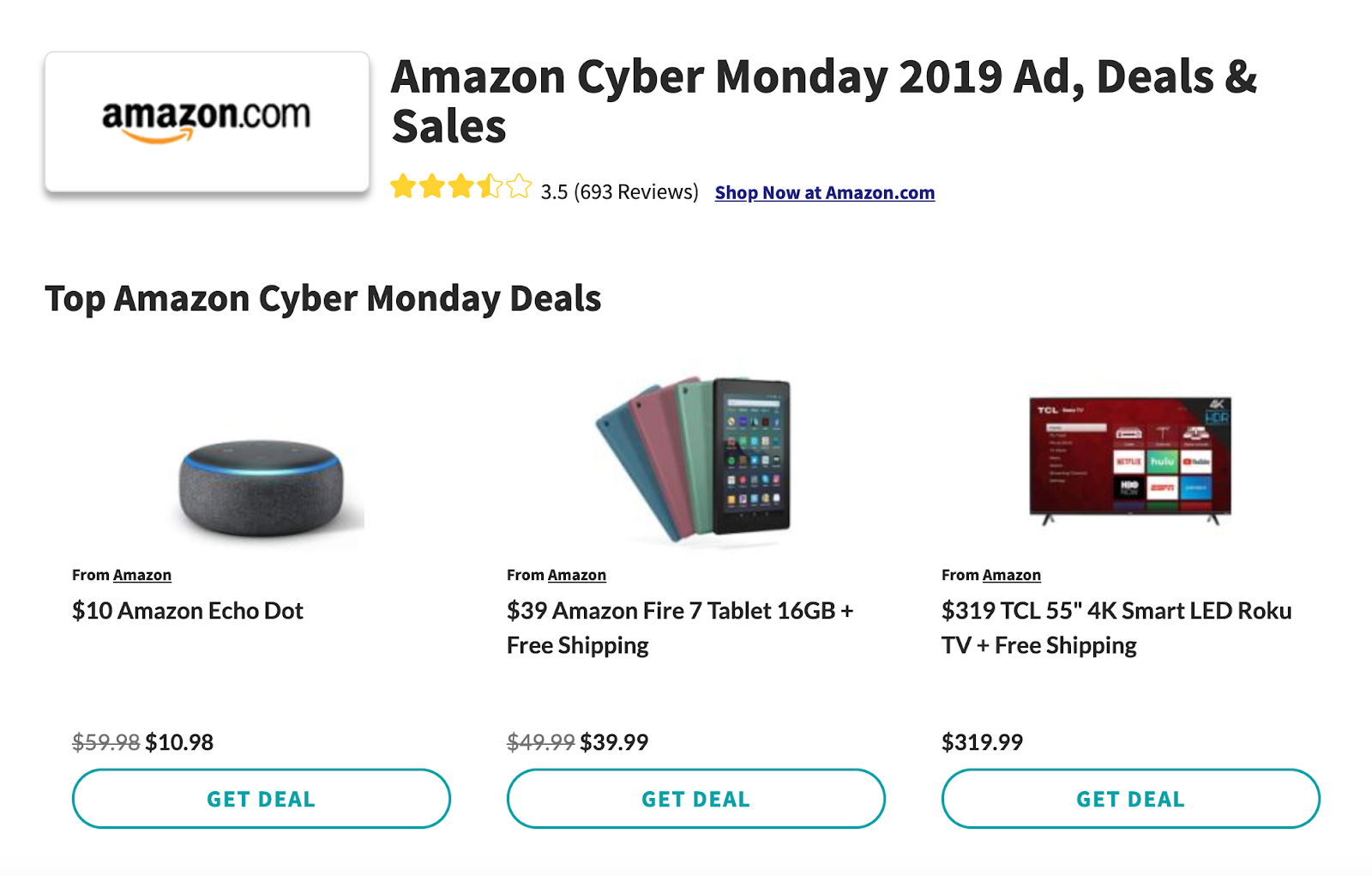 But these are a drop in the ocean compared to the top deals of 2018. So we recommend you stay on the watch, actively. You should definitely expect discounts on Amazon's new Echo Buds, Flex, Dot, etc. The best way to follow Amazon deals would be to sign up for Amazon's deal letters, or — in case the product has not been released yet — provide your email to be notified once it's out. The third-party sites like CamelCamelCamel will help you track price drops across Amazon products.
Apple deals from Best Buy
This shopping season, Best Buy promised the best Cyber Monday TV deals. On October 21, they also started releasing weekly Apple deals, with discounts on Apple Watch, MacBook Pro, and iPad Pro. The deals are definitely worth your attention — you can get $200 off a brand-new Mac. The only condition is you have to sign up the My Best Buy rewards program to be eligible for the discounts.
Will Walmart be the king of Cyber Monday phone deals?
There's no better way to make Walmart sales predictions than by looking into the past year. Black Friday shopping in Walmart is pretty consistent in terms of discount offerings. Usually, they provide $200-$300 gift cards to everyone purchasing the recent model of iPhone or Samsung smartphones. So you might expect a lucrative Walmart shopping discount if you intend to buy iPhone 11 or Samsung 10. But don't rush into it — Best Buy, Amazon, and Apple itself will definitely offer phone deals, too.
The 2019 Cyber Monday and Black Friday deal predictions
As a rule of thumb, recently released electronic devices come with smaller discounts than the versions released before them. In Apple language, the best Cyber Monday deals will be on iPhone 8 — not on iPhone 11 Pro. But you can definitely hunt down decent discounts on newer editions as well.
In the infographic below, you'll find the top Cyber Monday laptop deals, phone discounts, and eGift Cards that were trending in the last season. Plus, we have a few predictions (and actual deals) for Cyber Monday and Black Friday sales 2019. Amazon is going to be a hotspot for electronics deals, plus Setapp is preparing a 20% discount on the annual app subscription plan. So make sure you stay in the know.