Enhanced contact management on Mac
Who is who, that is not the question. If you have a solid contact management tool on your Mac, there's no messing around with connections. Apple's built-in Contacts does a good job. Yet, it takes navigating across Mail, Messages, and social media to keep all your contacts updated and synced. So why not use a tool that does it all.
BusyContacts, for making you less busy
The mate of BusyCal, BusyContacts gives you the same flexibility and ease of use as its counterpart. It's a contact manager for Mac — at its best. The app integrates with the majority of cloud services and collects information about your contacts from all sources available. And of course, it's nice to look at.
Tweak the interface for your convenience
BusyContacts comes with two types of views you can switch between. If you want to keep your contacts in one column and expand the cards at a click, choose Card View. Alternatively, you can enable List View to see your contacts displayed across multiple customizable columns.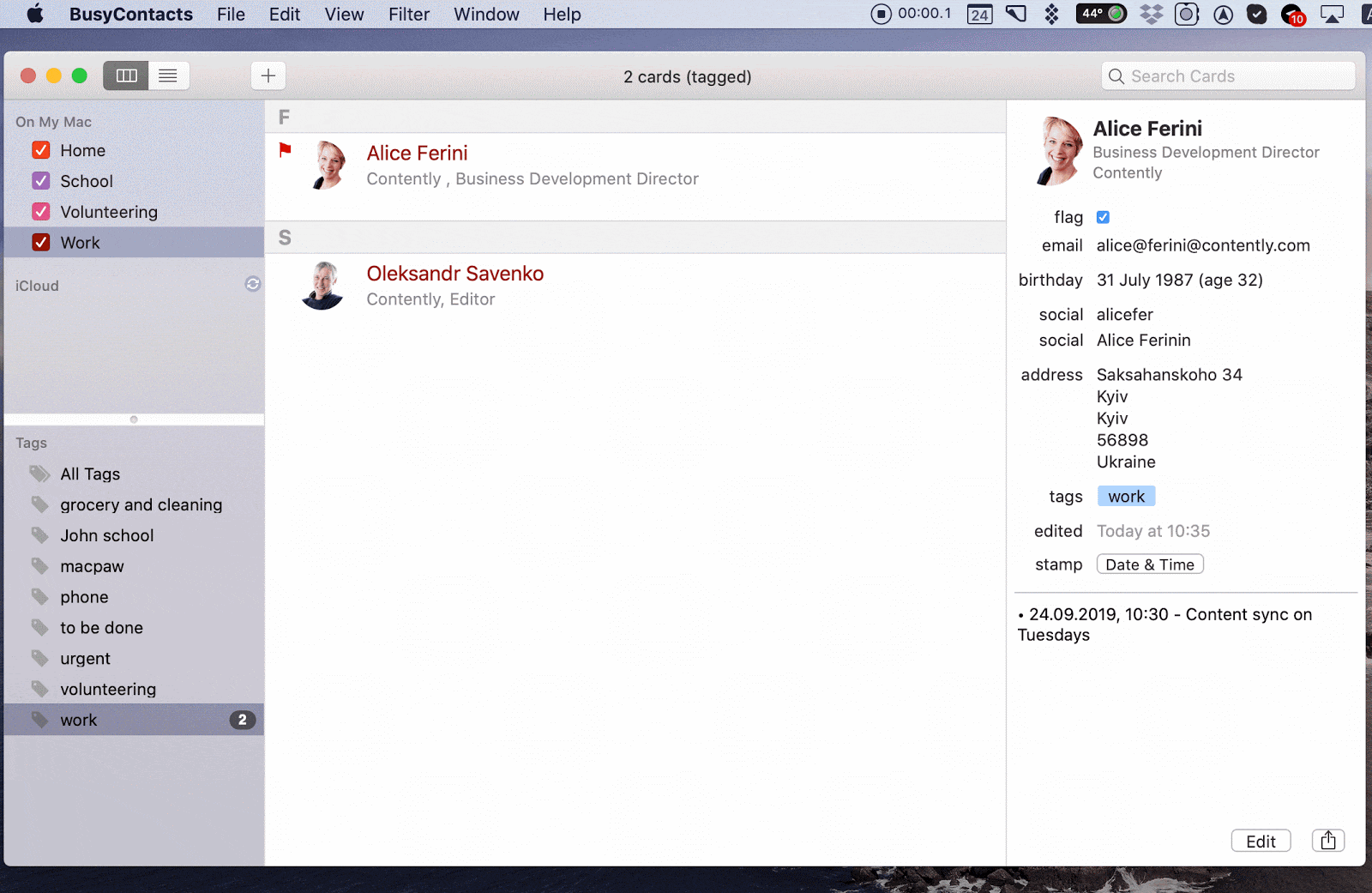 Once you know your perfect recipe for how contacts should be displayed, tell BusyContacts about it. With the Smart Filters feature, you can define view conditions and save searches. For easier organization, attach tags and color code your contacts.
Enable useful integrations
Obviously, the app works with BusyCal. Together, they make a full-scale CRM for managing your events and connections on Mac. To enrich your virtual contact cards with extensive information, BusyContacts also reaches into social networks — including Twitter and Facebook.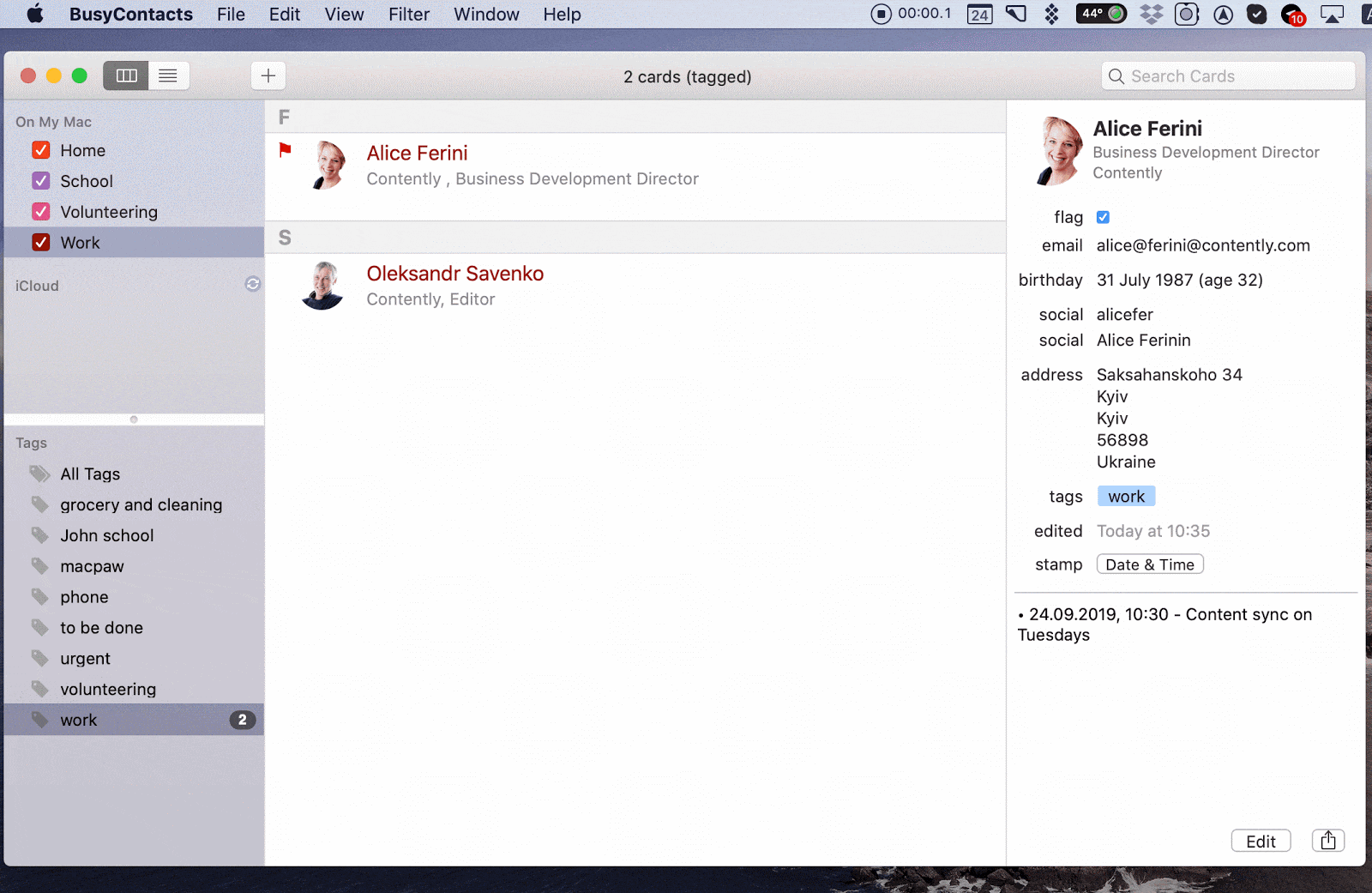 The app enables you to easily share contact cards and store them with your favorite cloud services. iCloud, Google, Exchange, Apple's Contacts, or Fruux — syncing your connections gets easy.
Keep track of your communications
With BusyContacts, each of your connections has a history. It's all carefully documented in the Activity List on the right side of the window. You can set the app to track all interactions — these include events, meetings, tasks, emails, messages, and even tweets — or disable specific types of activity from being tracked.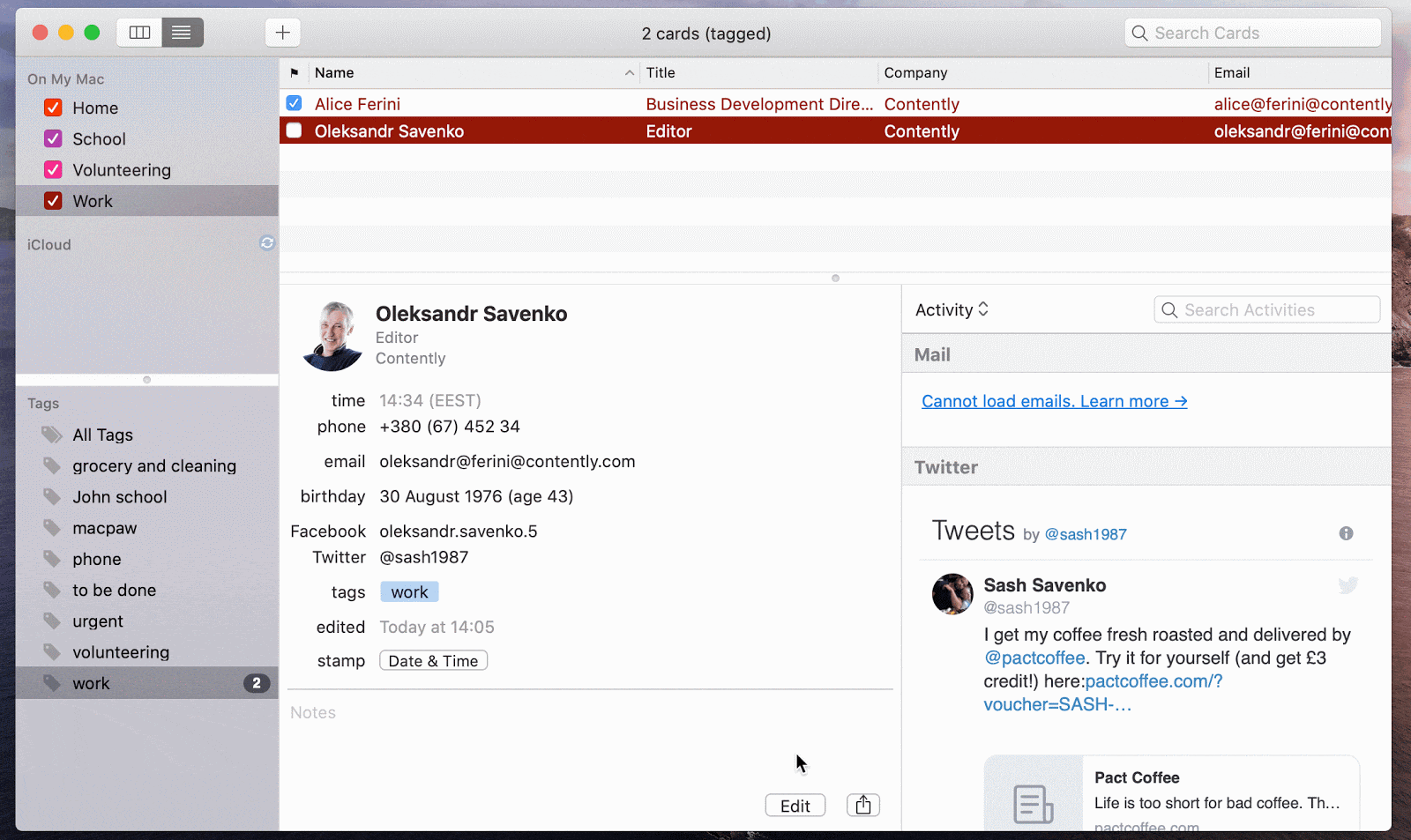 And that's only your default setup with BusyContacts. The app adjusts to what you want it to do. You can add any field types and change predefined labels in your contact cards — nothing is carved in stone, really.
Setapp has been super lucky to get both BusyCal and BusyContacts on board, so that you can test a complete CRM with a single subscription.