Noizio: get rid of distractions with ambient background sounds
Noizio cuts out distractions by letting you create custom mixes of relaxing white noise. Its audio palette consists of over a dozen unique sounds, but rather than forcing you to choose between rain sounds and low coffee shop chatter, the app supports custom "mixtures" of its existing tracks. Easy to manage and toggle on and off, it's a great way to find a sense of calm focus for work or relaxation.

Noizio, the ambient noise generator for creative work
If there's a conversation near us, we listen — in restaurants, on the sidewalk, and especially at work. But in our open-plan office, there are a lot of conversations to overhear. And we're supposed to be working. Luckily there are some smart ways to block out and mask noise so it doesn't disrupt you. Moderate noise levels are just right for creative thinking. Ambient noises get our creativity flowing and doesn't put us off the way.
Here's how to get started.
Yes, it's really that easy.
Main Controls
The app can be accessed at any time by clicking on its icon in the menubar. The pause/play button will start and stop the music as needed. In the app's main panel, you can click the icon of each sound to toggle it on and off, and use the slider bar to adjust its relative volume.
Try combining unlikely sound combinations for an interesting effect; there's no limit on how many sounds you can play at once.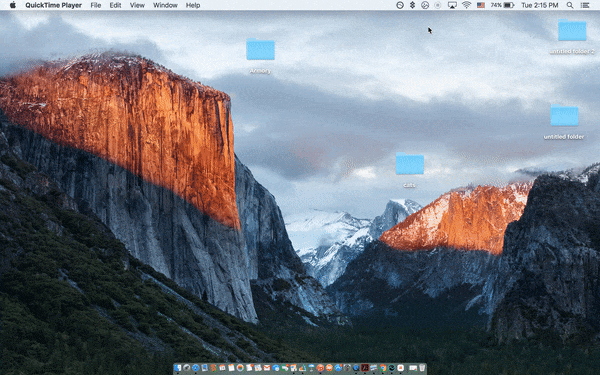 Mixtures
When you've settled on a combination that sounds good, click the "floppy disk" icon to name and save it as a Mixture. Click the "checklist" icon at the top left corner of the screen to view, play, and share saved Mixtures. Click the "play" button to play a saved mixture, and the "share" button to text or email the mix to a friend.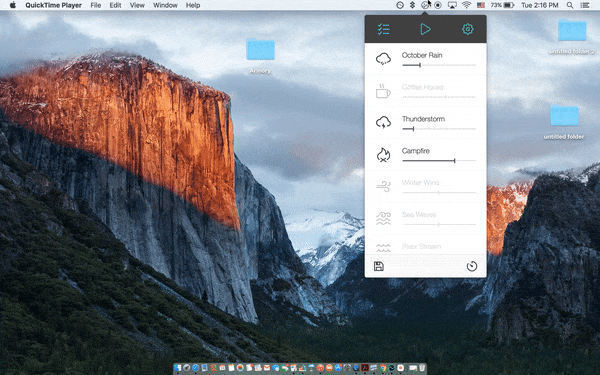 Settings
Click the large "gear" icon at the top right to adjust the app's settings. Here you can use the slider bar to adjust the master volume. You'll also be able to set your preferences for where the app should appear and when it should start up. Click the "shortcuts" tab to view and adjust keyboard shortcuts, giving you even more control over your audio experience.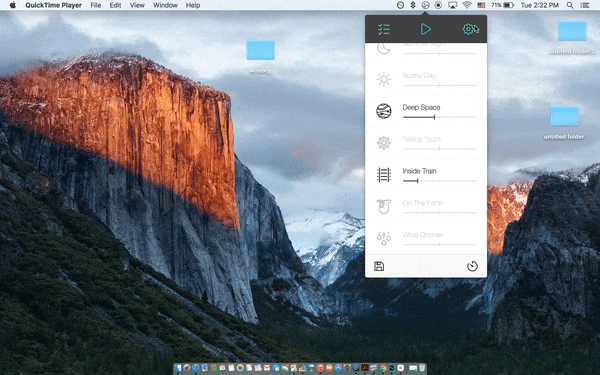 Scheduling
The timer button at bottom right lets you save an automatic stop time for your audio. That way, you never have to remember to pause it for the night. Simply enter your preferred stop time and click "Save."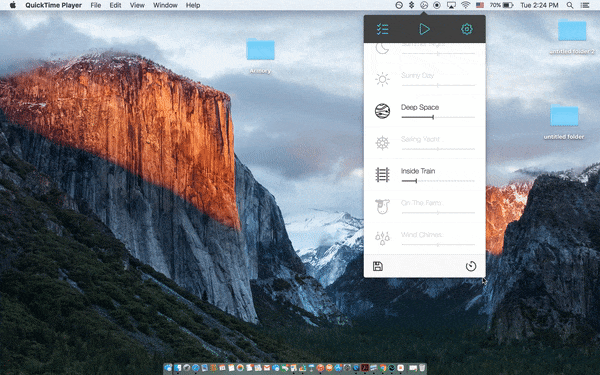 Get Noizio app on Setapp, and you'll be able to tune out distractions and find focus with just a few clicks. As you build your library of custom Mixtures, you'll soon have an audio experience for any occasion.