How to use the new Microsoft Edge for Mac
Mac users might be wondering, "What is Microsoft Edge?" In a nutshell, it's a modern web browser designed to replace Internet Explorer, which has been the default browser on Windows machines since 1995. Released alongside Windows 10, Microsoft Edge is made to compete with other highly popular alternatives such as Mozilla Firefox and Google Chrome.
Initially, Microsoft was hoping that the native integration with Windows search and Cortana, a voice-activated assistant, would give the Microsoft Edge browser an advantage over the competition. But the company quickly understood that lacking cross-platform support was a big hindrance — so they updated the underlying code to allow Microsoft Edge to work with other operating systems.
Is Microsoft Edge Available For Mac?
The first announcement that hinted at the possibility of Microsoft Edge running on macOS was its move to a Chromium-powered code engine. Finally, in 2019, Microsoft did release an early version of Microsoft Edge browser for Mac called Canary, which is a project name for the beta. The Canary version of Microsoft Edge is currently only accessible through the Microsoft Edge Insider program, which grants early access to new updates and betas before they roll out to market.
Releasing the Edge Microsoft beta was a timely announcement for users who had recently switched from Windows to Mac, or used both Windows and Mac in their daily lives and didn't want to keep switching browsers.
Generally speaking, users do prefer to use one web browser across all their devices due to the similar user experience (e.g. having common features and buttons in the same place) as well as the possibility of syncing their history, bookmarks, and preferences. And while competing browsers had been enjoying those perks for years, Microsoft lost some of that momentum with their late transition from Internet Explorer to Edge for Mac.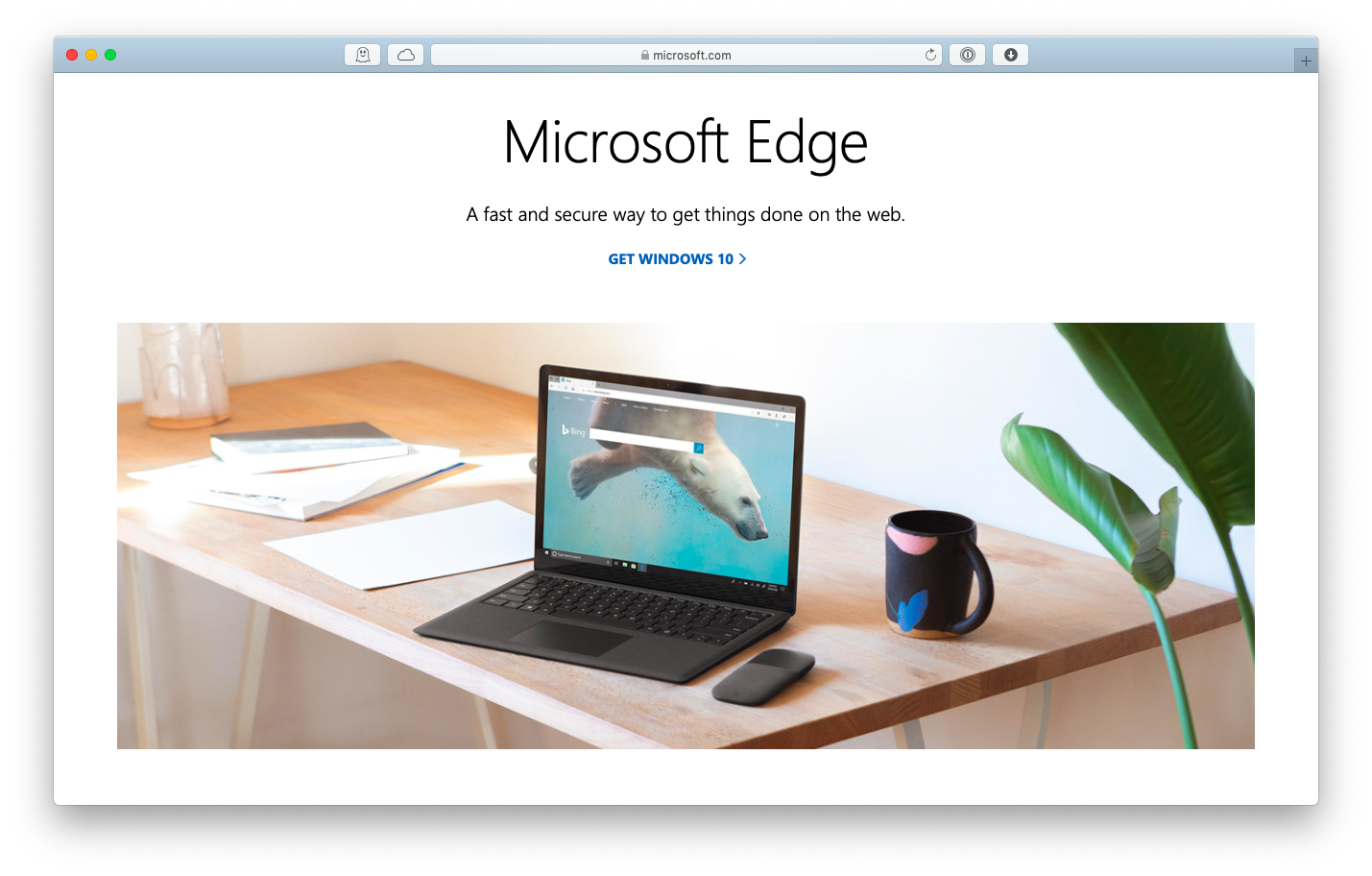 How is Microsoft Edge for Mac different?
Microsoft used to be very particular about protecting their proprietary design language and exclusive Windows support. But the modern user demands a more natural crossover between devices and operating systems — Microsoft Edge included.
To make the move to macOS as seamless as possible, Microsoft had to make some changes and updates to suit the Mac environment. Most notably, the interface now more closely matches the global macOS design. For example, Microsoft Edge browser for Mac has updated fonts, navigation bars, and menus to mimic other Mac apps. Mac users will also enjoy trackpad gestures and hotkeys that feel right at home. Microsoft has even added preliminary support for Touch Bar and aims to include more contextual actions in the future.
Web developers will be grateful for the IE mode in Microsoft Edge for Mac, which replicates older Internet Explorer environments to help with testing and viewing dated websites that aren't designed for modern web browsers.
Windows users will be happy to see that the Collections feature has made the jump. Collections is similar to bookmarking, but lets you save text, images, websites, and more into one place via a simple drag-and-drop. Later, your saved material can be shared with others in just a few clicks — fantastic for collaborating quickly with colleagues, family, and friends.
As Microsoft Edge is currently in its early stages on Mac, its development team is actively asking for feedback from users to help shape the product roadmap.
How to download Microsoft Edge for Mac
If you're looking for the Microsoft Edge for Mac download — let's get started! First, you'll need to be running macOS 10.12 (Sierra) or above, which you can check by clicking on your Apple menu and then About This Mac. If you're up to date, here's what to do next:
Open the Microsoft Edge Insider Channels website. Note that Microsoft Edge is still in beta and might be buggy.

Under the Canary Channel, click Download. Ensure that beneath the download button, it says macOS — if not, you'll need to click the dropdown arrow and select it.

Accept the license terms

When the Edge browser for Mac download has finished, open the download package

Click Continue ➙ Install

Enter your password ➙ Install Software

Once the installation is finished, it will ask if you want to delete the installation files. Click on "Move to Trash".

Open Microsoft Edge by finding it in your Dock or Applications folder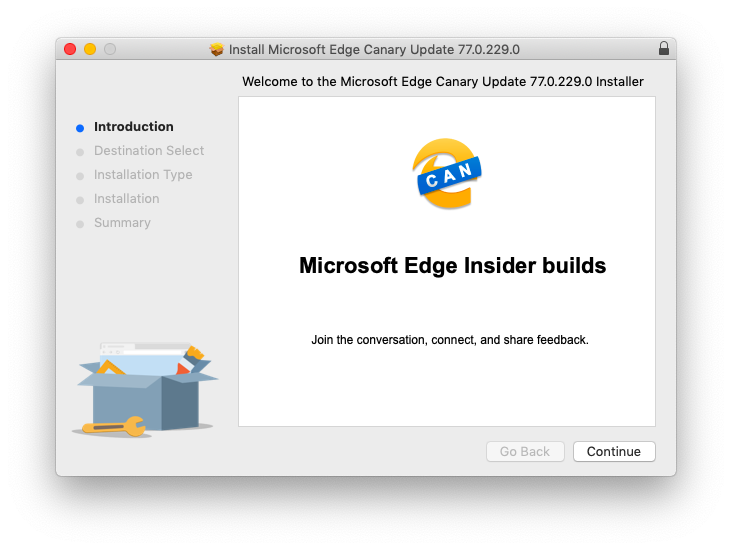 To enjoy the best cross-device experience after completing your Microsoft Edge download for Mac, consider logging in to your Microsoft account from the Edge browser. To do this, open Microsoft Edge, then click on the profile icon next to the URL bar and click Sign In.
More better apps for your Mac
If you're accustomed to using Microsoft Edge and happy that it's moving to Mac, you might also wonder about other Microsoft apps. But Microsoft is yet to release their full suite of Mac software. Thankfully though there are some amazing alternatives that readily fill the gaps without breaking the bank. In fact, you can get all the apps you need for Mac with a single subscription service called Setapp, which grants you access to more than 150 apps.
But before you even start installing new apps, you might want to clean up and optimize your Mac for best performance using CleanMyMac X — a lightweight tool made to improve, secure, and maintain your Mac in top shape in just in a few clicks.
Launch CleanMyMac X

Navigate to System Junk ➙ Scan

When the scan is done, Review Details and Clean everything you don't need

Repeat the process once a month or so to keep your system running smoothly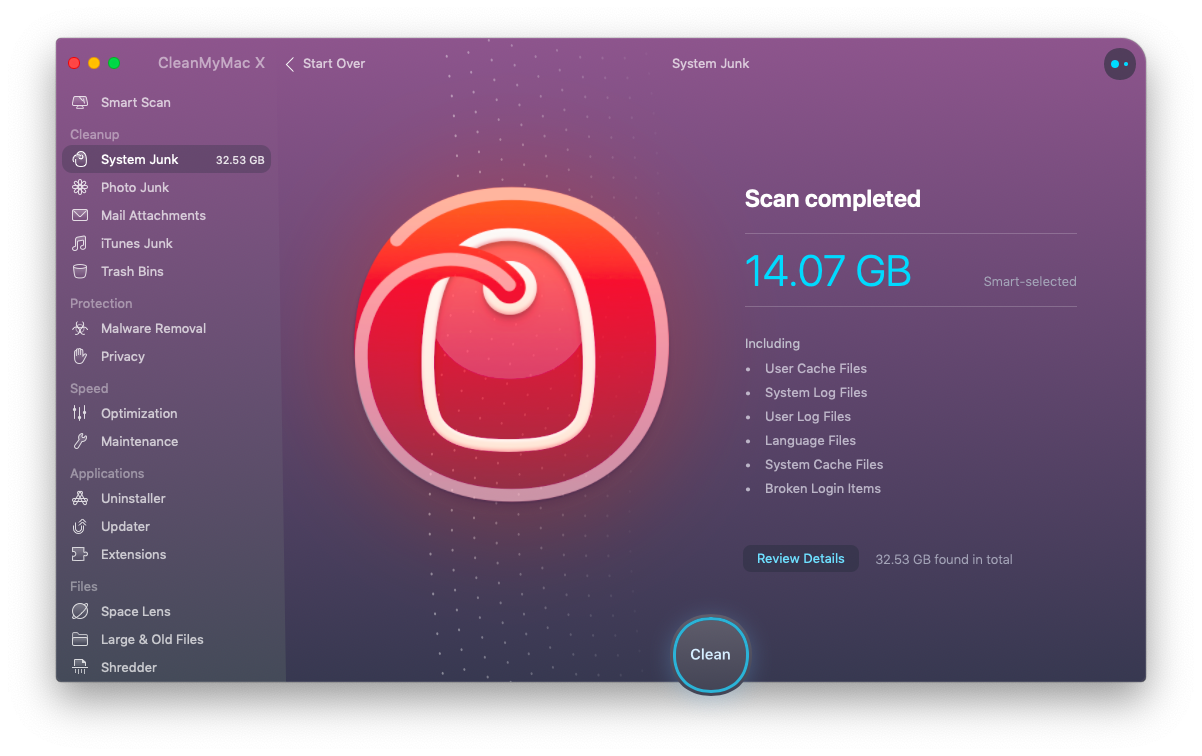 Looking for something similar to Microsoft Word? Try Ulysses, a writing and Markdown editor for Mac that favors a beautiful, simple interface to allow you room to do your best work. The app also lets you set a word count goal to hit every day to motivate you to write more.
Working across devices? Ulysses synchronizes your documents and work in progress across them all using a cloud-based data storage system, so you can pick up where you left off.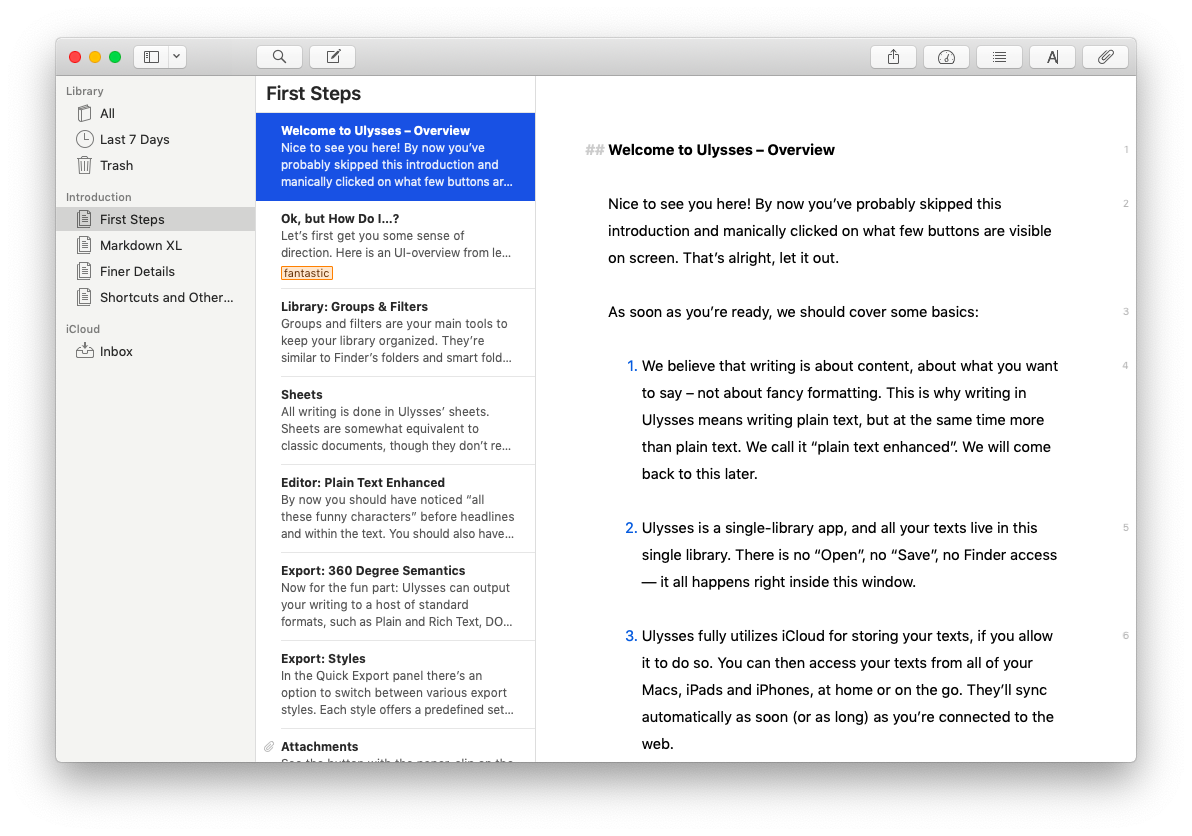 If you find yourself accidentally deleting files, experiencing data corruption, or being unable to access folders on your USB devices then you might want to try a high-quality file recovery tool.
Disk Drill is a simple application designed to do just that, and do it well. When you need to get a deleted file back, simply open the app, find the hard drive where the file was located in, and click Recover. A magical algorithm will take it from there.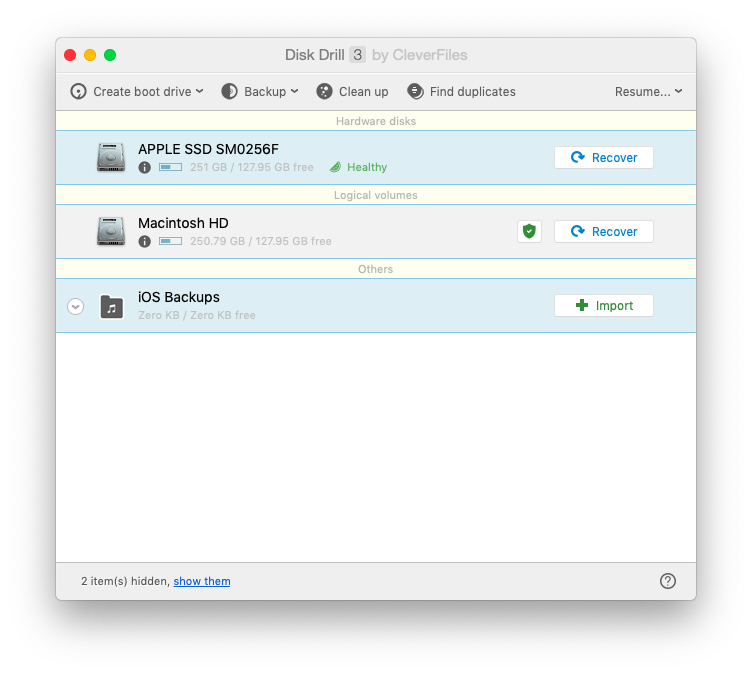 Finally, as all of us come across PDFs every day now, a good PDF editor is a must. Try Nitro PDF Pro, which rivals the best on the market for a fraction of the price. Featuring OCR (Optical Character Recognition) technology, Nitro PDF Pro lets you convert PDFs to text and make edits and updates without a hitch. It also comes packed with every PDF editing feature you'll ever need, including the ability to merge PDFs, sign forms, draw shapes, and redact personal information.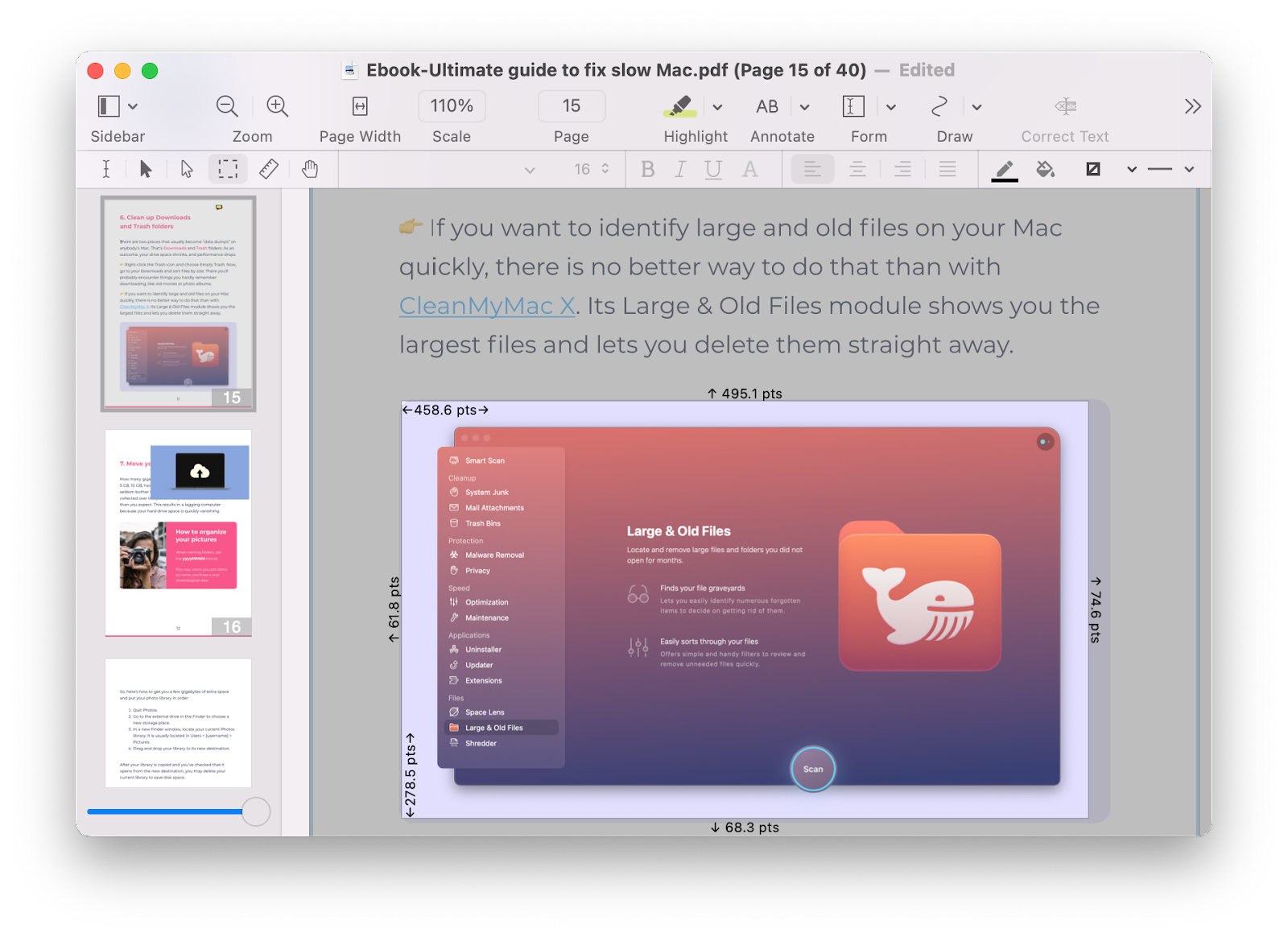 Best of all, CleanMyMac X, Ulysses, Disk Drill, and Nitro PDF Pro are all available for a free 7-day trial with Setapp, a platform that gives you access to more than 230 Mac and iPhone apps that cover everything from editing photos to keeping tabs on cooking recipes. So if you just install Microsoft Edge and Setapp — your Mac environment would be fully complete in minutes.