The best news apps on Mac
Somehow, staying informed and up-to-date with the news today is more difficult than ever. There are so many sources putting out so many breaking stories that it's easy to get overwhelmed with constant pings and miss out on what's important to you.
It used to be that getting a printed newspaper delivered to you was enough. In the age of the internet, RSS readers, specifically Google Reader, let us aggregate the news ourselves with complete control over the content presented.
But with the closure of Google Reader, what other options do we have now? What are the best news reader apps to try?
Let's go over a mix of ways to go about staying informed, from newspaper apps to news alert apps to the best RSS readers still around.
What are the best newsfeeds?
It should be noted that the idea of valuable news is different for everyone. Some might be looking for news applications for iPhone or Mac, some want to know the best free news apps, others are ready to pay for high-quality offerings. Some want to be notified of all the breaking news at the moment they happen, others prefer to check everything that happened as a digest on their own time.
We've gathered a collection of the best news apps that reflect all of these different ways of news consumption.
Apple News
One of the best free news apps out there and a default on iPhones and Macs is Apple News.
Apple News is a news aggregator, getting the latest headlines from dozens of sources around the world and programmatically building your newsfeed based on your location and interests.
By default, you can browse various categories and set up specific notifications for them. You can also use a paid News+ service for $9.99 a month (for the whole family) and get access to premium newspapers and magazines (from Time to Wired to The Los Angeles Times), as well as listen to all stories in audio.
If you're an active user of the Apple ecosystem, you also have the option to get Apple News as part of the Apple One Premier offering, where you get Apple Music, TV+, Arcade, 2 TB of iCloud space, Fitness+, and News+ for $29.95 a month for the whole family.
Apple News is also available on iPhones, but not on Android or Windows devices.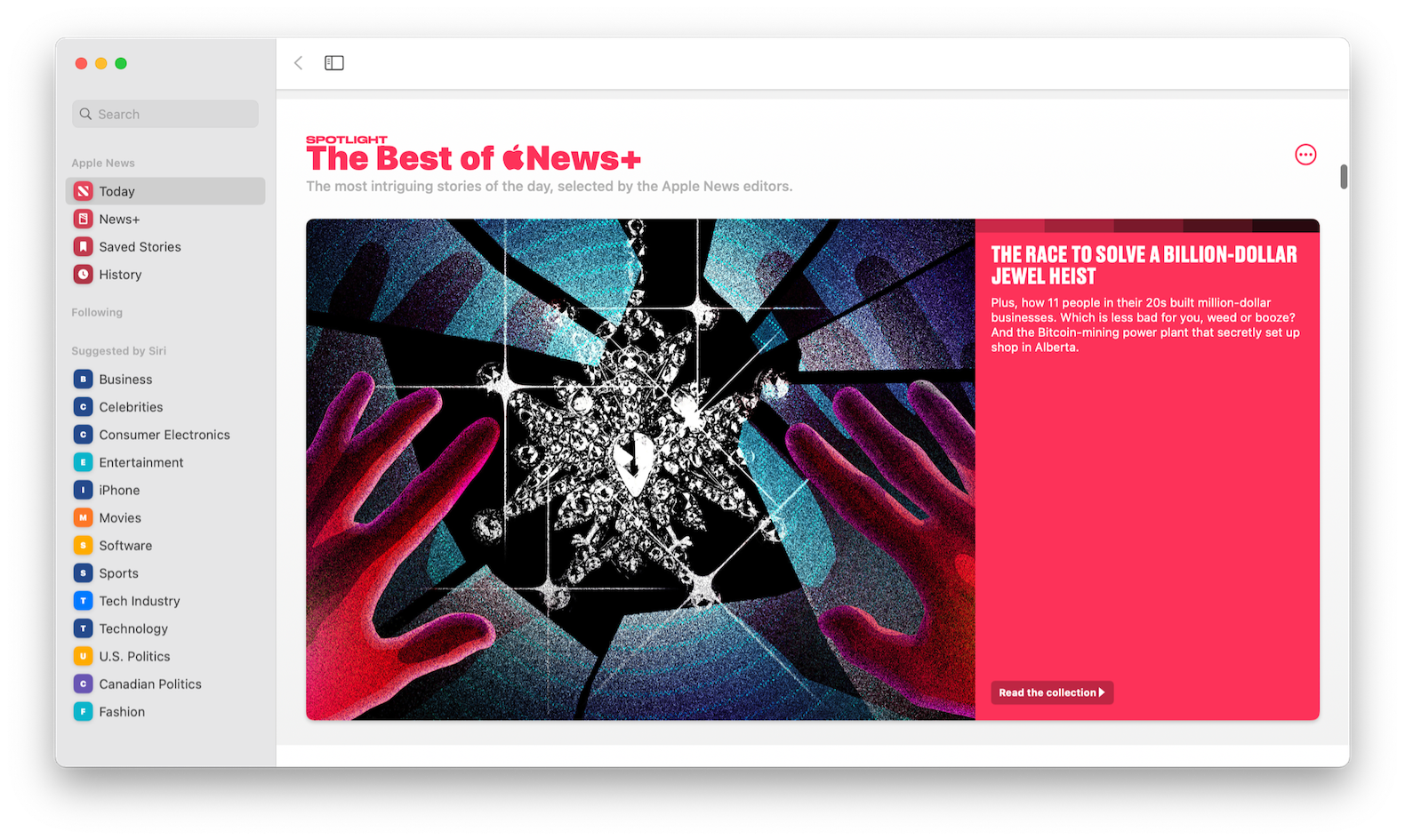 Google News
Not surprisingly, Google is a primary source of any information for most of us. So it often makes sense to use it for your news fix as well.
Google News is a web and smartphone app, available on both Android and iOS, that aggregates news from all over the internet on a wide variety of topics.
In one click, you can see all the top stories for your approximate location, but also browse other news by categories (e.g. business, technology). If you're logged in to your Google account, you can follow the type of news that interests you, and Google will assemble a personalized newsfeed. Logged in users can also alter the interface of the app, such as turning on the dark theme.
Overall, Google News gives users a convenient overview of the world's most important issues in a nice package. It's also completely free. The only downside is that its coverage might not go as deep as some premium sources of Apple News.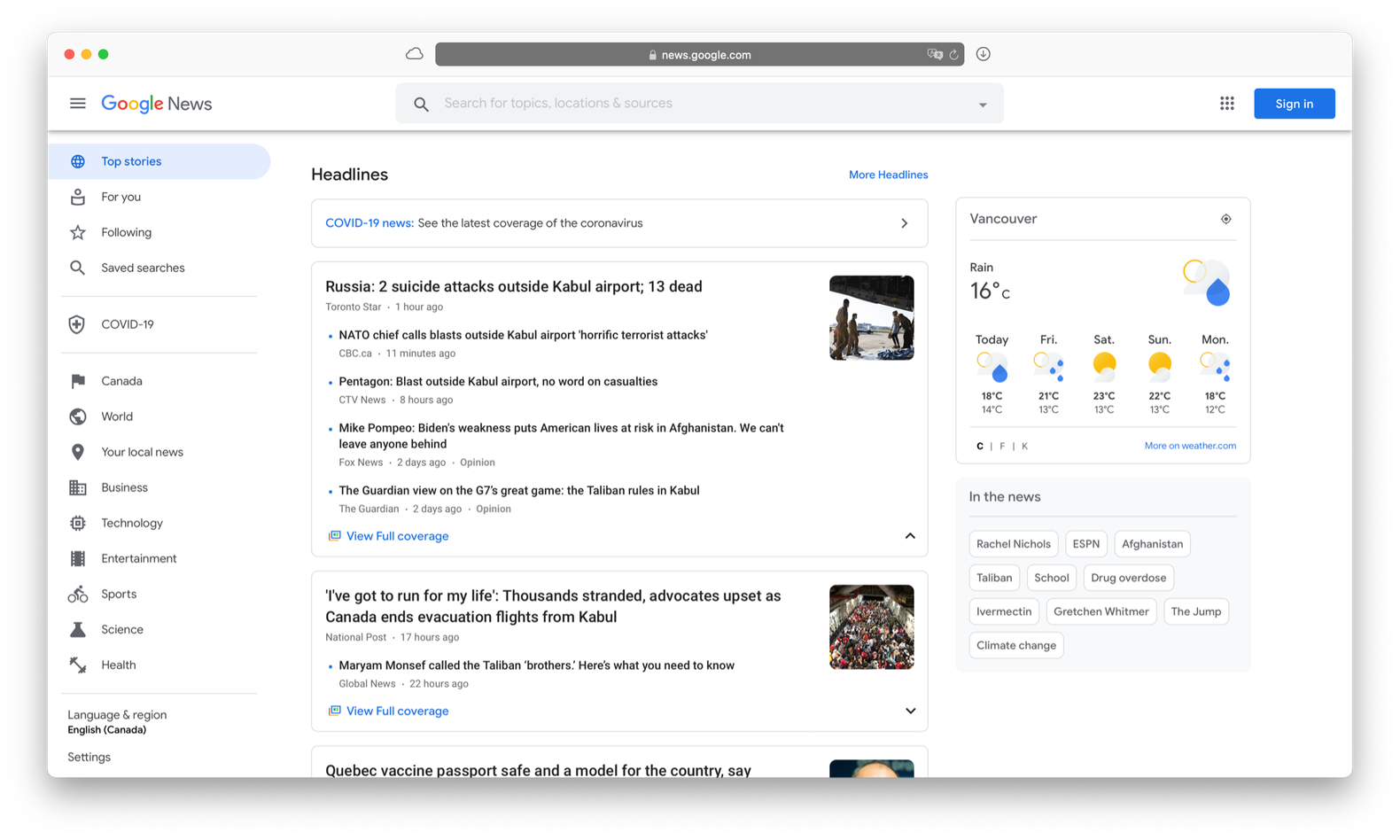 News Explorer
Having a news app available on your Mac is a game-changer — and News Explorer is one of the best options available today.
News Explorer is a straightforward news reader, reminding you of the RSS apps of the past. With News Explorer, you build your own news sources from scratch via RSS (although there's an option to load a collection of the most popular news websites to start).
Most of the news websites you visit have an RSS feed. You can either copy-paste the link to the feed manually into News Explorer or use the app's intuitive search feature to find all the sources you need by keywords.
A great thing about News Explorer is that you control 100% of your news consumption — only the feeds that you add would be present in the app. So you can avoid distractions, sensational headlines, politics, and anything else that you intentionally don't want to see.
Other interesting features of News Explorer are the ability to save things for later and synchronization over iCloud for its iOS companion app.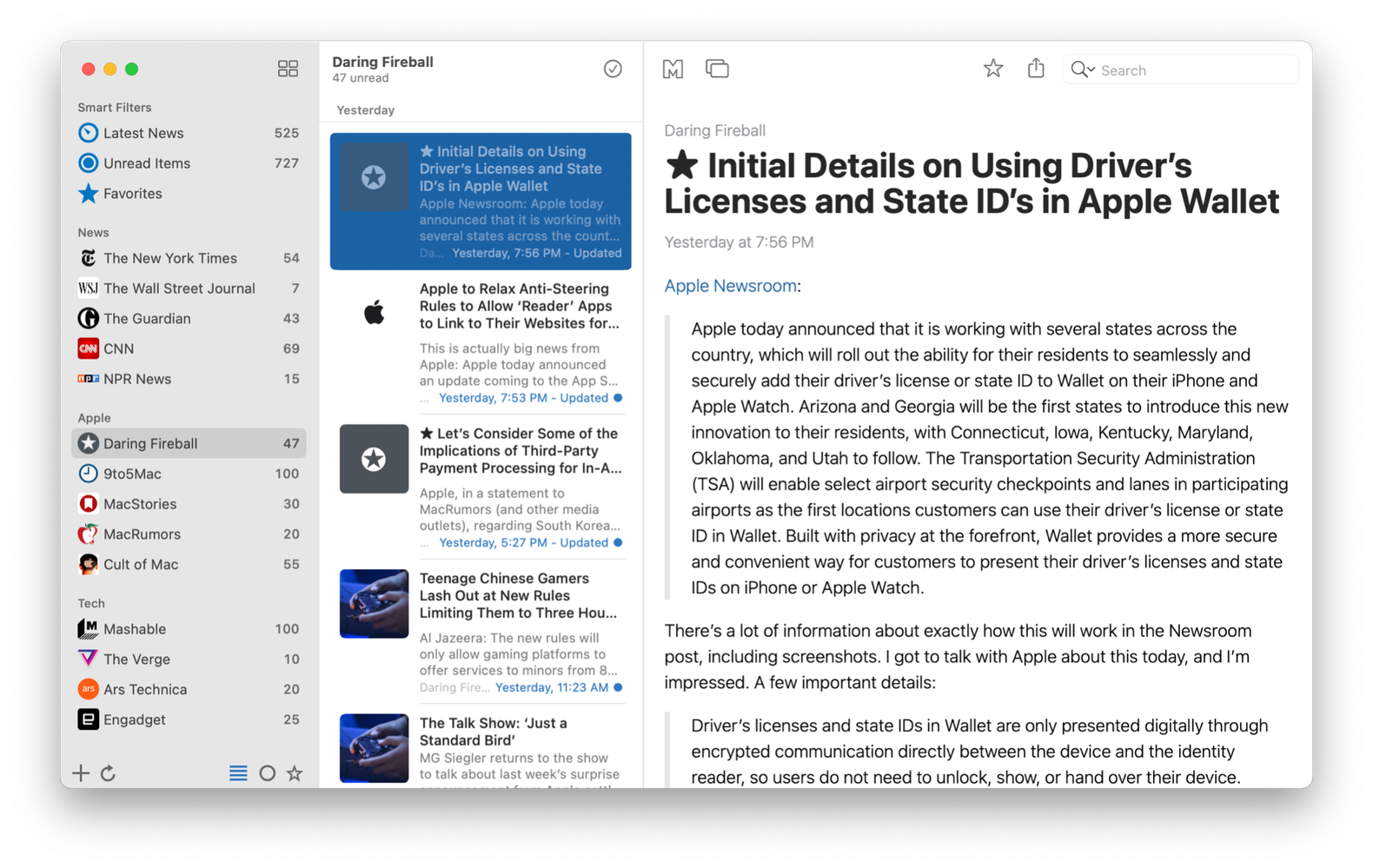 Flipboard
Flipboard started as a digital magazine on iOS more than 10 years ago and featured a revolutionary flipping animation for changing news sources and moving from one page to the next.
You could use Flipboard to subscribe to the best newsfeed on a variety of topics and also add direct sources (e.g. Twitter users). Eventually, Flipboard made it possible for anyone to make their own magazine and have other people subscribe to it.
Today, Flipboard is a mix of news on a variety of topics, plus sources curated by other people. The app still boasts a stunning design and has a web version as well.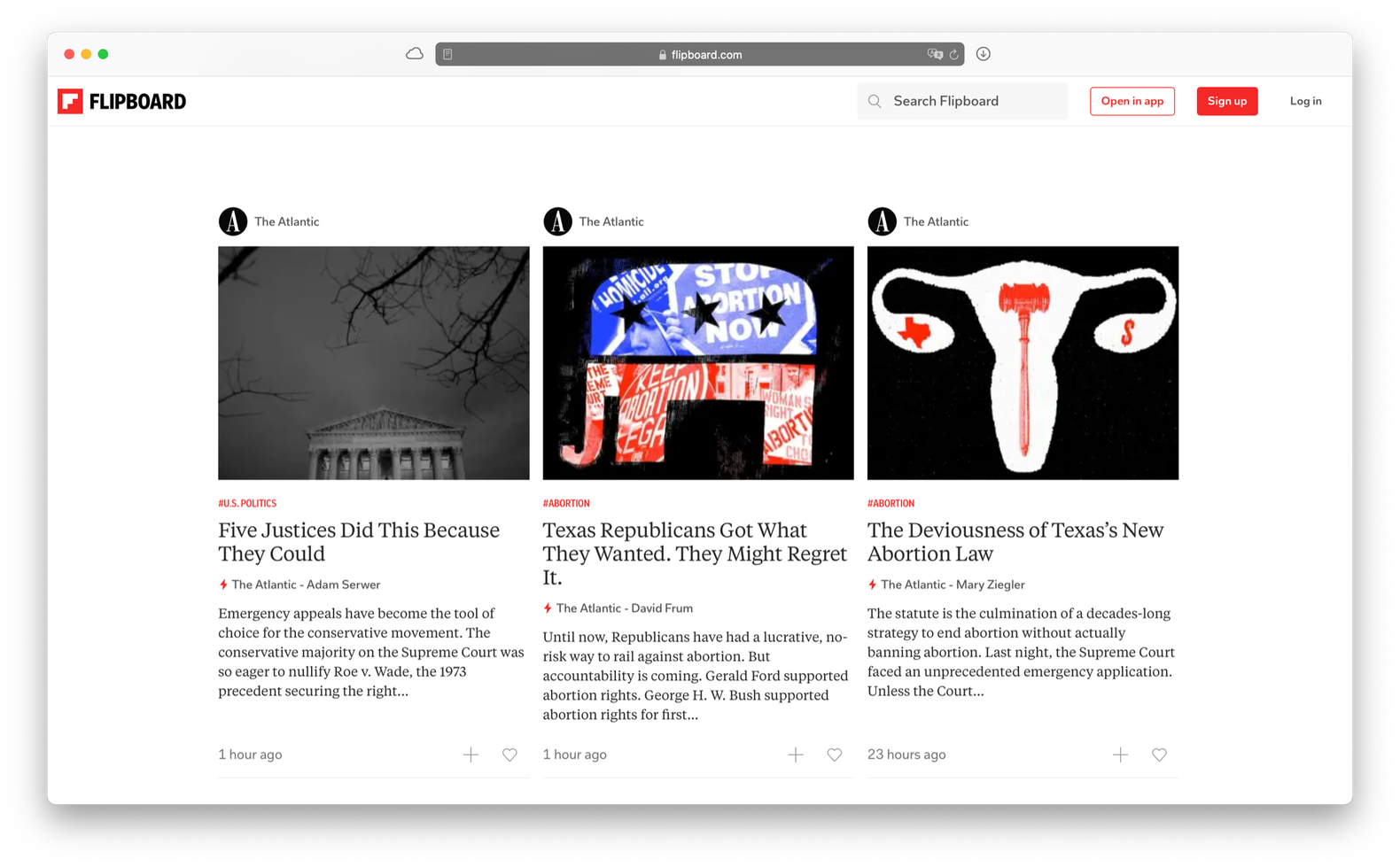 Yahoo Finance
If you're using Yahoo email, you probably know that Yahoo News still exists as well. It's a surprisingly popular source of general news, but it doesn't have deep insights, functionality, user interface, or configurability of the other news apps mentioned above.
What's good about Yahoo today is Yahoo Finance. If you're interested in any aspects of the financial world, Yahoo Finance is the destination for you. The web app is robust and gives you the option to follow your favorite tickers, track financials, and analyze price movements. Even better, the mobile app is just as good.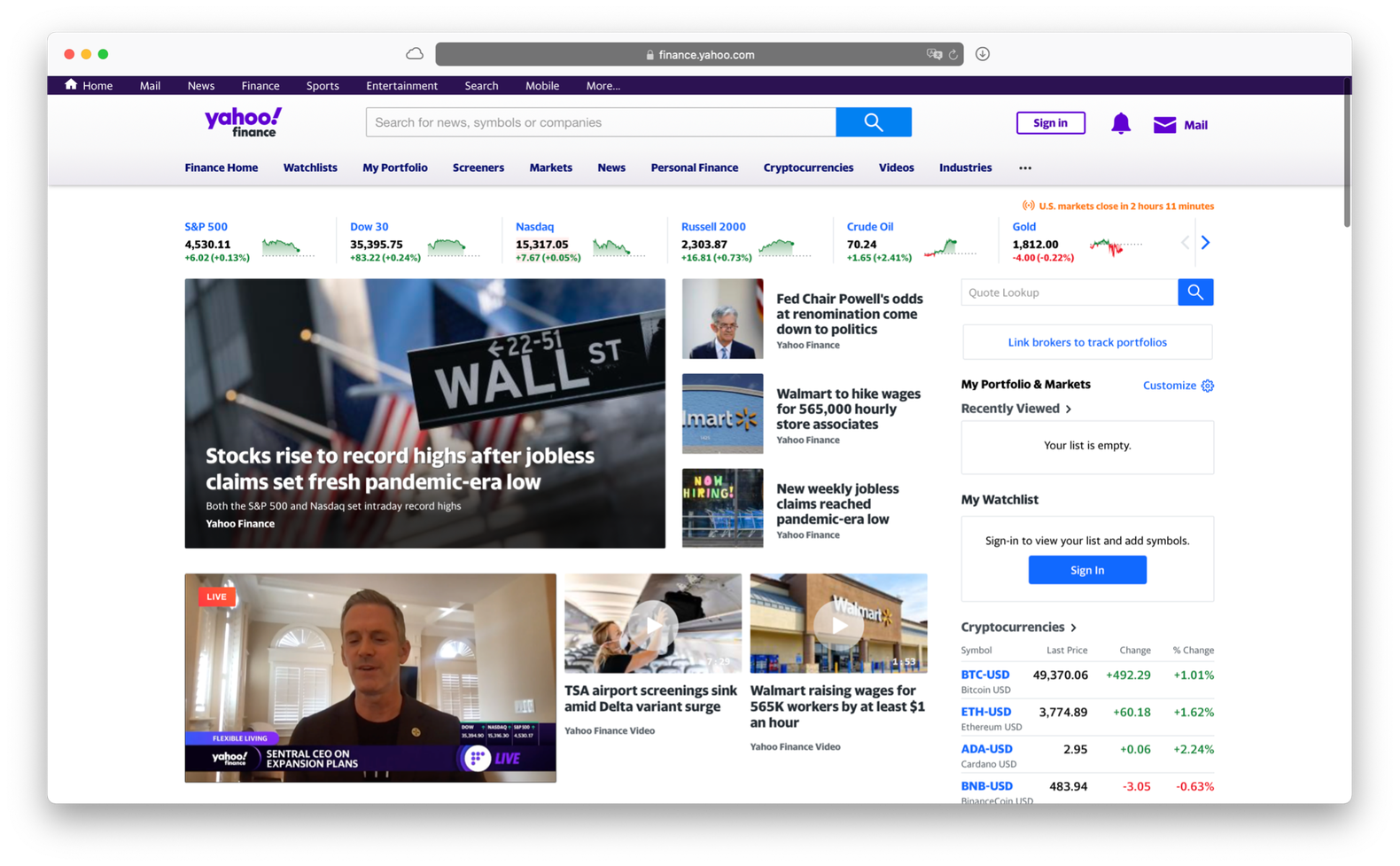 Pocket
While Pocket is not strictly a news app, it's an innovative way to gather all your interests in one place, whether they are articles, videos, podcasts, etc.
On the surface, Pocket is a bookmarking tool, which lives in your browser's menu bar and lets you save any page for reading later in just one click. On the actual Pocket page, you can then read everything you've collected, even offline.
If you'd like to explore, Pocket has a Discover tab, featuring interesting stories curated by editors and popular news saved by others. You also have the option of connecting your Twitter account and seeing the links the people you follow are sharing.
The basic version of pocket is free, but if you want to add permanent collections (which work even if the webpage has been taken down), ad-free reading environment, tagging, and highlighting, you can upgrade to Pocket Premium for $45 a year.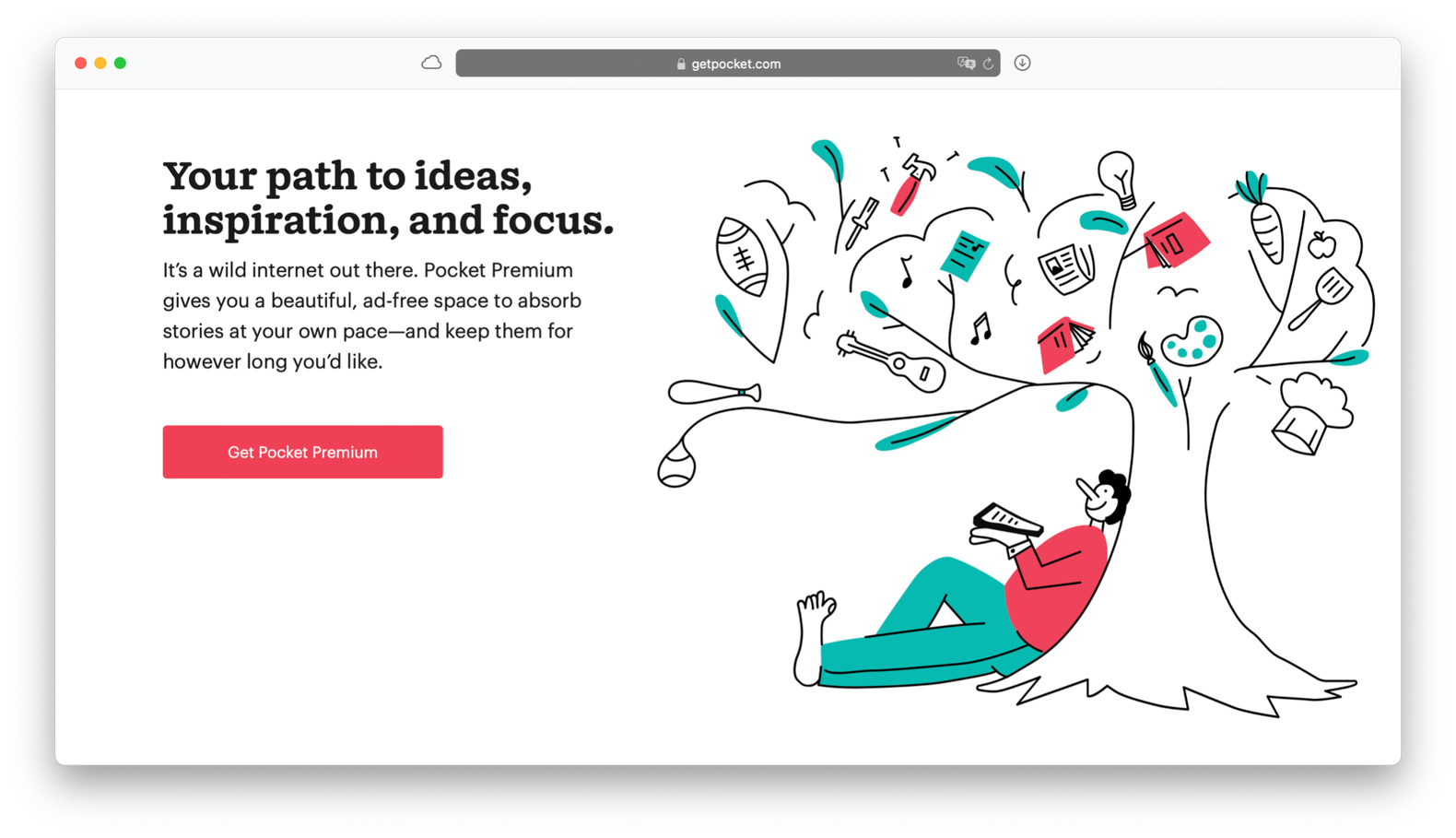 Feedly
If you feel nostalgic about being able to read news via RSS feeds, similar to what Google Reader used to be, make sure to check out Feedly.
Feedly is a web-based news reader (with iOS and Android apps available) that lets you subscribe to virtually any website (and even newsletters on a premium plan) using the RSS technology. Free, ad-supported plan gives you access to 1,000 sources, more than enough for pretty much any news aficionado.
And with Leo, Feedly's AI research bot, you can now get a selection of the most important articles of the day, without having to scan through them all by yourself.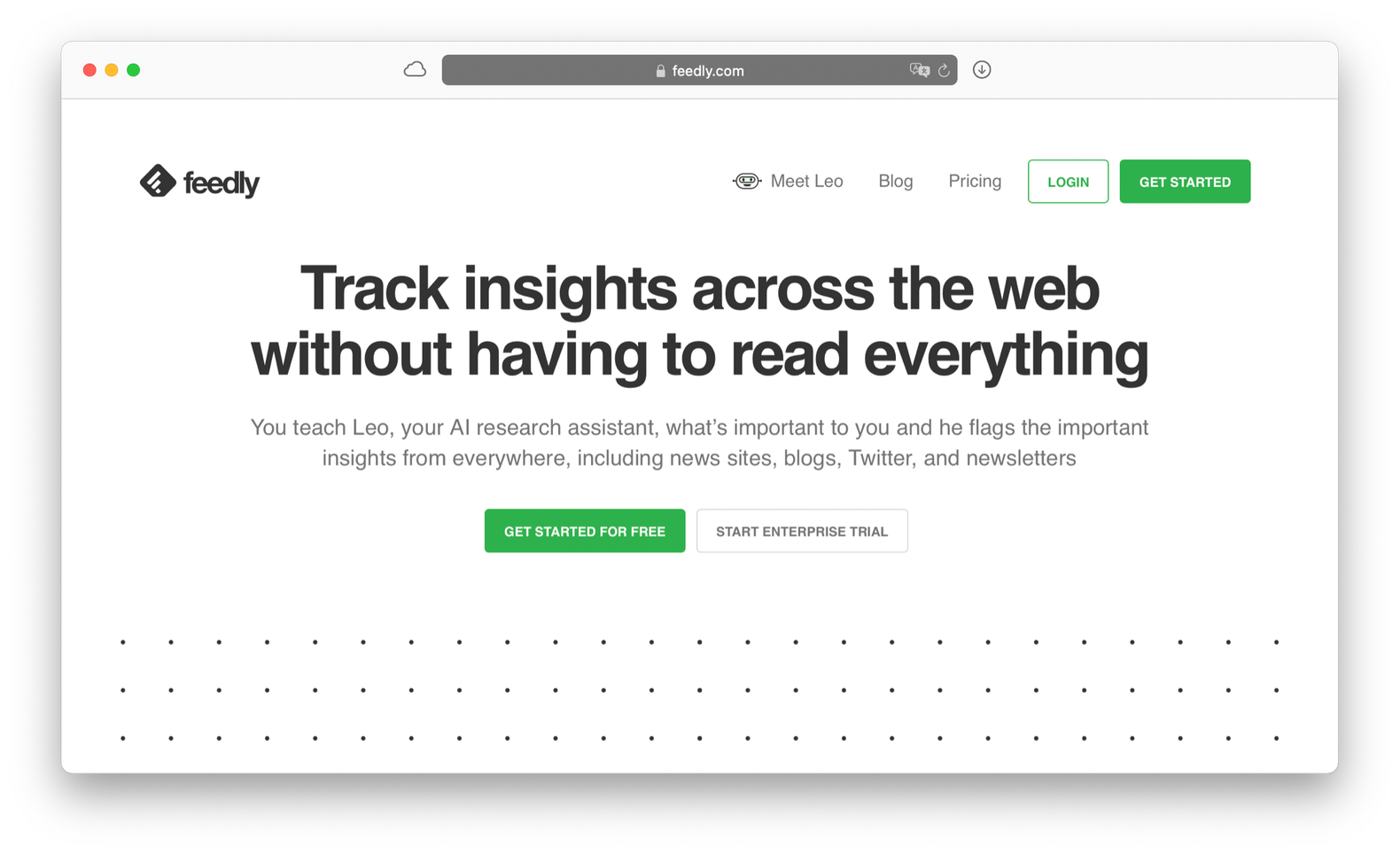 Mimir
Looking at our media consumption more closely today, we might notice that not all of it is coming through reading — in many settings, from commuting to cleaning up around the house, it's actually much easier to listen to the news. That's where Mimir shines.
Mimir is a sleek desktop podcast listening app that lets you follow, organize, and listen to your podcasts just the way you like it. You can create personalized playlists, use custom shortcuts, and explore tailored recommendations — all in one.
Whatever news you like to listen to, Mimir is the perfect home for it.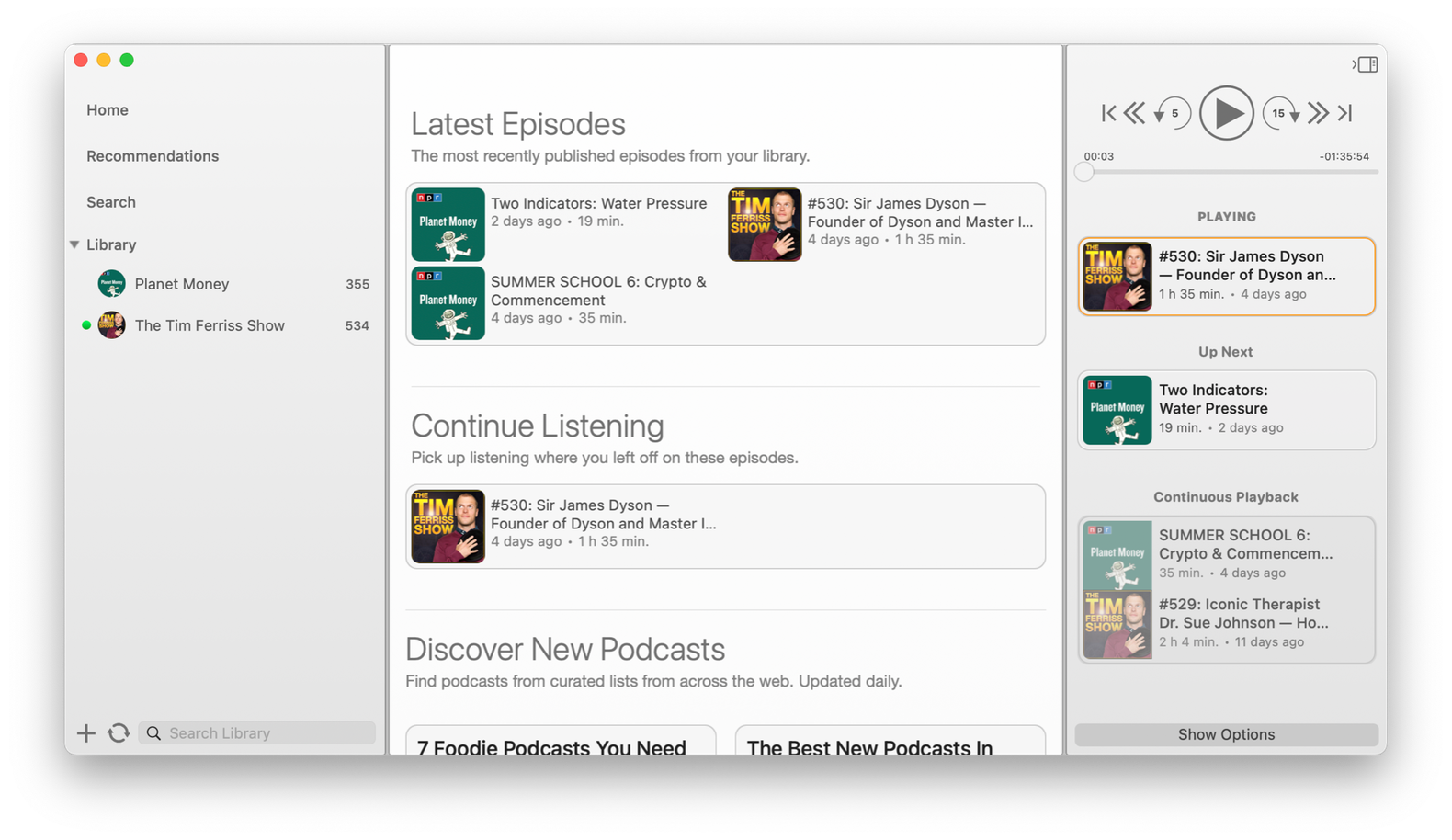 Reddit
For those who like to keep track of the news from the social perspective, Reddit is the place to go.
Imagine hundreds of millions of users compiling the most interesting information found online across a wide variety of topics and then voting on the best ones. That's what Reddit does. You can follow subreddits that interest you and then filter any posts there by their ranking, thus always getting the most valuable information.
One of the best things about Reddit is that it's not just a professional news aggregator. Its users collect everything, from interesting art to facts to stories to discussions. It's also one of the best platforms online to find experts in nearly any subject.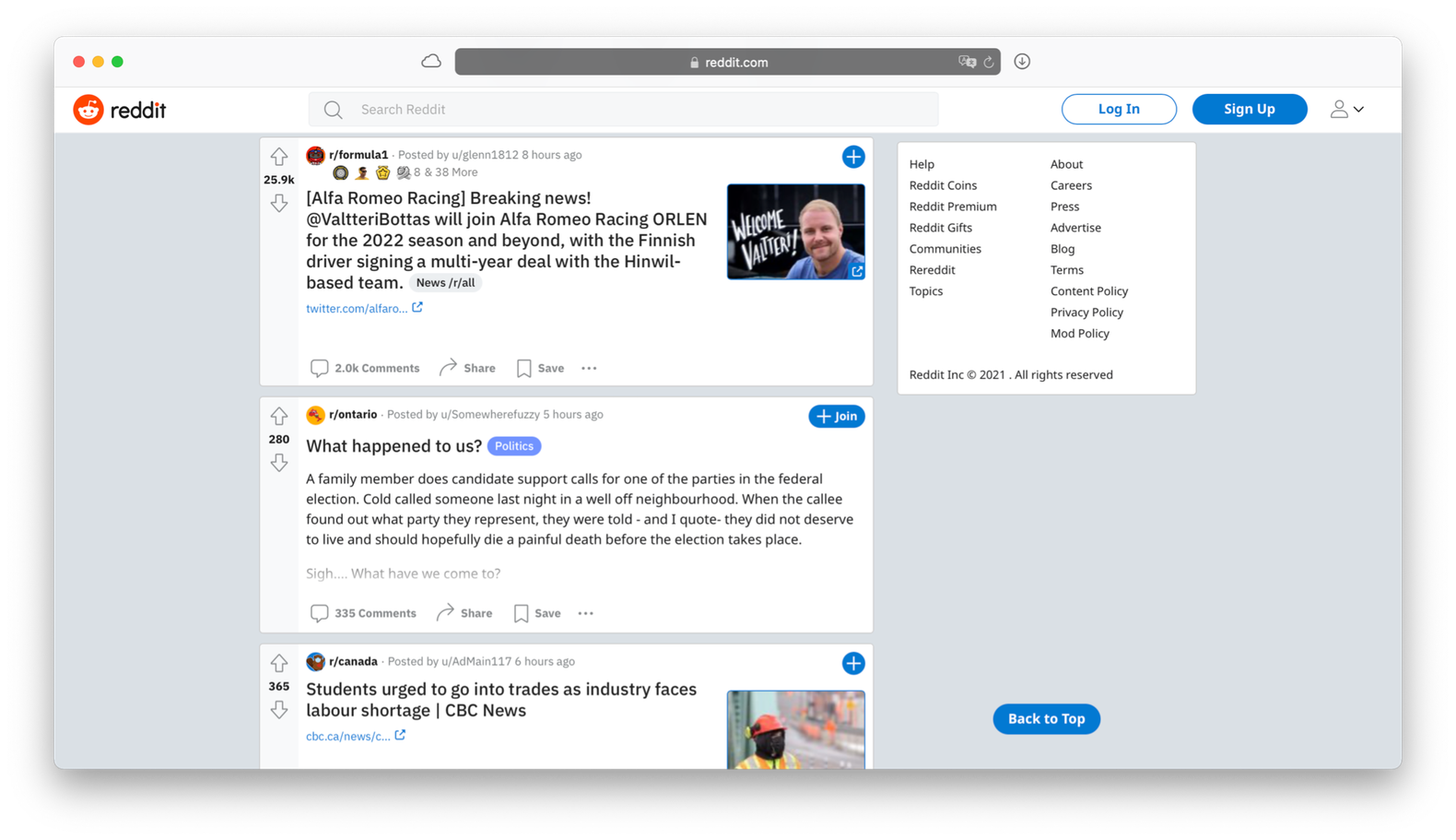 As you can see, there are multiple ways to curate your news consumption in order to balance not getting overwhelmed but stay informed at the same time. If we are to recommend the top few, we'd encourage you to combine a RSS-based news aggregator such as News Explorer with a podcast-driven app like Mimir.
Best of all, News Explorer and Mimir are available to you absolutely free for seven days through the trial of Setapp, a unique platform featuring more than 220 best Mac apps in one place, from a really good VPN (ClearVPN) to an outstanding media player (Elmedia Player). Try every Setapp app today at no cost and add to your collection of favorites.