How to create bootable macOS 13 Ventura installer on a USB drive
Often, a bootable macOS Ventura USB installer can come in handy. For example, you can use the drive to install fresh macOS on as many Macs as you like without having to repeatedly download the large 12 GB file to each machine. On top of that, it'll help you reinstall macOS and fix your Mac if it doesn't power on for some reason.
In this guide, we'll show you how to create a bootable installation drive with macOS Ventura.
What is a bootable USB or external drive?
To make sure we're on the same page, let's quickly mention what a bootable macOS Ventura USB drive is. Bootable USB (also external drive) is a disk that we use to boot up a system for the installation of an Operating System.
Things you need to make a bootable macOS Ventura USB
Before we get started, here are the three essential things you need to create a bootable USB:
A 16 GB or more USB flash drive formatted as Mac OS Extended
Stable internet connection
Minimum one hour of free time.
Where to get macOS Ventura installer files
Only the developer beta version of macOS Ventura is currently available. So only developers who have signed up for the Apple Developer Program and pay Apple $99 annually are eligible. You may get the developer beta profile for macOS Ventura by going to developer.apple.com and signing in with your developer Apple ID if you have that. You might be able to get the macOS 13 developer beta version from unaffiliated third-party websites in case you don't have a developer account. The first way is preferable, though.
If you're reading this when Ventura has been officially launched, simply go to the App Store app and search for macOS Ventura.
When the results are displayed, choose Ventura and then click "Get." Hold off until it downloads. The installation will start once it is finished. Be sure to stop it right away.
Your Applications folder now contains a copy of the installer. For making the installer, you now have two options. We'll take a look at both.
How to format your USB flash drive
The drive will be erased. So, be sure to transfer any important files first to your Mac if it has any.
To make a bootable installer for macOS, format your drive as Mac OS Extended as follows:
Connect your USB drive to your Mac
Open Disk Utility (in the Finder, click Go > Utilities > Disk Utility), choose MacOS X Extended (Journaled)
modify the name to Installer, and then click Erase.
How to create a bootable macOS Ventura USB drive in one click
Now that you have your USB drive and the macOS dmg file, it's time to make a bootable USB.
Let's start with the easier method. Now, we create a bootable installation drive with the help of Disk Drill. Because you don't have to deal with commands, there is practically no way to screw up. On top of that, the Disk Drill app can also be used for disk cloning, file recovery, data backup, and other tasks.
So, here's how you create bootable macOS Ventura USB drive on Mac step by step:
Open Setapp and type "Disk Drill" in the search bar
Find Disk Drill in the search results and click Install
Once the app is installed, open it
Connect your external drive
In Disk Drill, choose macOS Installer in the sidebar
Check a short how-to video or get right to it
Click Add macOS installer
Then choose a destination (your external drive)
Create macOS installer.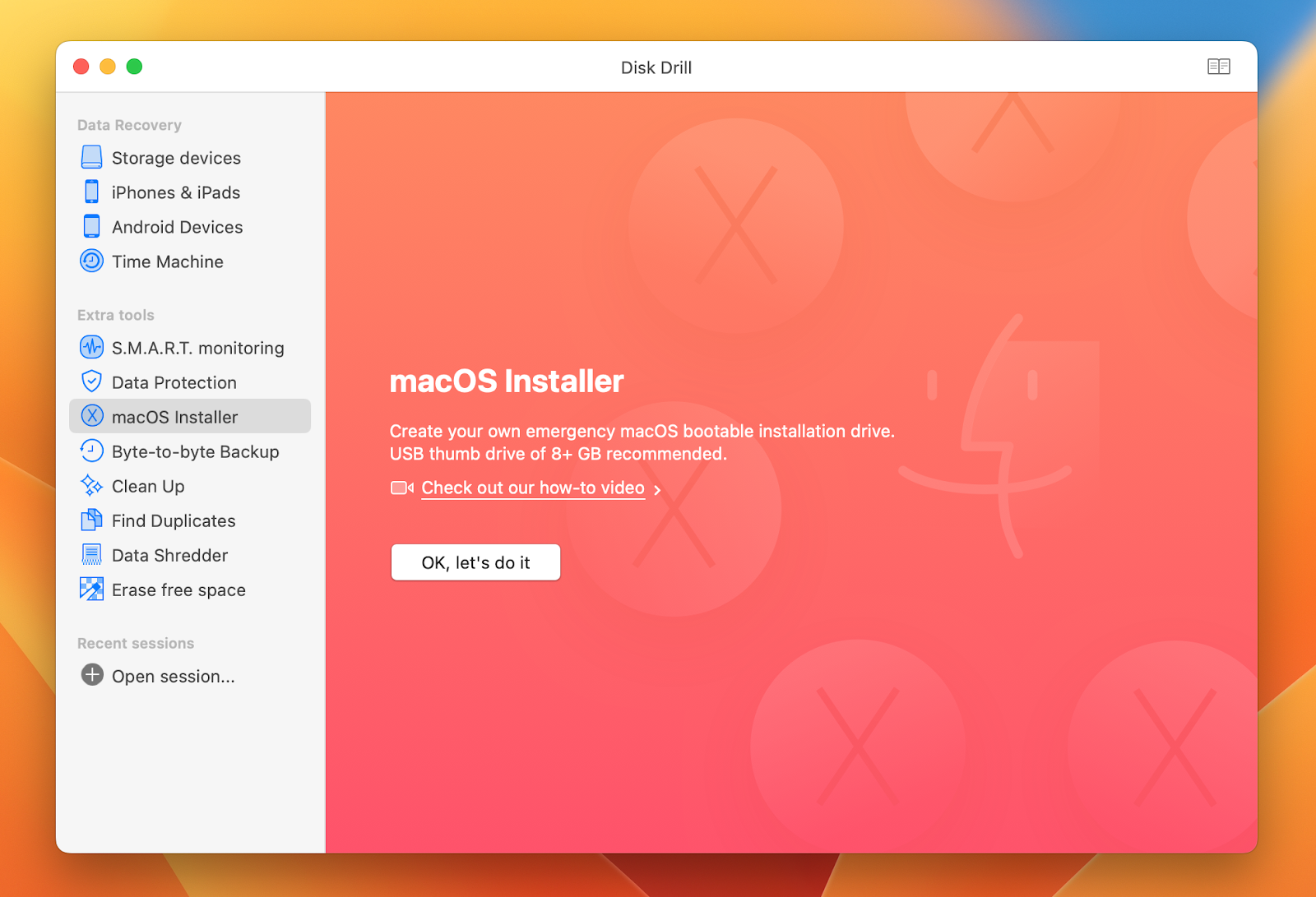 Create a bootable Ventura USB drive using Terminal
Another method to make a bootable USB drive is createinstallmedia command in Terminal.
On your Mac, open Terminal (in the Finder, click Go > Utilities > Terminal)
Then insert the USB stick
Now type the following command into the Terminal window: sudo /Applications/Install\ macOS\ 13\ beta.app/Contents/Resources/createinstallmedia –volume /Volumes/MyVolume –nointeraction
On the keyboard, press the Return key
You will be prompted to enter your Mac's password
Now you need to wait for the confirmation message to appear in Terminal.
So now you have a macOS Ventura installer on a USB stick. Let's learn how to boot Mac using your USB drive.
How to boot your Mac from an external drive
You can now use your macOS Ventura bootable USB installer. We list instructions for each processor separately depending on whether the Mac has an M1 chip or an Intel chip.
For M1 Macs:
Connect the bootable USB drive to your Mac
Turn on your Mac while holding the power button
Choose the drive containing a bootable installer when you see the startup options screen, then click Continue.
Follow the directions.
For Intel Macs:
Connect the bootable USB drive to your Mac
Turn on your Mac. Then press and hold Option
Release Option once you see the startup options screen
Choose the drive with a bootable Ventura installer, press the Return key and choose the language
In the Utilities window, choose Install macOS and click Continue
Follow the directions.
Get everything you need for a safe Ventura upgrade
It's simple to create a bootable installation drive for macOS Ventura. You can do it right away if you have a spare 16 GB USB stick drive and know how to use Terminal. However, our preferred option isn't Terminal. We love Disk Drill, the tool that makes the process just effortless. This app, along with WiFi Explorer and CleanMyMac X, belongs to a huge Setapp family, which counts 240+ apps to solve almost any task on your Mac.
Get every app you need to set up your Mac for macOS 13 Ventura and monitor system performance following the upgrade. Simply open Setapp, click Collections in the sidebar and choose Ventura upgrade toolkit. This is exactly how you can make your life a lot easier!