Sounds good? Well it looks good too.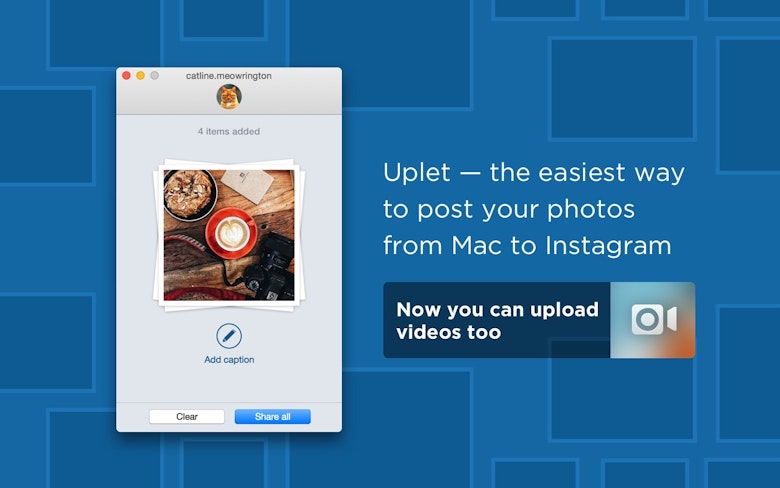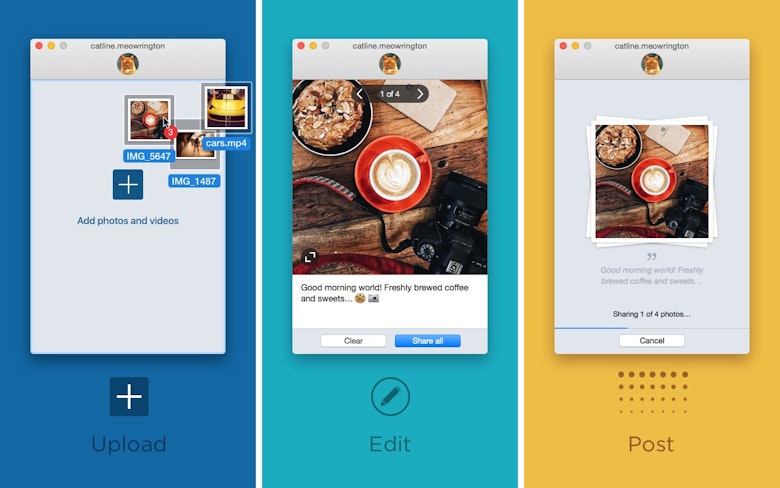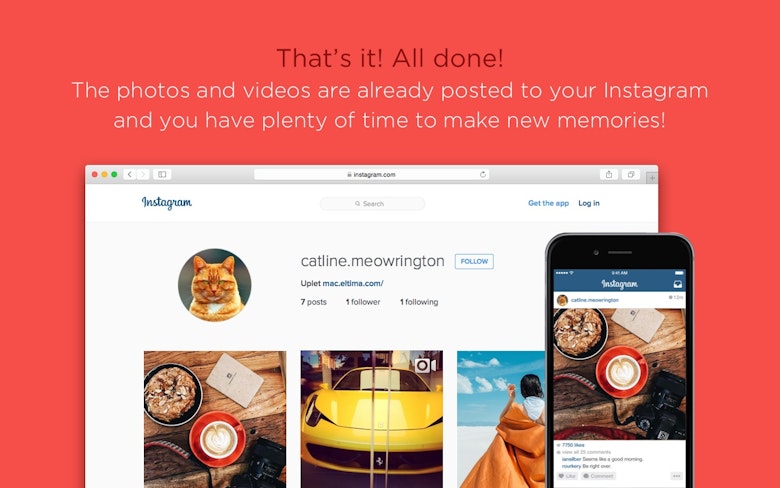 Uplet features
Post multiple pictures on Instagram
With Uplet on your Mac, you can instantly upload multiple photos to your Instagram account using drag and drop. This is a true life-saver for the owners of business accounts who want to streamline the posting process. So yes, Uplet may be a better replacement for your mobile Instagram app.
Repost videos on Instagram
Video upload is supported, too. Just as you do with images, select the file on your Mac or drag and drop it directly onto the Uplet window. You can also share multiple videos if you need — they will all appear on your Instagram account in the original quality.
Customize the appearance
Uplet lets you craft a unique appearance for every Instagram post in seconds. Choose the original size, fit your image into a square frame, or completely customize height and width. If you upload multiple photos or videos, you can edit each of them separately.
Add captions with emojis and hashtags
Once you upload your image or video, complete the Instagram post with captions. Uplet Instagram app has a support for hashtags and emojis, which will appear natively on your friends' Instagram feed. No need to switch to your phone for extra editing, Uplet covers it all.
Easily switch across accounts
If you want to post to both your personal and business account, Uplet has an easy toggle for that. No need to sign out and sign in again, simply click on your account name and switch to another one. Get your content out into the world in the shortest time possible.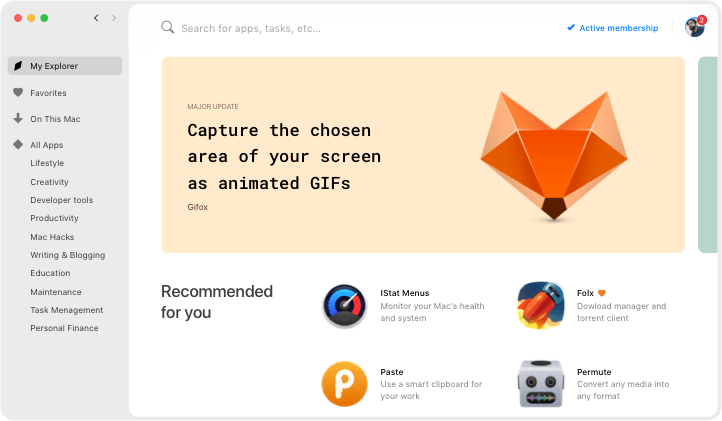 We love Setapp
---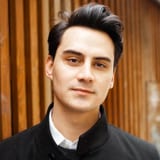 Very impressed with World Clock Pro @setapp @minimuminc. Making light work of time differences 🤘yew. How MacOS still doesn't have some kind of digital clock widget is mind boggling.
jessengatai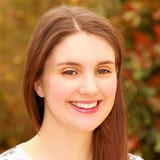 I have used Endurance (http://enduranceapp.com ) which is on @setapp to try and extend my battery life, 12 hour flight from Vienna to LAX and I spent about 8 hours working on an essay - not bad going!
Rosemary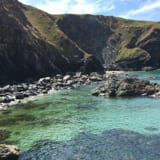 Wow just downloaded Setapp for my Mac - the value here is amazing. Some of the apps cost more than the monthly subscription alone and there are some amazing apps like Ulysses, RapidWeaver etc. @setapp
Mark Mitchell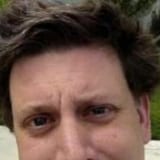 Discovered @PDFpen via @Setapp. Worth it just for the stellar OCR job it does on poorly-scanned assigned readings. Now to start playing with all those PDF editing features...
Nate Dickson