Apple Arcade: games, price, devices, and other facts we know
It's fair to say that Apple surprised everyone with the Apple Arcade announcement during their recent "It's Show Time" event on March 25. What is Apple Arcade? Good question. There aren't lots of details yet, as Apple was quite cryptic and didn't say too much during the presentation.
However, we do know some things for sure, which we were able to pull from a variety of sources. So we're going to share the already available information on Apple Arcade price, Apple Arcade games, and Apple Arcade subscription below. We hope Apple will release more specifics closer to the service's launch in fall 2019 but, in the meantime, let's dive in!
What Is Apple Arcade Gaming Subscription?
Apple Arcade is an upcoming subscription-based service from Apple that will allow users to play hundreds of exclusive high-end games on iOS, macOS, and tvOS devices without in-app purchases or ads. Apple Arcade games offline playing mode will also be available and none of the games will be able to track you, which is in line with Apple's latest privacy value proposition.
Even with the limited information we have at the moment, there's quite a lot to unpack.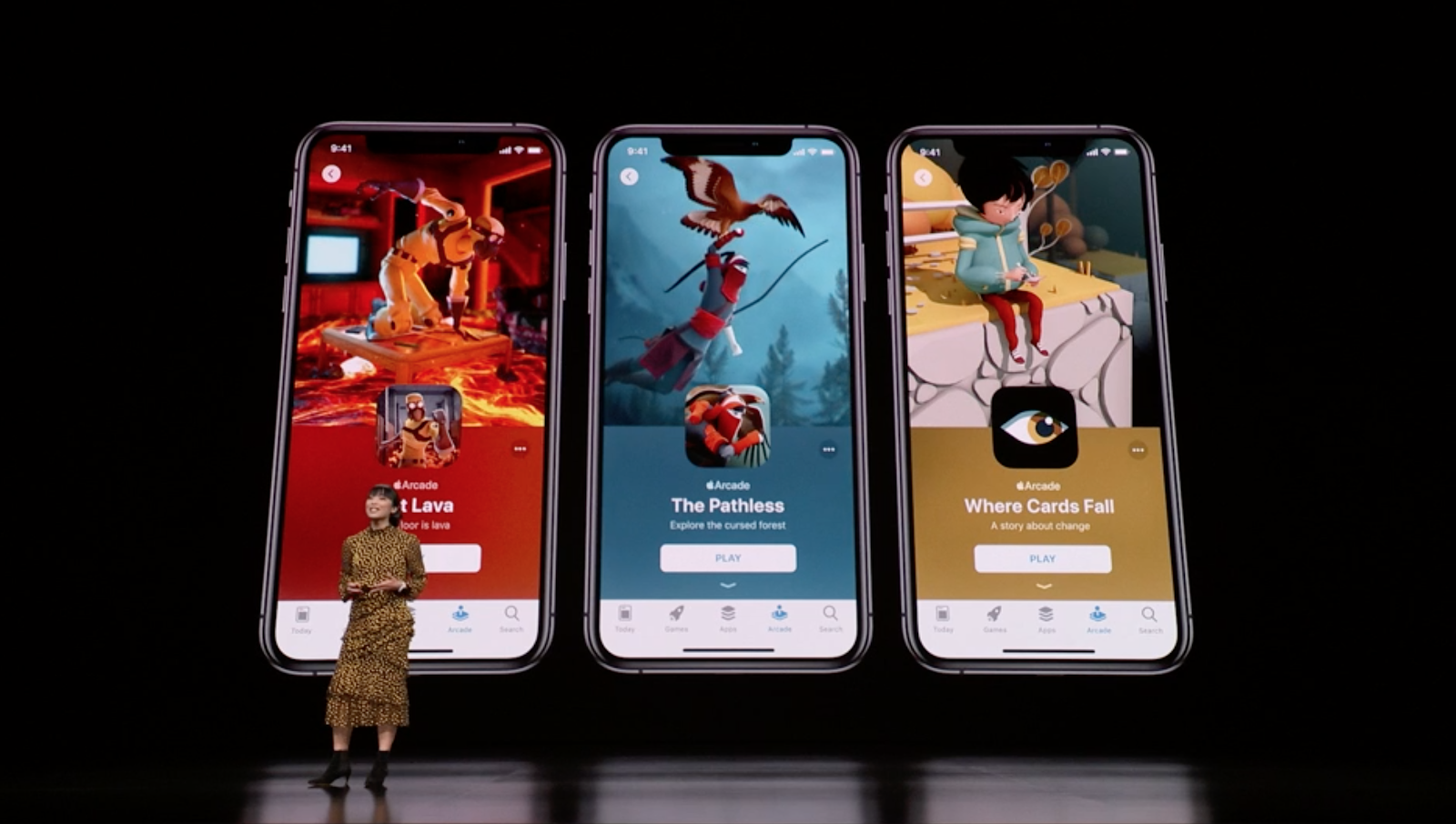 How much will Apple Arcade cost?
Right from the outset, Apple Arcade seems like a good deal for anyone who's interested in games, from casual players to hardcore fans. While Apple hasn't released the Apple Arcade price just yet, its other similar services such Apple News+ and Apple Music cost $9.99 a month, so it's possible that Apple will follow the beaten track here and set the same price.
Apple will likely offer a one-month free trial before requiring you to subscribe and allow Family Sharing (with up to six people) for Apple Arcade too, making the price a much better deal.
However, the correct answer about the price right now is — we don't know.
Which devices are supported?
One thing we do know for sure is that Apple Arcade will be available on iOS, macOS, and tvOS. That means you'll likely be able to play Apple Arcade games on your iPhone, iPad, MacBook, iMac, and Apple TV.
However, it's also likely that your device would have to support upgrading to the latest version of the operating system, which will exclude some older gadgets. Plus, as most of the games are promised to be on the cutting edge, you'll likely need the latest hardware to run them anyway.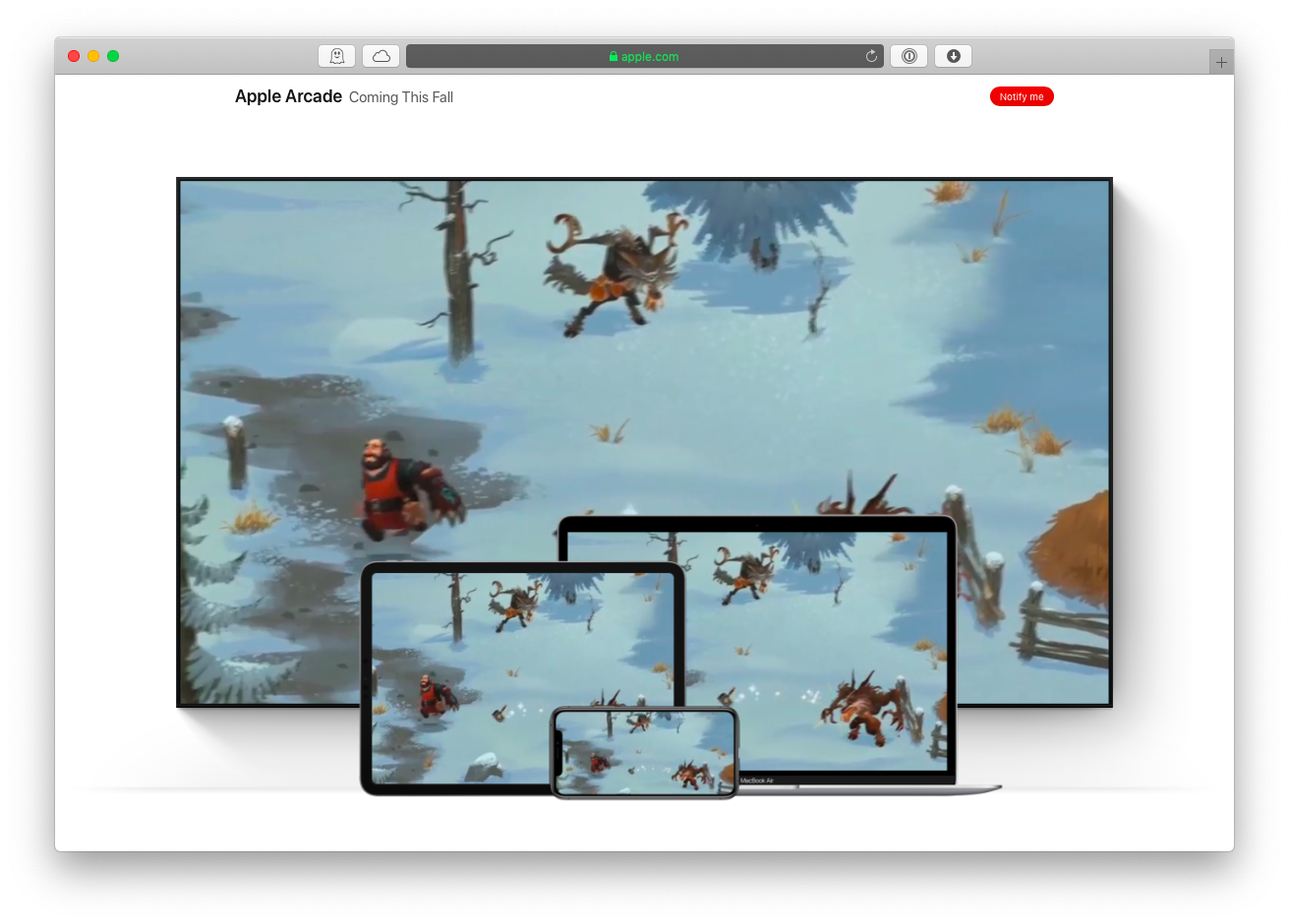 Will there be any ads in Apple Arcade?
Hard no. During the presentation, Apple specifically addressed the issue of invasive ads that have taken over most games nowadays. So one of the most attractive features of Apple Arcade is no ads, no ad tracking, and no in-app purchases whatsoever. The service will be supported only by the subscription revenue.
How to access Apple Arcade games?
As Apple Arcade is not available yet, at least not until fall 2019, you can't access the games at the moment. But as shown briefly during the presentation, when the service becomes operational, another tab in the iOS App Store and (likely) Mac App Store called Arcade will appear.
So the user experience is likely to be something close to Apple News+, where you can access the free version of the app, and go further into the News+ tab if you have a subscription to access premium content.
Apple also promises that you'll be able to play Apple Arcade games offline anywhere, anytime — thus some sort of a download option for games will be available too.
Will buying individual games be possible?
As shown during the presentation, the Arcade tab in the iOS App Store will live right next to the already existing Games tab. This indicates that individual games on iOS as well as games for Mac won't go away.
Apple has no incentive to kill their collection of available games. It's one of the highest-grossing and highest-growing app segments. Lots of games are now available free as well (supported by ads or in-app purchases), which attracts new gamers and can actually act as a gateway for them to subscribe to the more premium Apple Arcade service later on.
How to use game controllers with Apple Arcade?
With little official information being released, Apple Arcade controller support is still not clear. But looking at the existing iOS games, some of them do support MFi controllers made specifically for iPhones. So it's likely that you'll be able to use the same controllers in Apple Arcade.
As for Mac games — you can't currently use MFi controllers for macOS, so another type of controller might be required.
What are the Apple Arcade games?
Apple promises more than 100 "groundbreaking new games" on the platform, with new titles to be released regularly as well. The company is reportedly investing over $500M into launching Apple Arcade, so it's safe to assume that quite a few releases are already planned out for a few years ahead.
Some of the best Mac games for the platform we already know about are:
Beyond a Steel Sky
Oceanhorn 2: Knights of the Lost Realm
Hot Lava
LEGO Brawls
The Pathless
Where Cards Fall
Apple Arcade vs Google Stadia vs PlayStation Now vs xCloud
Truth be told, Apple is not alone in coming up with a gaming platform. Besides well-known and highly popular platforms like Steam, Playstation released their Now in 2014, Microsoft released xCloud in 2018, and Google announced their Stadia service to also be available in 2019.
What separates Apple Arcade vs Google Stadia and others is the ability to not just stream but actually download games to your devices, which makes the Apple Arcade games offline mode possible. In addition, the games are expected to be smoother overall as they are not relying on high-speed internet connection for rendering (Sony, for example, recommends at least 5 mbps speed for good performance).
Is subscription a trend now?
With all the latest releases from Apple and its competitors in the last few years, one might safely assume that everything is gradually turning into a subscription service, from videos to games to even apps.
In fact, an Apple Arcade-like service for apps has been around for years now. Setapp is a platform of more than 150 handpicked Mac apps that cover all your day-to-day needs.
If you're an avid gamer, you need all the power your Mac can provide. But it's quite likely that you haven't done a thorough Mac optimization and cleaning in a while. You can refer to our guide to help you set up your Mac for games properly in addition to using CleanMyMac X, the world's most popular Mac optimization software.
After your computer is as good as new, keep an eye on all the vital stats to spot problems right when they appear instead of waiting for your games to slow down. iStat Menus is a full-scale monitoring system that lives in your menu bar, always just a click away.
Finally, as the games are well-known battery killers, you can maximize how long your Mac can last without power by using Endurance, which will automatically adjust your Mac settings to extend its battery life to allow you to get the most out of Apple Arcade on the go.
Best of all, the apps mentioned above are all available on a single subscription to Setapp and are even offered for free during the 7-day trial. So get your Mac in shape today, ready for the Apple Arcade release this fall.