Buying a new Mac is the first step toward increasing productivity and streamlining your daily tasks. With a set of standard apps like Calendar, Mail, and more, the Mac provides a solid foundation for performing basic functions right out of the box.
But to truly enhance your Mac experience and unlock its full potential, there is a vast selection of apps you can install. With so many options available, it can be overwhelming to know where to start. That's why we've curated a list of must-have apps to get you started on your journey to a streamlined and efficient Mac experience.
Explore these handpicked Mac apps and discover new ways to organize your workflow, spark your creativity, and simplify your life.
The best part: you can opt for a hassle-free, all-in-one solution that offers a collection of top apps for Mac. Setapp is a prime example of such a solution, offering a comprehensive set of starter apps in a single installation.
Here are some of the essential apps for Mac, categorized by function.
Productivity apps (task and project management)
1. Create quick, persistent reminders with Due
Ever missed a reminder? Due can help you set up persistent reminders to notify you every 5, 10, or 15 minutes. You can snooze them, but you can't turn them off until you've completed the task. Use Due for those important tasks that you really need to get done today.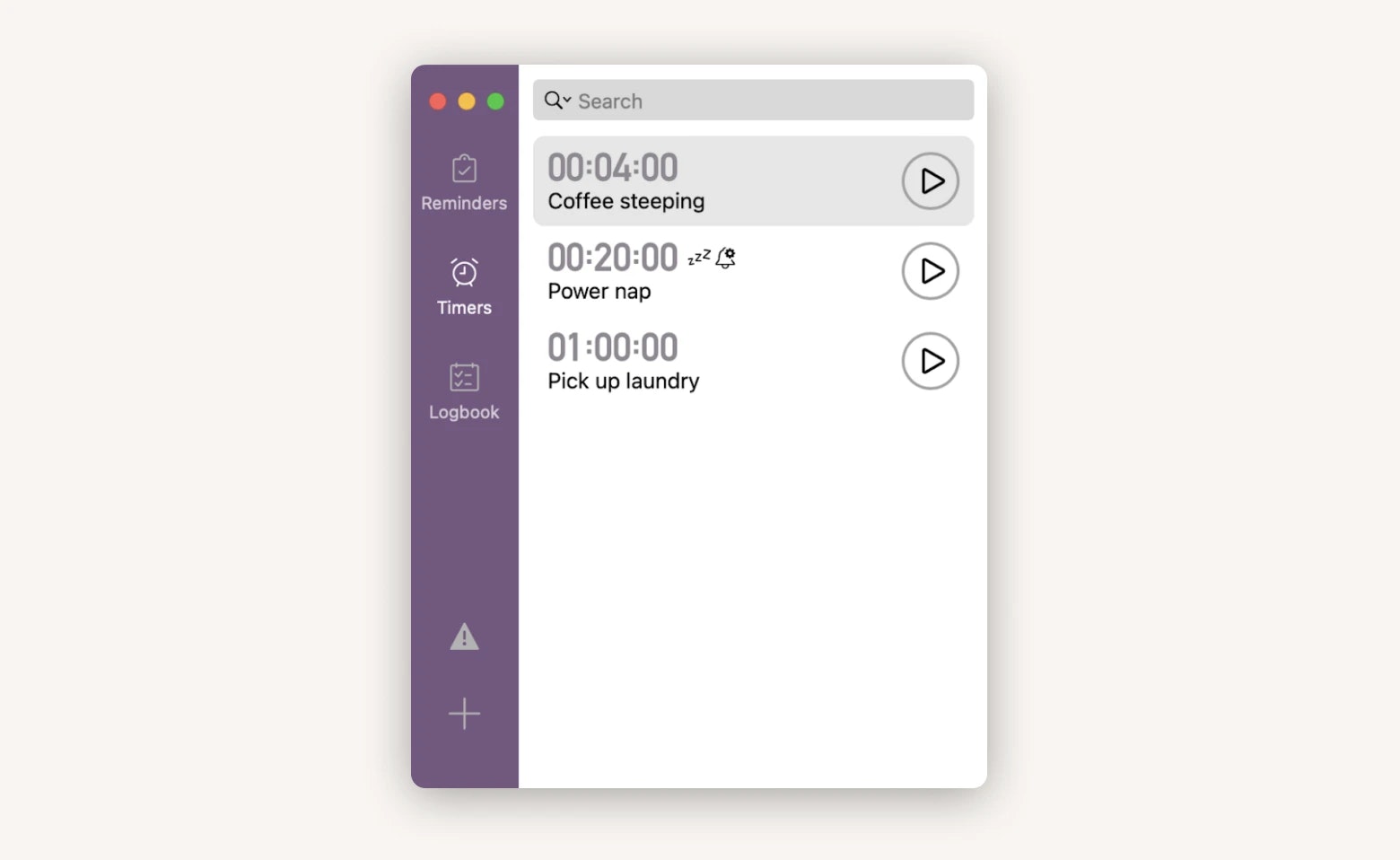 2. Write your to-do list and keep things simple with TaskPaper
TaskPaper feels like a minimalist's dream. The app uses plain text to help you organize your tasks. Just type in your to-dos, and TaskPaper will format them into a list. You can create entire projects and add tags to help organize your tasks – all with simple, free-form typing. Instead of figuring out new interfaces, you can focus on getting things done.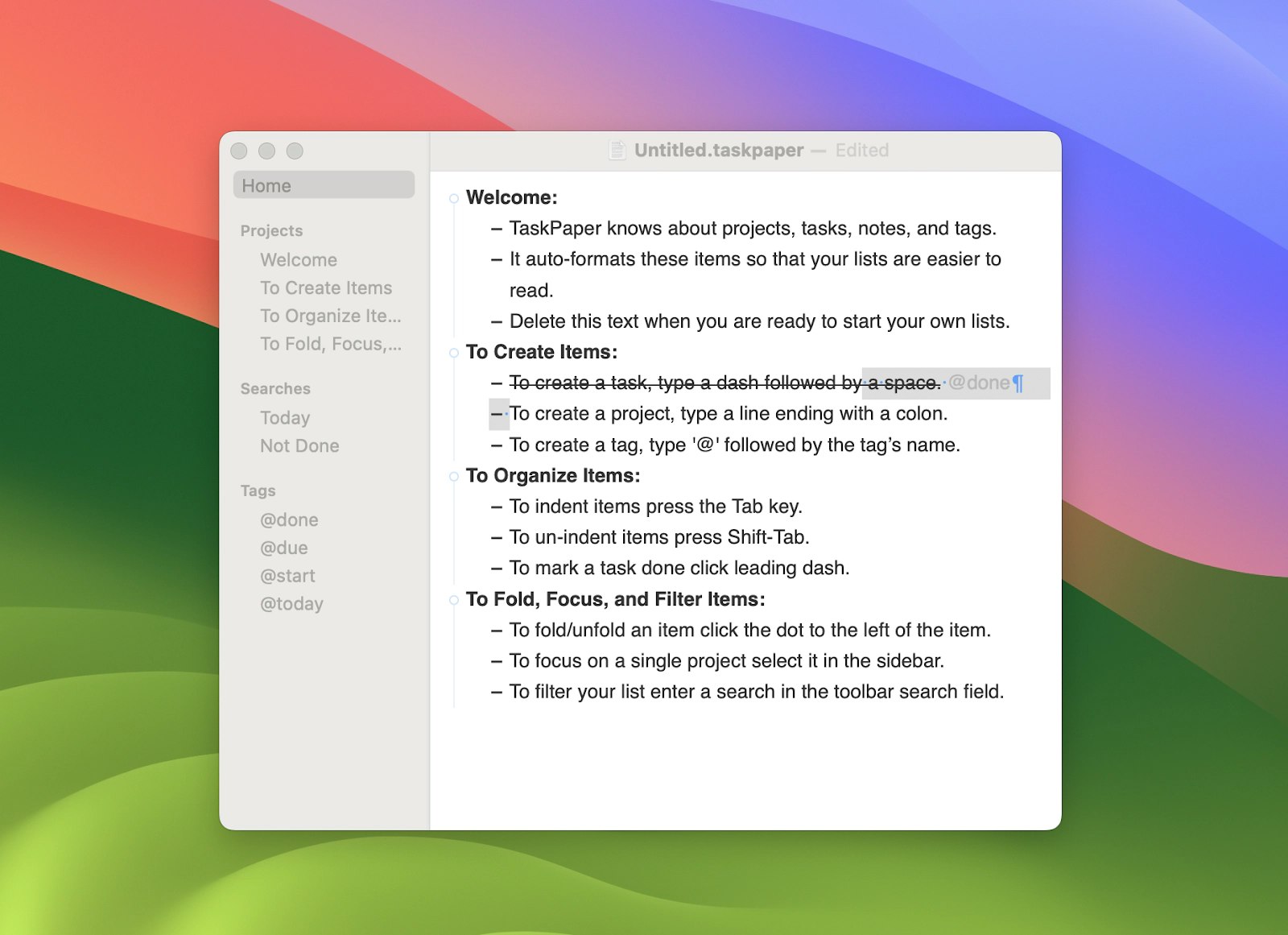 3. Keep notes visible on your screen with SideNotes
Notes are essential, and you probably have some kind of app or online service where you keep them. With SideNotes, your notes are always there, lurking on the side of your screen, saving you time and Dock space. Just one swipe – and your notes appear; no need to open a new tab or app!
Another great feature that will help you get more things done is the ability to create and manage to-do lists right in your notes. When you click the text formatting button, you'll be able to add checkboxes for your to-do items.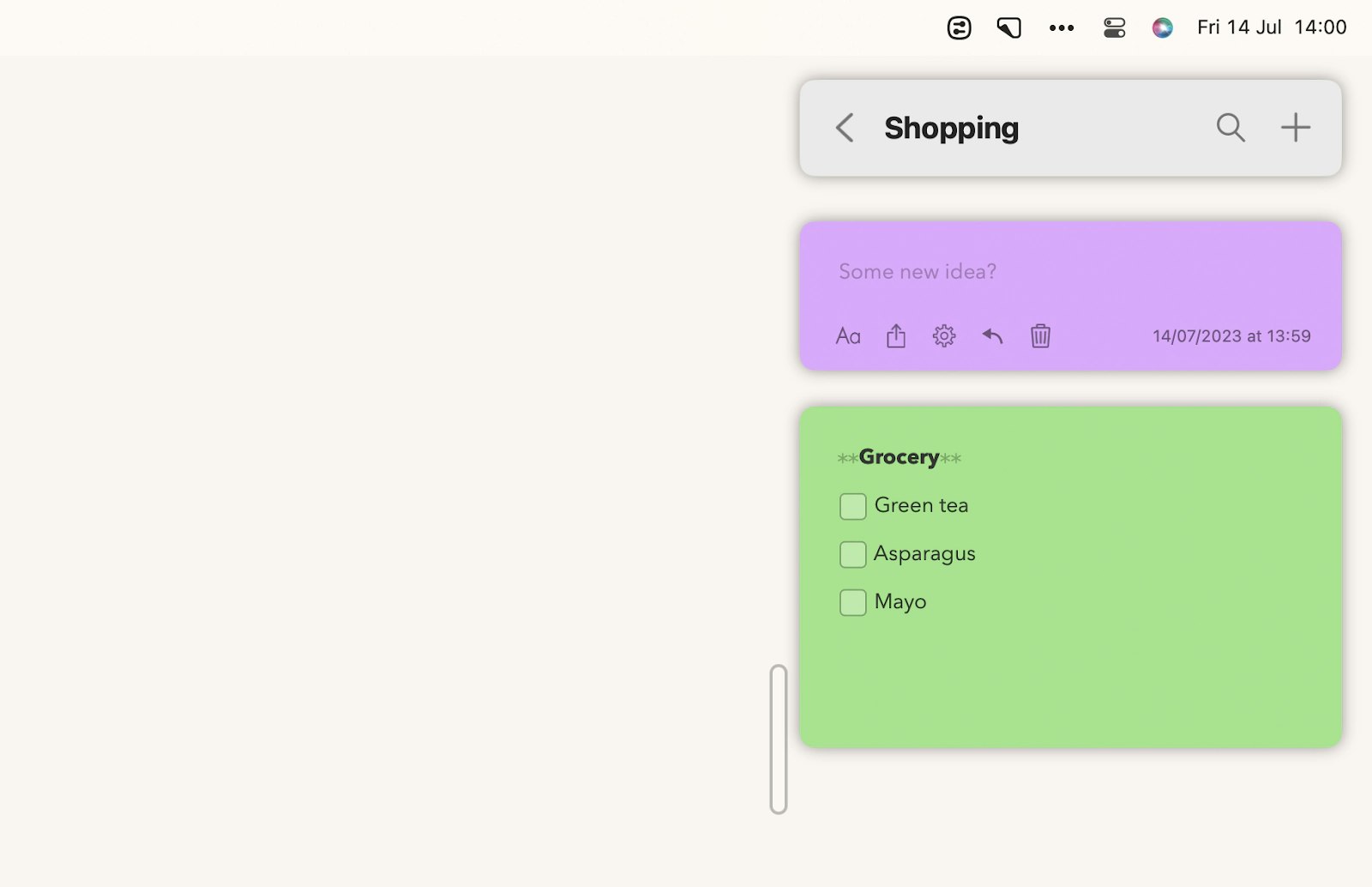 4. Link files, web pages, and PDFs with Hookmark
When you're immersed in a project, juggling multiple sources of information can be overwhelming. Hookmark comes to the rescue by allowing you to effortlessly link files, tasks, notes, web pages, email, and more, providing easy access and preventing information overload. You simply activate Hookmark with a keyboard shortcut or by clicking the icon in the menu bar, and the app intelligently recognizes your selection, allowing you to create relevant links in the foreground window. Say goodbye to double searching and stay focused with Hookmark's efficient linking capabilities.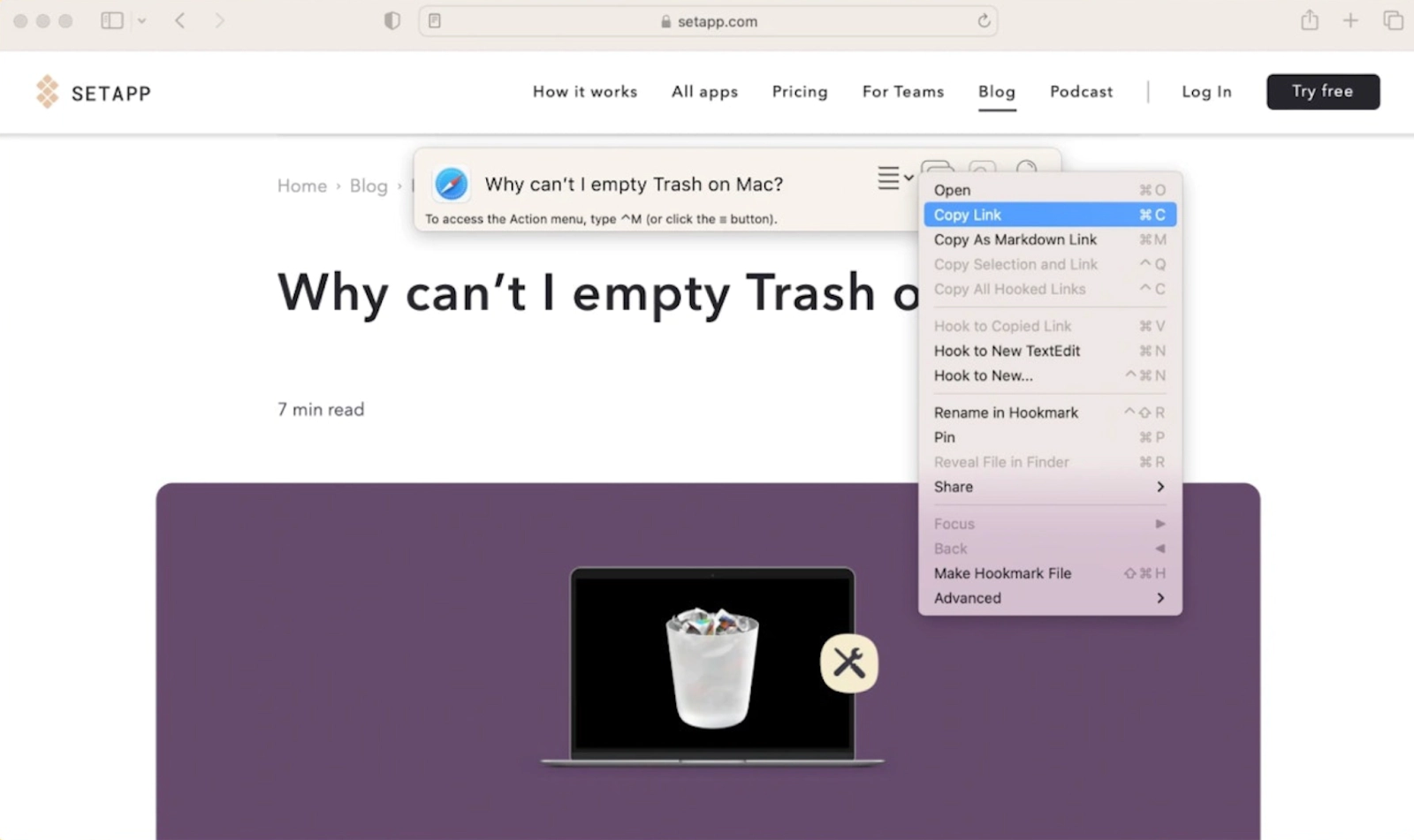 5. Improve file management with Dropzone
Old or new, your Mac will always be filled with files and actions. And not all of them you need to apply immediately. Stash files for later and save actions in one handy digital pocket called Dropzone. With robust drag-and-drop capabilities at its core, the app helps you streamline all tasks you regularly complete on a Mac. Bundle together the favorite processes. Combine groups of similar files. Dropzone eliminates all the hustle, leaving you with an organized grid of actions.
6. Structure your day with Structured
Structured is a simple daily planner that allows you to quickly schedule tasks. The app encourages you to find the exact time for your to-do's instead of just lumping them into a list. And if you can plan it, you can do it!
Don't have time for a particular task? Add it to your inbox and schedule it for later. You can also set up recurring tasks and connect your calendars for a complete picture of your day.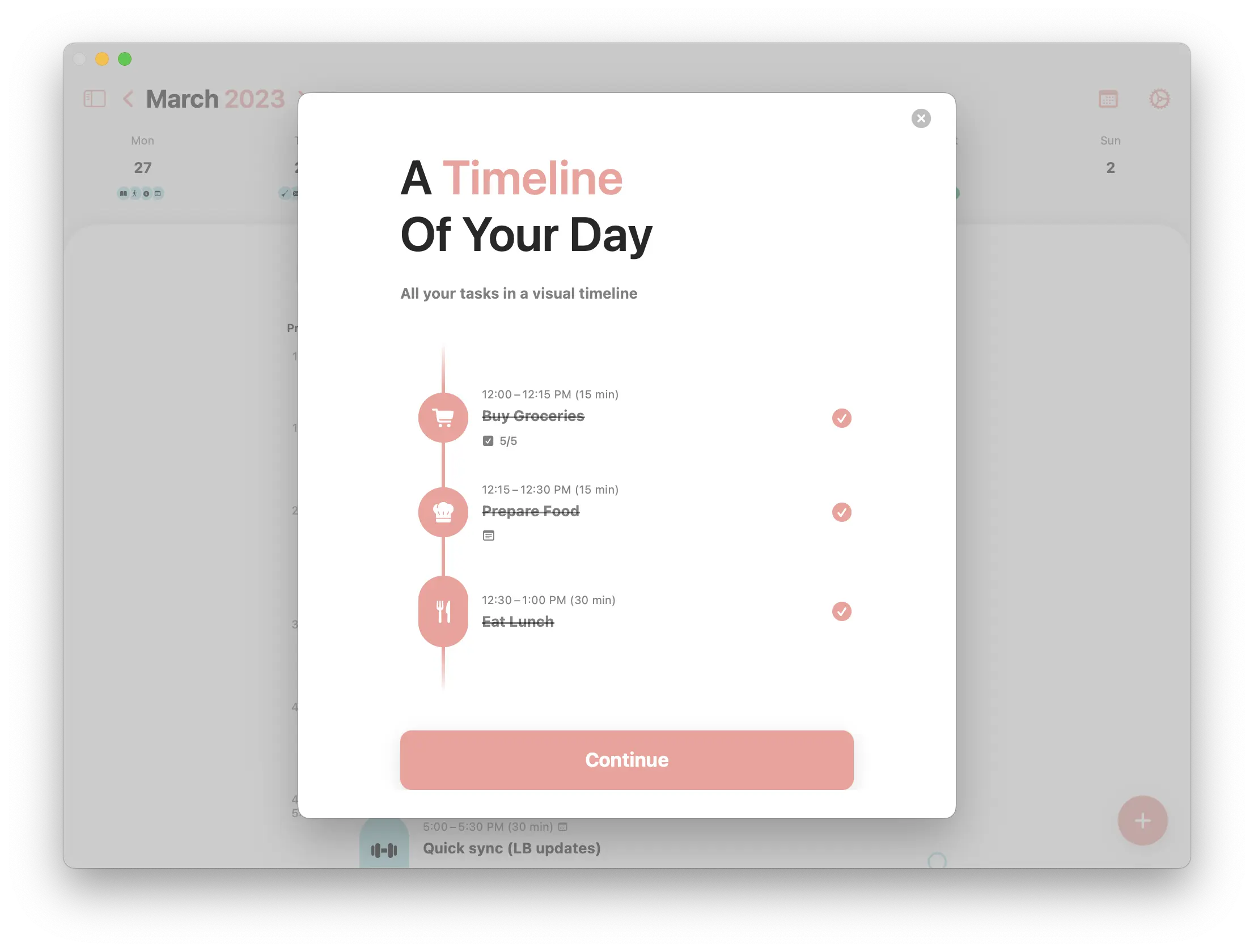 7. Track your work for effective planning with Timing
How do you know how many tasks you can complete today? Well, you don't have to guess. Get Timing to track your time and see detailed statistics on where your time goes at the end of the day. The app records how much time you spend on each app, document, and website. This will give you a good understanding of how to plan your tasks well.
Calendar and mail
1. Manage your calendar, to-dos, and notes in one place with NotePlan
Looking for an efficient way to stay organized and keep track of your daily schedule? NotePlan is an app that can help you do just that. It's designed to help you combine your tasks, notes, and calendar – all in one place. Easily manage your time now and in the future with a separate note for each day. Create an outline of what needs to be done, write and link relevant notes, then schedule everything in your calendar. Your calendar updates in real-time as you add new notes and tasks with due dates, making it easier to see the big picture of your to-do list. NotePlan lets you work with tags and mentions, which is incredibly handy.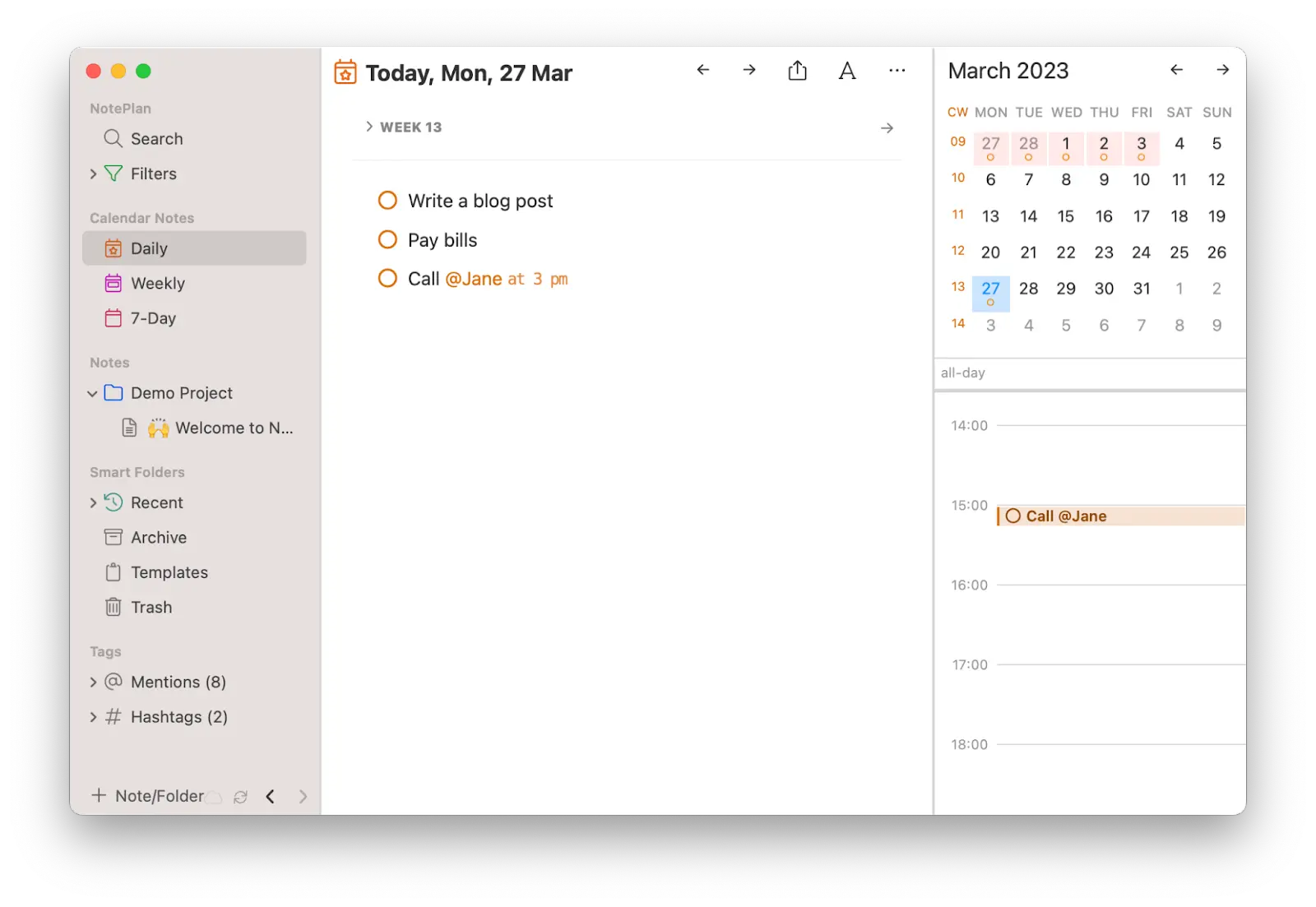 2. Keep your meeting schedule in the menu bar with In Your Face
Tired of scattered meeting links and endless calendar searches? In Your Face has got you covered. This handy tool consolidates all your meeting links into a convenient menu bar schedule, ensuring you always know what's next without the hassle of digging through calendars and emails.
The app sends you full-screen alerts so you never miss an important event.
3. Find the time that fits everyone with Dato
Working with people in different time zones? Dato helps you find the right time to meet. You can quickly check your teammates' time zones and schedule calls from your menu bar. In addition to giving you the power of time travel, Dato has a handy date and time calculator.
Finance
1. Track your income, expenses, and bills with Chronicle
Chronicle is for people who prioritize budgeting and want to optimize their money situation with the help of a financial manager. Our favorite thing about Chronicle is that it helps us spend less money on Netflix competitors thanks to its subscription budget tracker. The app also focuses on tracking your bills and when they are due. It lets you get notifications when there's a bill waiting to be paid.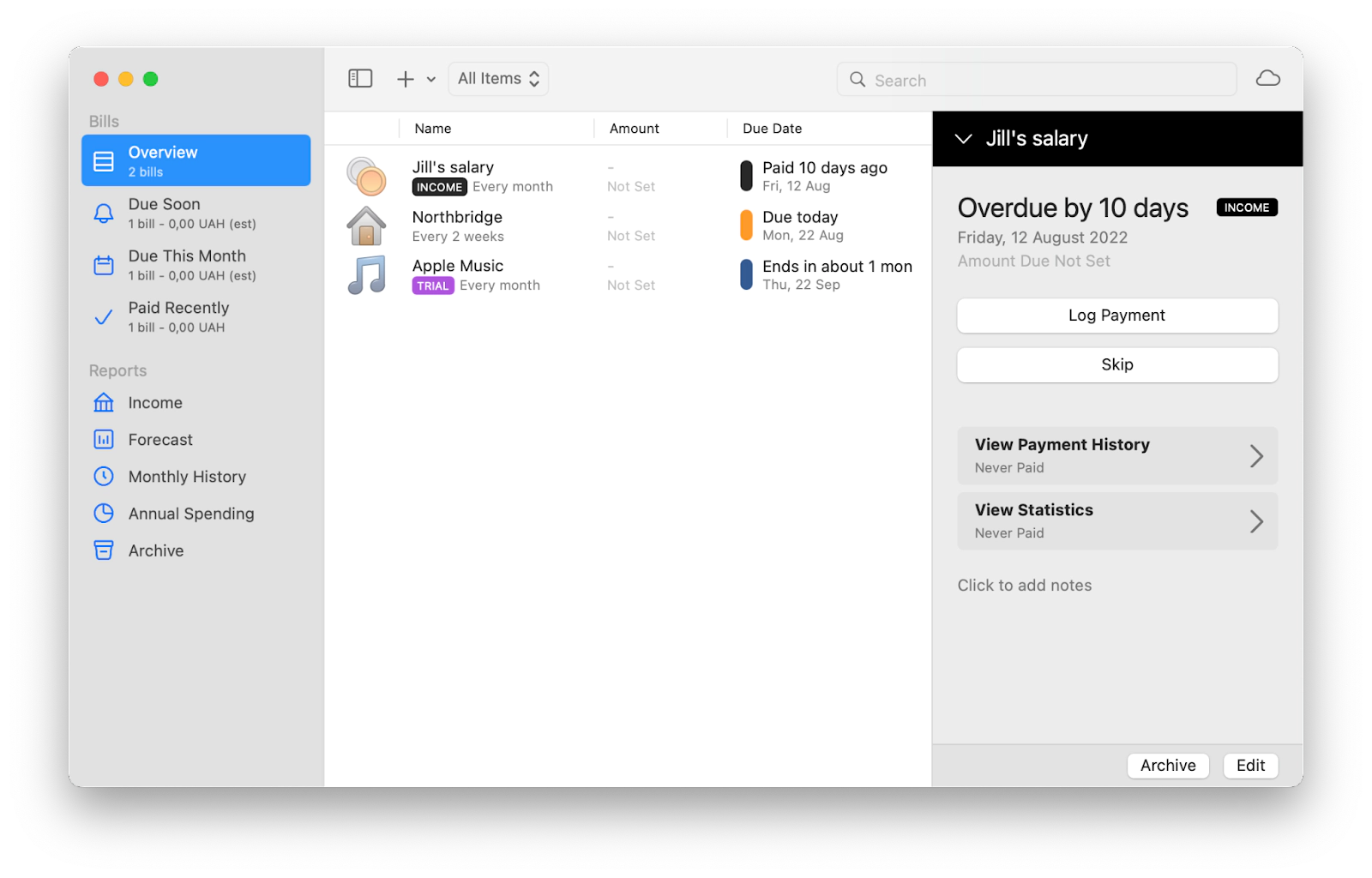 2. Track your expenses and income with Expenses
Meet one of the simplest personal finance apps – Expenses. All you have to do is open the app, enter your income, and then add expenses as you go. No registration, no extra information. What's more, Expenses allows you to add multiple currencies with a base currency that automatically updates exchange rates.
The app's interface is built around sheets – you can create dedicated sheets for different uses, such as your next journey. So if you're going on a trip, you can easily track all your expenses using this sheet.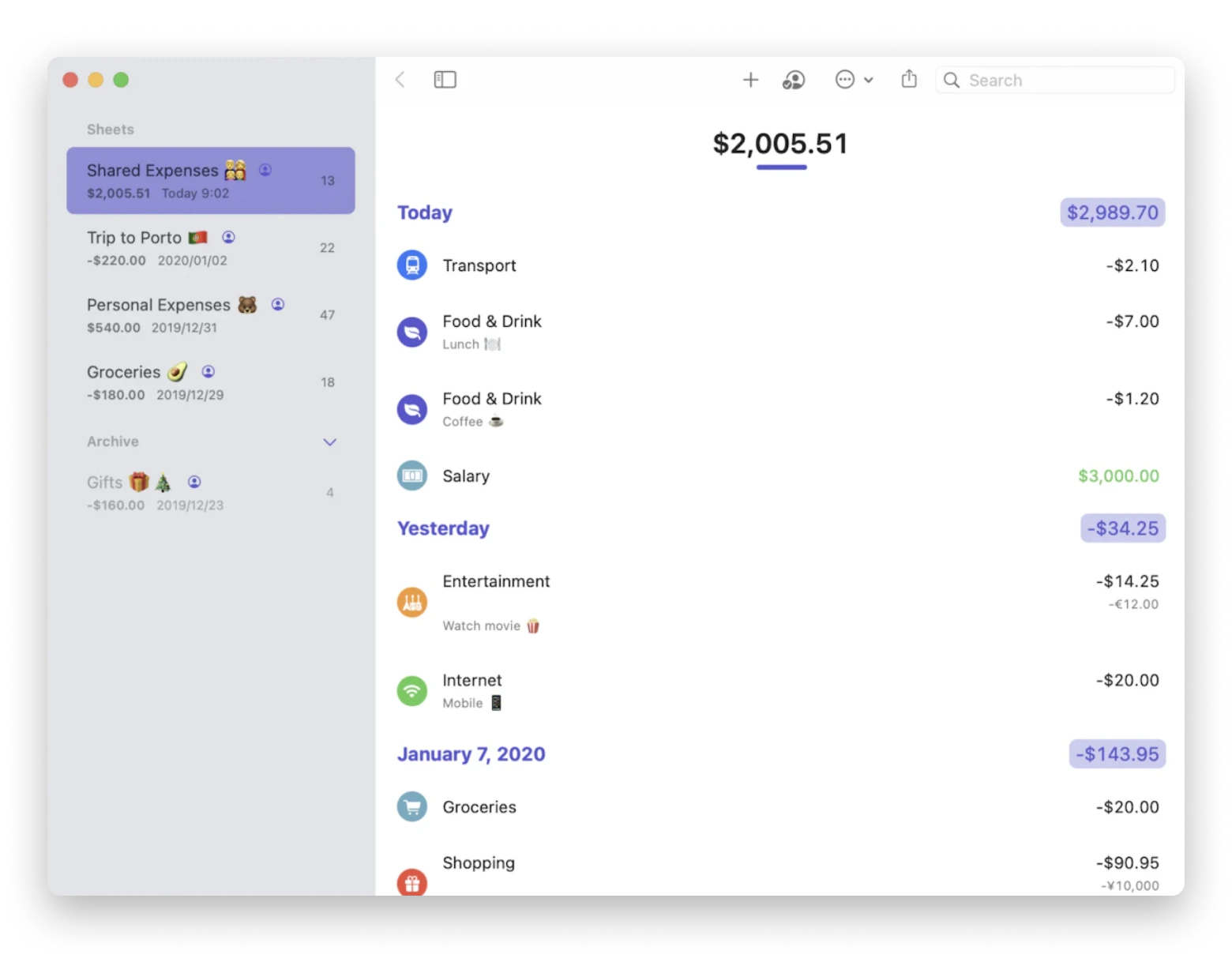 3. Collect documents digitally with Receipts
Dealing with receipts regularly? If some of your invoices and payment statements are delivered to you in PDF format while others come in paper form, there may not be an easy way to digitize all of your transactions. However, manual scanning and importing them into Receipts is an option! Receipts supports OCR scanning, which enables the app to automatically convert images, PDFs, and other documents into text and extract their amounts, meaning you can do away with the manpower and simply let the app do its work. Furthermore, Receipts can perform tax calculations, making this particularly useful for those in the accounting profession.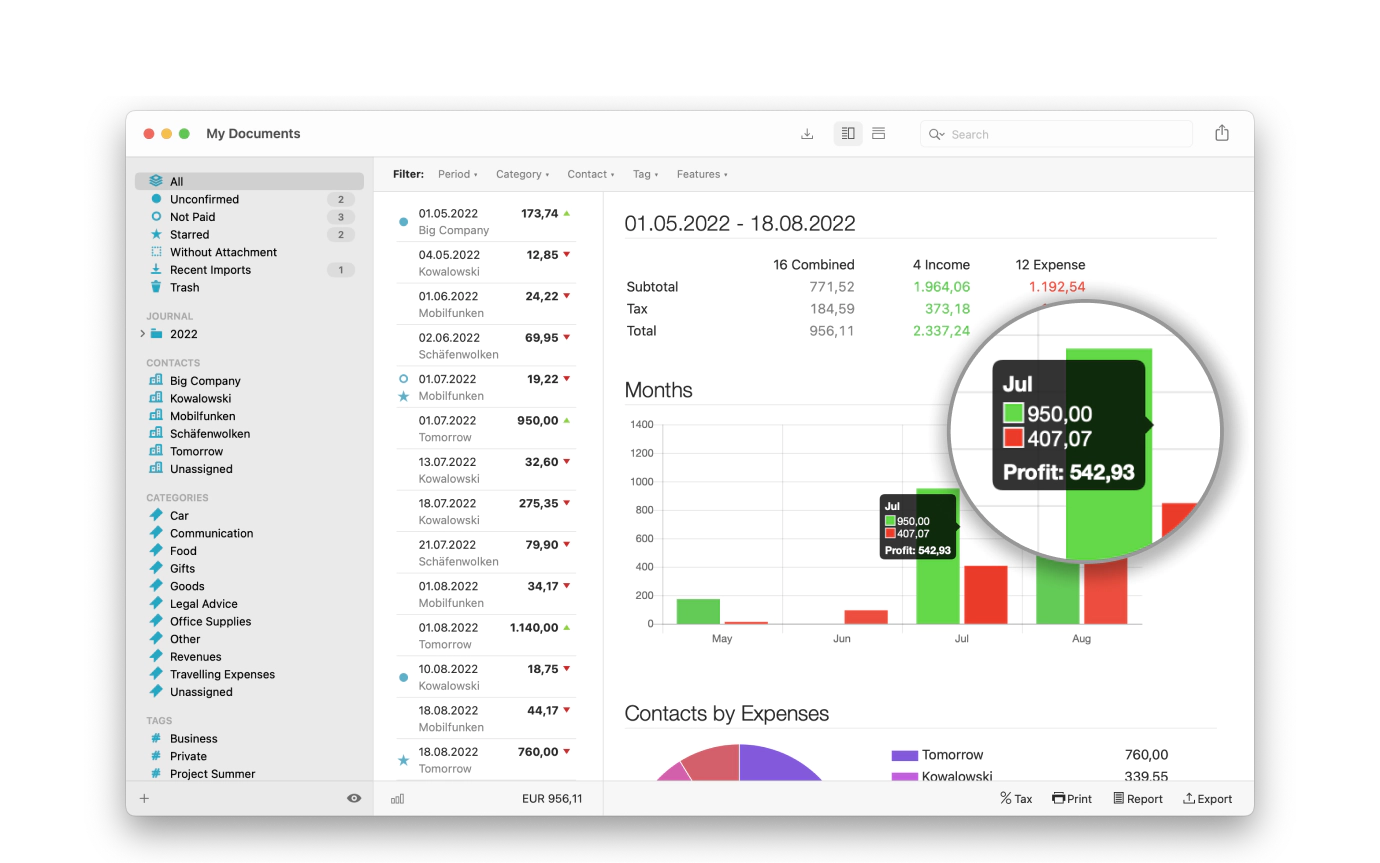 Files and folders
1. Drag files from anyplace to anyplace with Yoink
If you want to speed up your daily workflow, try Yoink. The app is useful for moving files across multiple overlapping windows, spaces, or full-screen apps. Drag anything into Yoink, and it will sit there until you're ready to move it somewhere else. Instead of going back and forth, you can simply drag files from Yoink to wherever you want.
2. Find the things that are hard to find with HoudahSpot
No idea where that file is? You probably can't even remember its name. That's not a problem with HoudahSpot. Maybe you remember the file extension or a few keywords contained in the file. Just type them in! HoudahSpot can search using a variety of different criteria.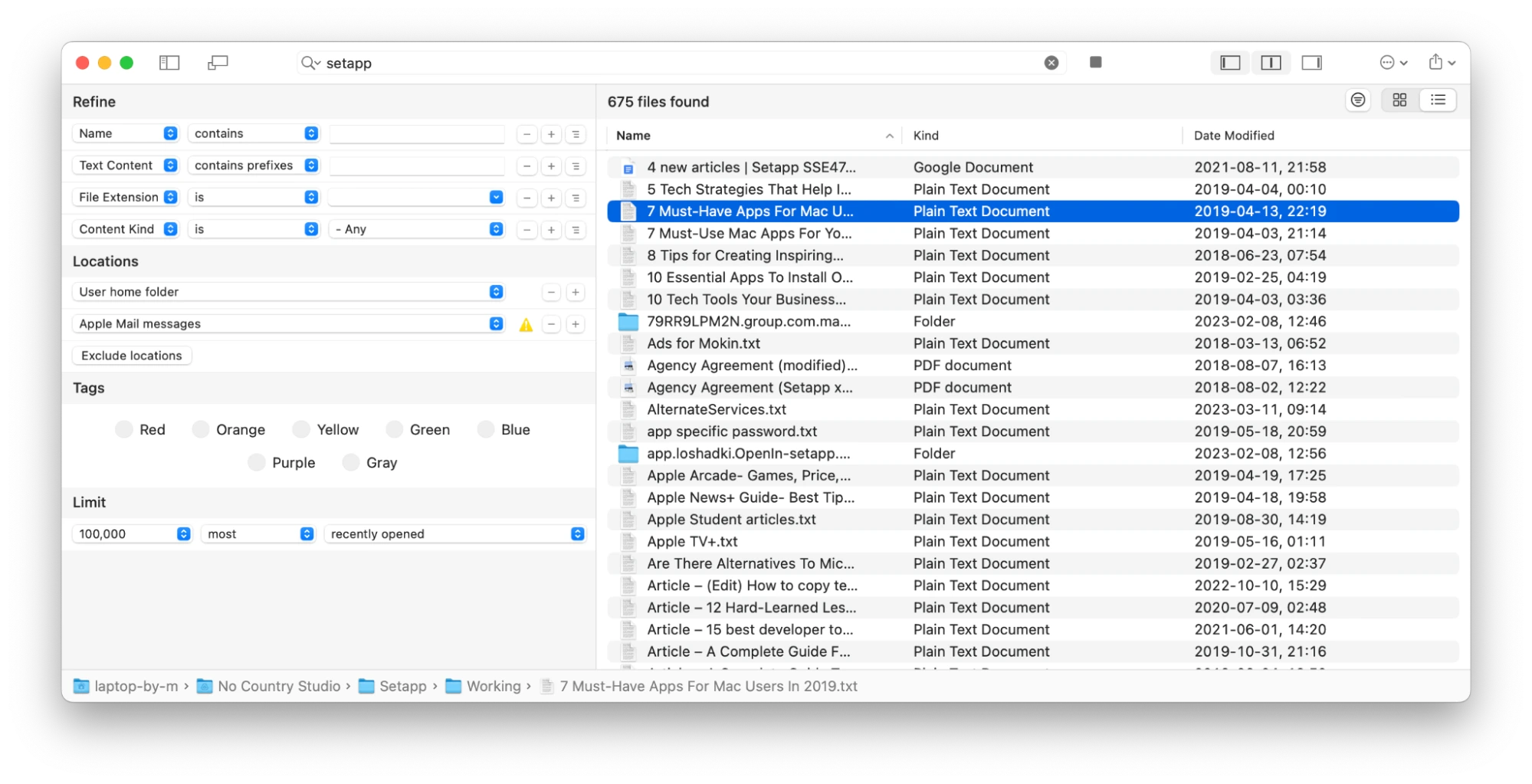 3. Enhance file management with Default Folder X
Even though the macOS Finder is getting better all the time, there are more advanced file management tools that can make your life even easier.
Default Folder X gives you superb menu bar navigation for quick access to files, folders, and volumes. Even recent files, favorites, and active Finder windows! It completely redefines the traditional Finder experience with hierarchical menus – so you can find the exact file you need faster. You can also preview files right from the menu bar.
4. Mount all Cloud storages as local disks with CloudMounter
What do you do when you need to store something in the cloud? Well, you open Dropbox, Google Drive, or whatever service you use. That means you open some app or website. CloudMounter makes this unnecessary, while it mounts your cloud storage as drives, easily accessible from the menu bar.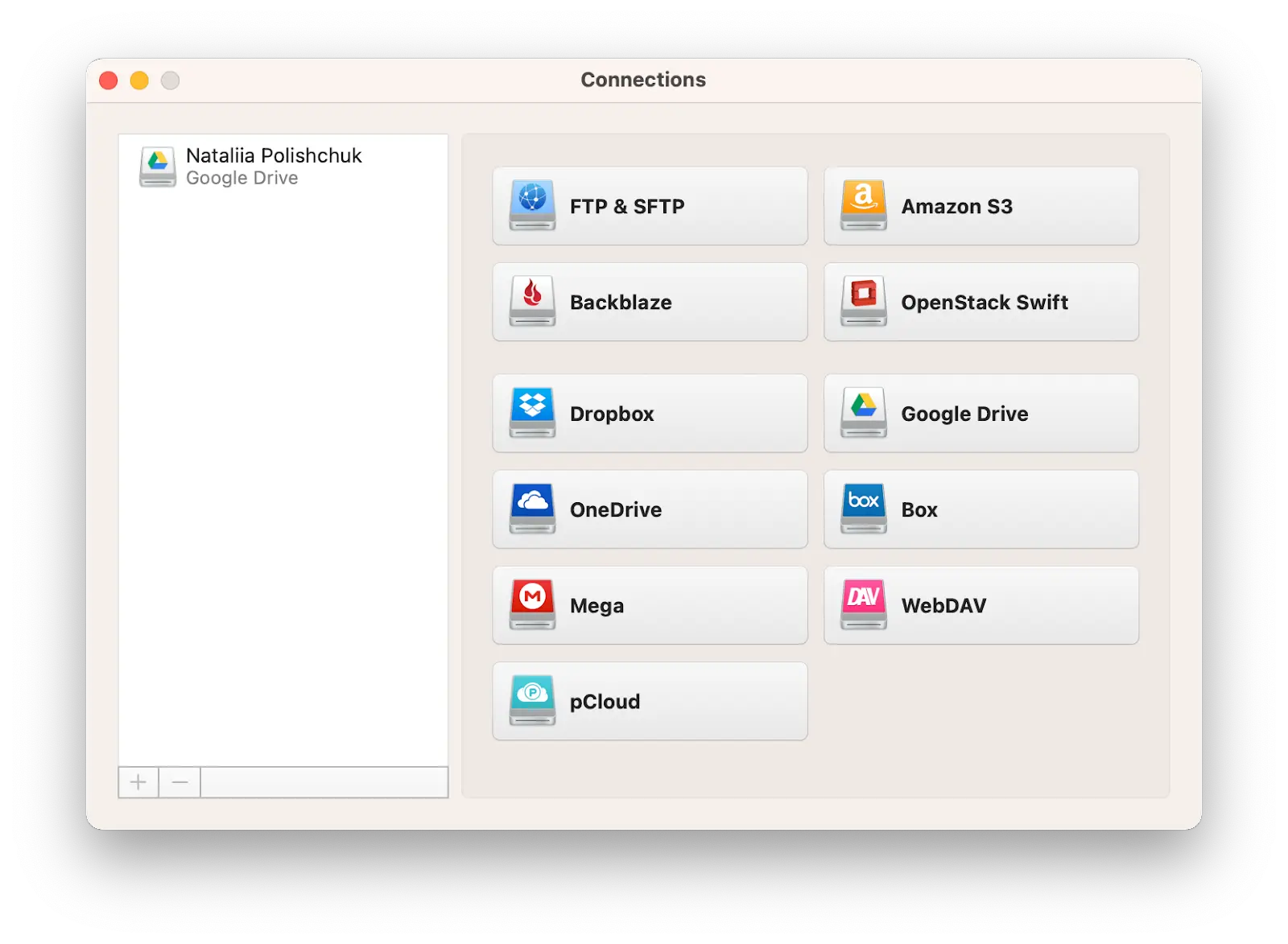 5. Open RAR archives with Archiver
Archives are a great way to save space and share large files. While the Mac can natively open ZIP archives, it doesn't work with RAR – a slightly less popular archive format. RAR has a better compression algorithm than ZIP and can handle larger files. It's no wonder people love it. So if you need to open RAR on your Mac, use Archiver. Just drag and drop your files into the app and sit back. Archiver takes care of the rest. Besides, the app works both ways – you can open and create RAR archives.
Even better: say goodbye to extracting all your files just to see what's in them. Archiver allows you to look inside an archive and see its contents.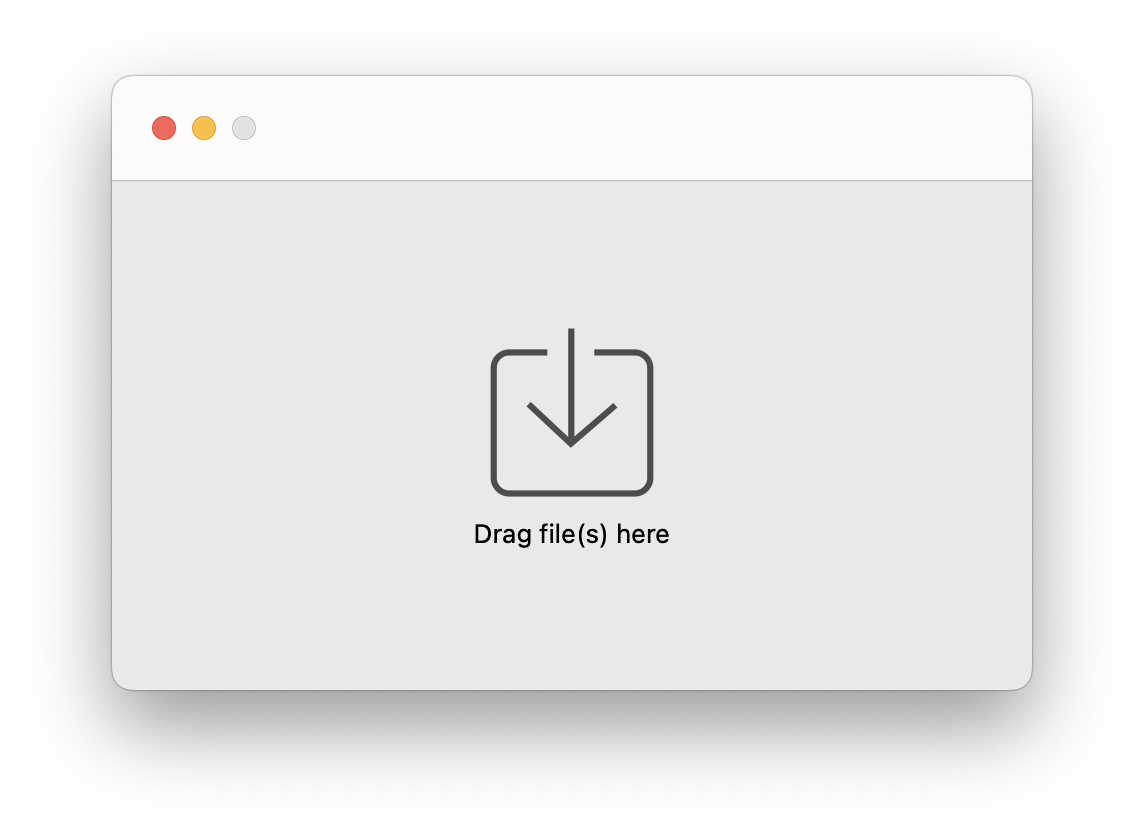 6. Work with your PDFs with Nitro PDF Pro
Imagine you have a stack of PDF documents that need various modifications. Perhaps you need to edit the text in a contract, add annotations to a report, merge PDF files into one document, or convert into popular formats. Instead of searching for different tools for each task, there's a versatile solution: NitroPDF.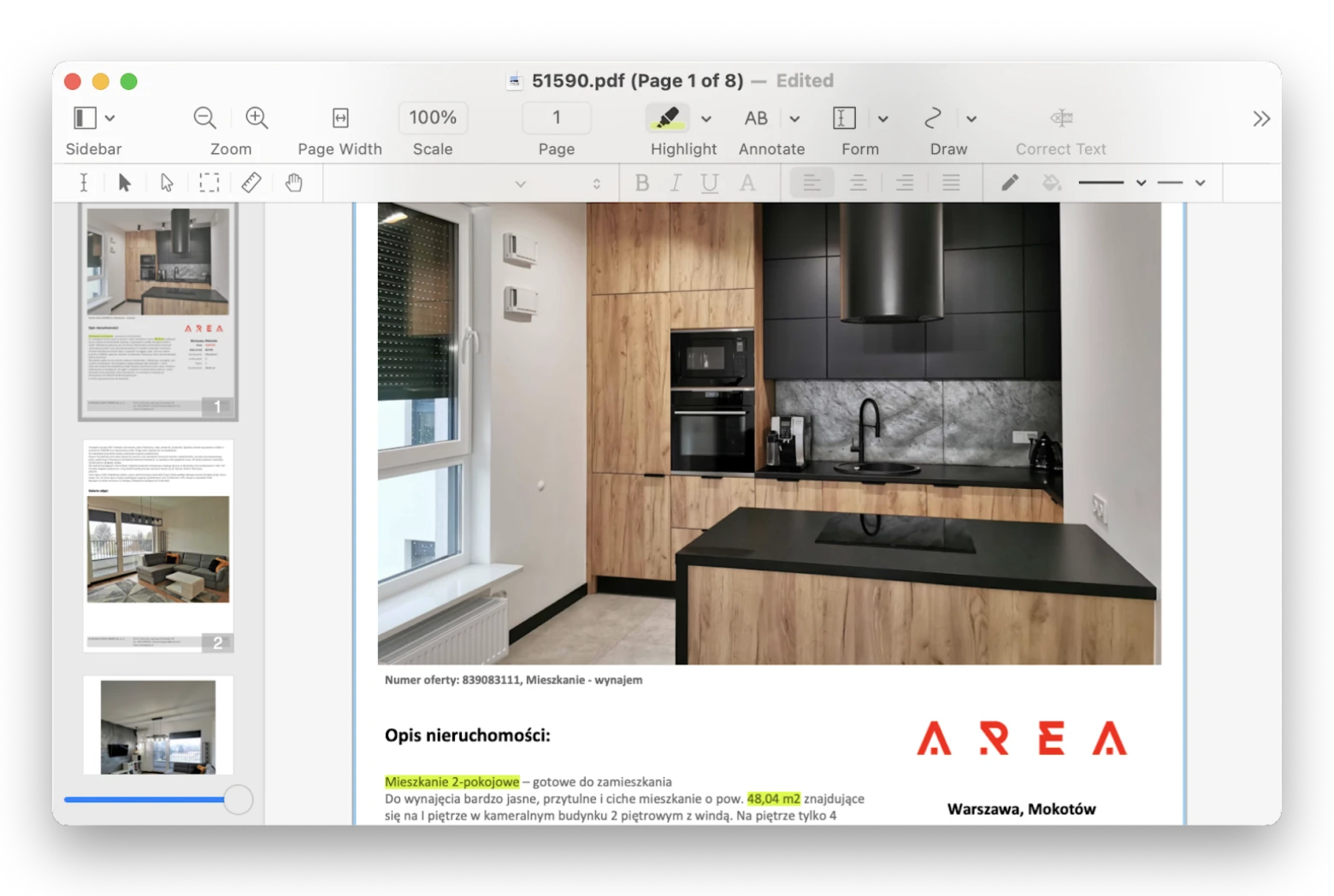 7. Find anything in a PDF with PDF Search
If you need to find something in hundreds of PDF files, try PDF Search. This powerful tool performs a comprehensive relevancy search across all your files, going beyond simple content matching. PDF Search not only looks for words that match your query but also for phrases containing your keywords and tests numerous keyword combinations. On top of that, you can search PDFs in bulk.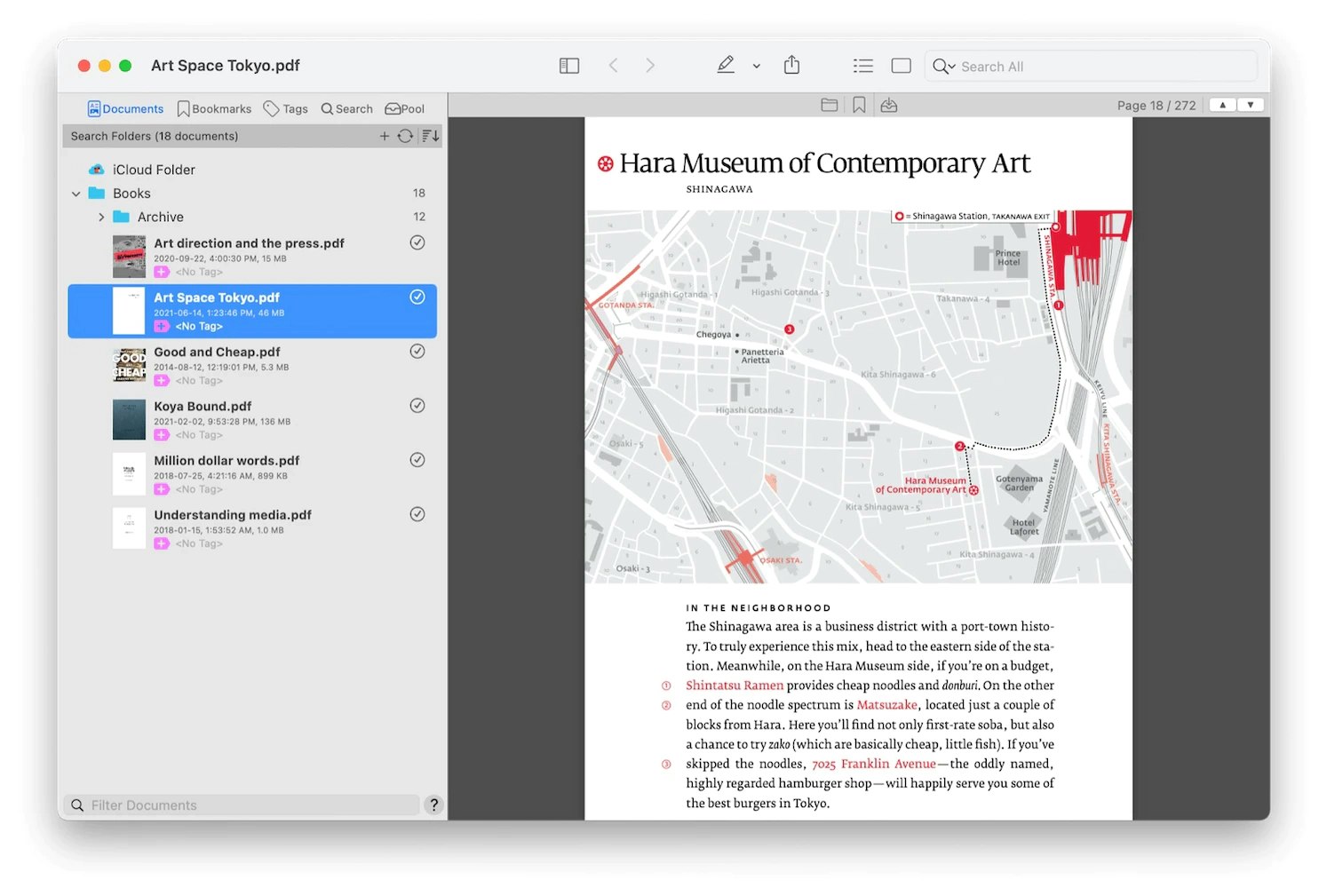 Screenshots and screen capture
1. Capture your Mac's screen with CleanShot X
Learn to take the cleanest screenshots on your new Mac. CleanShot X is an easy-to-use screen recorder that eliminates all the clutter from your desktop before capturing. Hide icons or set up a custom wallpaper, easily preview your screenshots from the Quick Access Overlay, share instantly.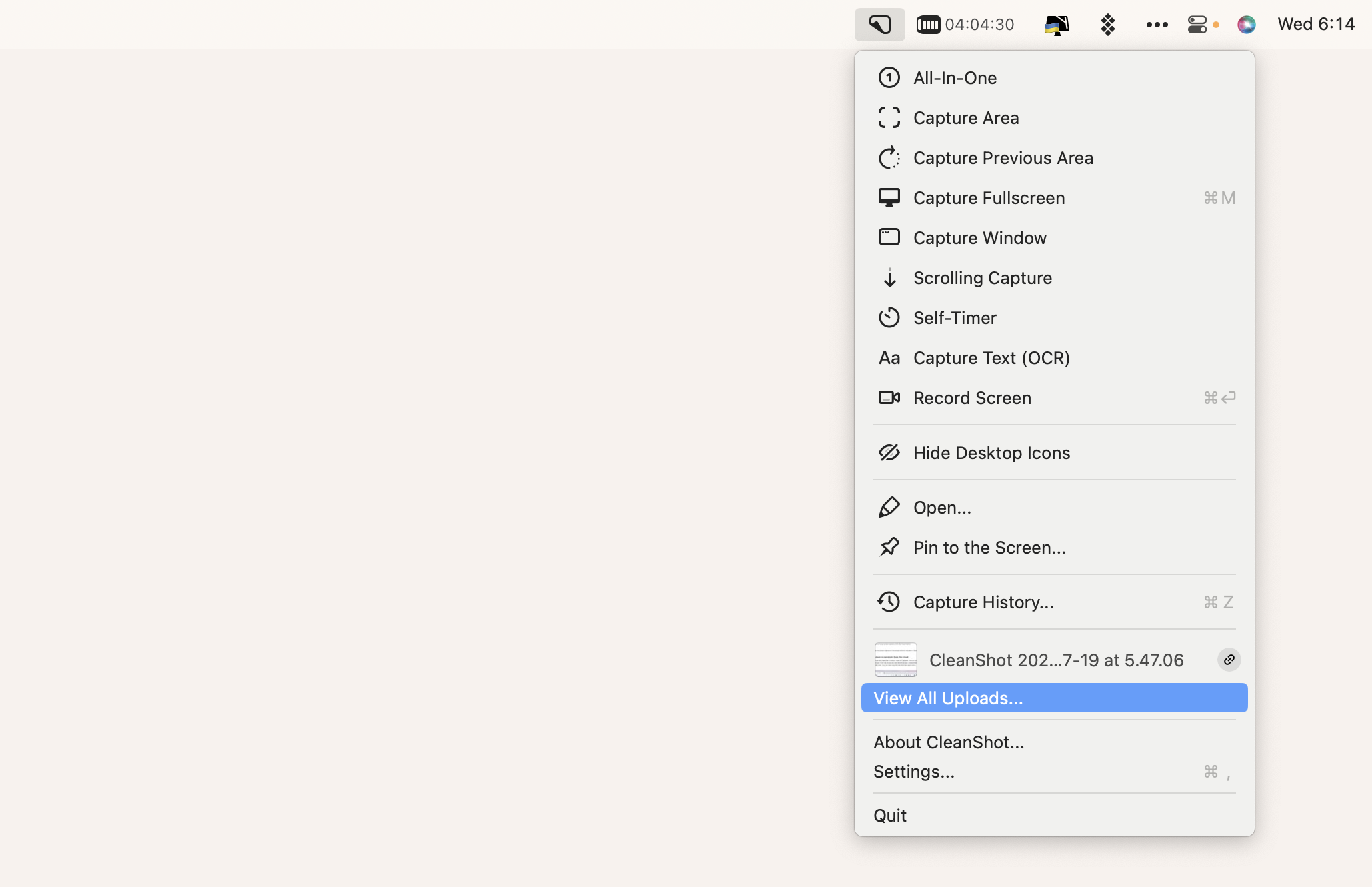 2. Copy the uncopyable with TextSniper
Struggling with extracting text from images or dealing with uncopyable text? With TextSniper, you can capture text from just about anywhere: screenshots, videos, PDFs, photos, and more. Just press Cmd + Shift + 2, select the area of your screen, and TextSniper will instantly recognize and copy the text. Now you can paste it anywhere you want.
3. Take beautiful screenshots with Xnapper
In our option, Xnapper is one of the best Mac apps to take beautiful screenshots. The app lets you change your screenshot background, remove personal information, resize the image, and more.
4. Create GIFs from your screen recording with Gifox
Need to share your ideas, record a demo, or create a quick tutorial? With Gifox, you can easily create screen recordings in GIF format. Choose what to capture (like cursor or mouse interactions) and adjust settings like frame rate and playback speed. When your GIF is ready, you can do the trimming and editing right in Gifox.
Optimize
1. Keep your menu bar tidy with Bartender
Once you've installed even a few must-have Mac apps, you'll find that your Mac's menu bar can get pretty cluttered. Bartender lets you take control of your menu bar and keep it organized. Install it, and it will replace all your menu bar items with just one if you want. Or you can have it display menu bar items as they are updated. You can reorder menu bar items however you like, search for items from within Bartender, and even hide the Bartender menu bar item itself.

2. Access macOS features faster with One Switch
Replace multiple apps and settings with One Switch. With its help, you can access key settings and features from your menu bar. Toggle Dark Mode, enable Do Not Disturb, empty Trash, hide desktop icons, and more – all with a single click. Streamline your workflow and save time.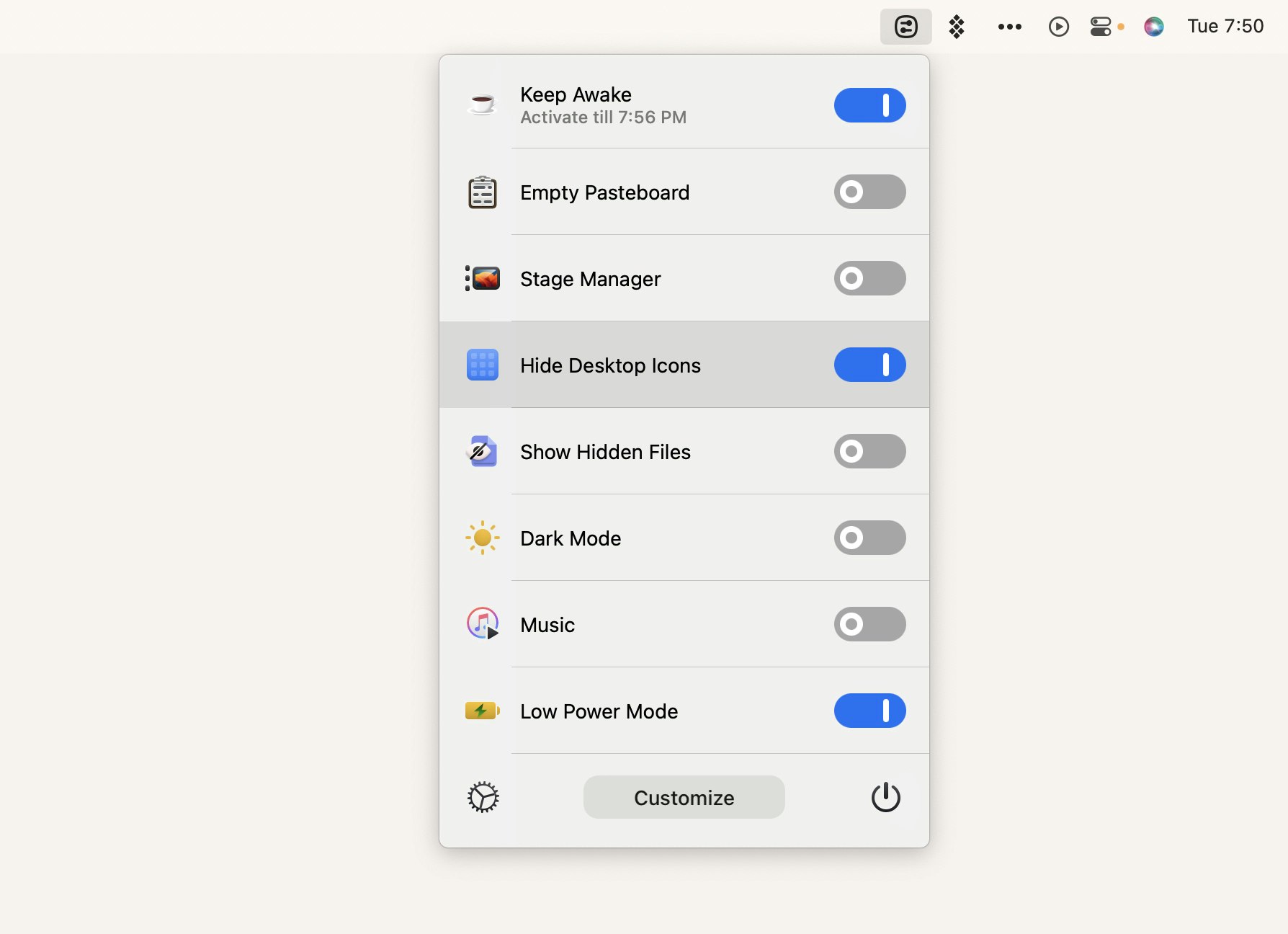 3. Browse the web from the menu bar with MenubarX
MenubarX provides a great way to automate how you access your browsers – not from the Dock, but from the menu bar. With this tool, you can browse websites from the menu bar without even opening them.
4. Maximize your device's battery life with Endurance
Endurance is an innovative app that intelligently optimizes power usage by finding and eliminating unnecessary background processes and power-hungry apps by putting them to sleep when you don't need them. Get real-time insights into battery status and estimated remaining life so you can plan your activities without worrying about running out of power.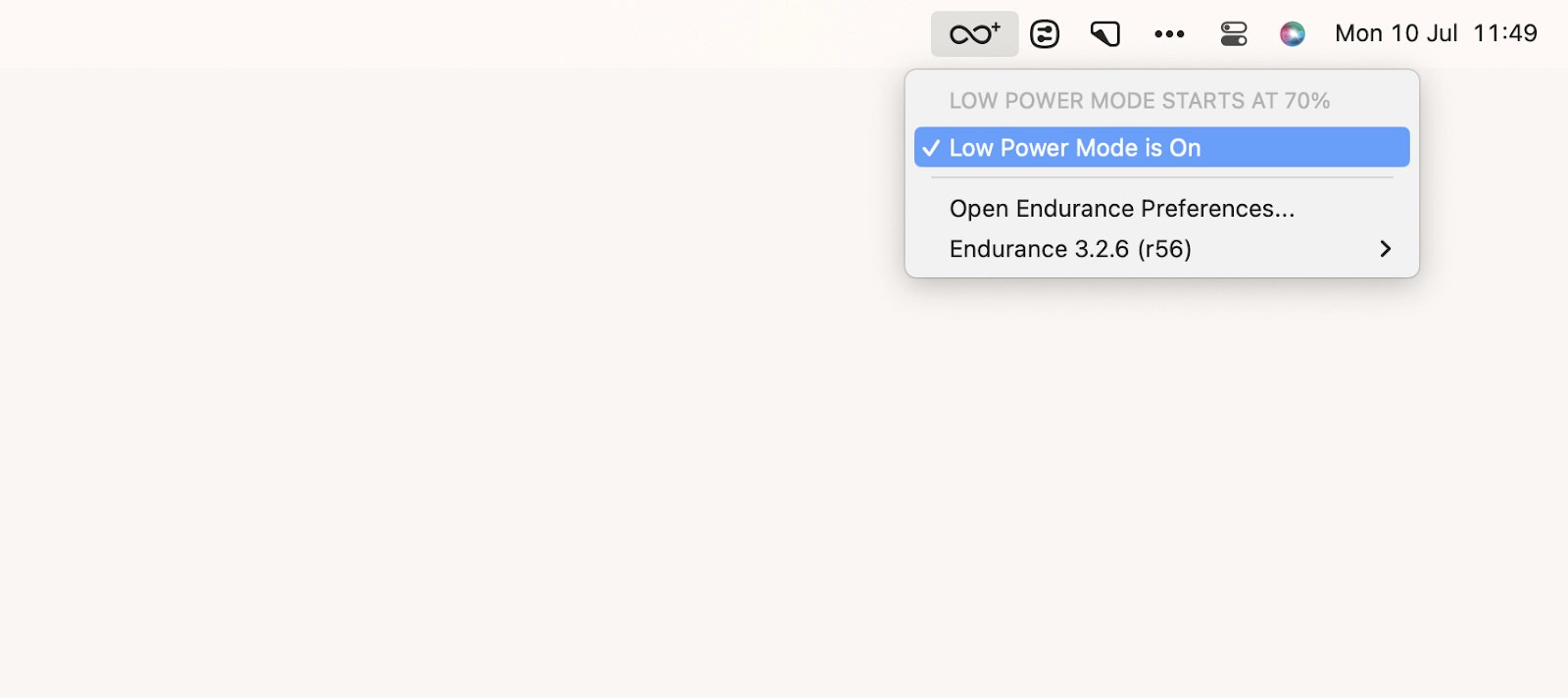 5. Set the optimal charge limits and save your Mac's battery with AlDente Pro
Maybe you've heard that keeping laptops connected and running at 100% power all day is harmful to batteries. In fact, there are a lot of recommendations to keep your battery healthy for longer, but it's not always easy to follow the rules. Good news: AlDente Pro can help you with that. The app enables heat protection, which prevents your Mac from charging when the temperature rises above a certain point. It also will control the entire charging process so that it has no negative effect on the health of your battery, allowing you to work normally while your charger is connected without worrying about the battery.
Cleanup and performance
1. Keep your Mac like new with CleanMyMac X
After you've been using your new Mac for a while, its hard drive will quickly fill up with all kinds of files. Install CleanMyMac X, one of the must-have Mac apps, and set it to scan; it will quickly tell you which files you can get rid of and how much space you can save. It will also delete the files for you and optimize your computer for the best possible performance. CleanMyMac X is also the perfect choice for uninstalling and updating apps in batches.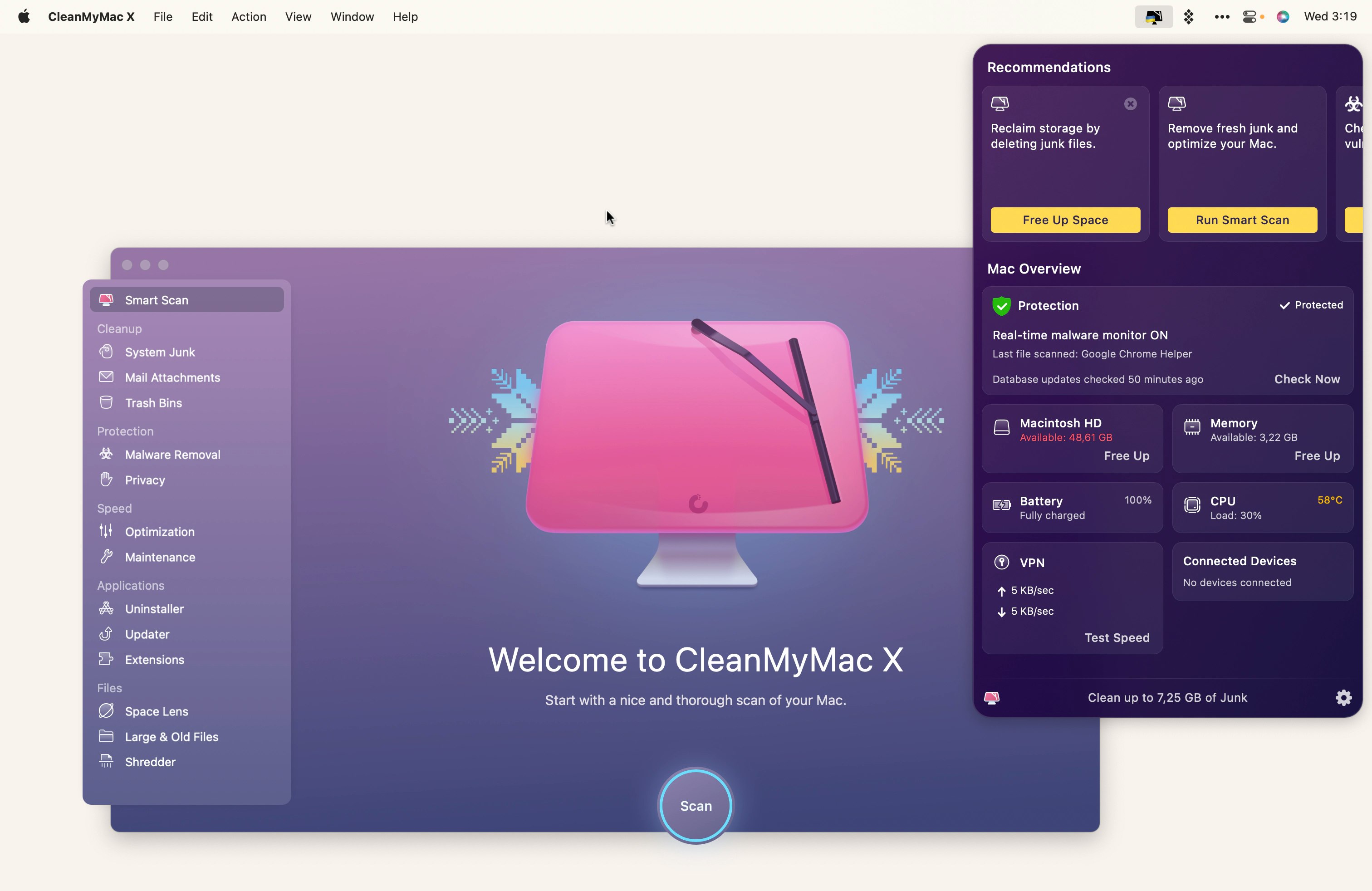 2. Keep an eye on your new Mac's stats with iStat Menus
Keeping track of your Mac's vital statistics is easy with iStat Menus. You can monitor CPU and GPU usage, RAM disk activity, temperature, fan and power sensors, and network traffic. If your Mac starts to slow down, there's no need to sit around wondering what's going on. A quick glance at iStat Menus will tell you where the problem is.
3. Quit multiple apps at once with QuitAll
If you spend a lot of time working on your Mac, you might have a lot of apps open, which isn't good for your device. It may become slower, and the battery may drain faster. So make sure you don't put too much strain on your Mac by regularly quitting apps you don't use. QuitAll makes it effortless: you can quit multiple apps (or all of them) at once.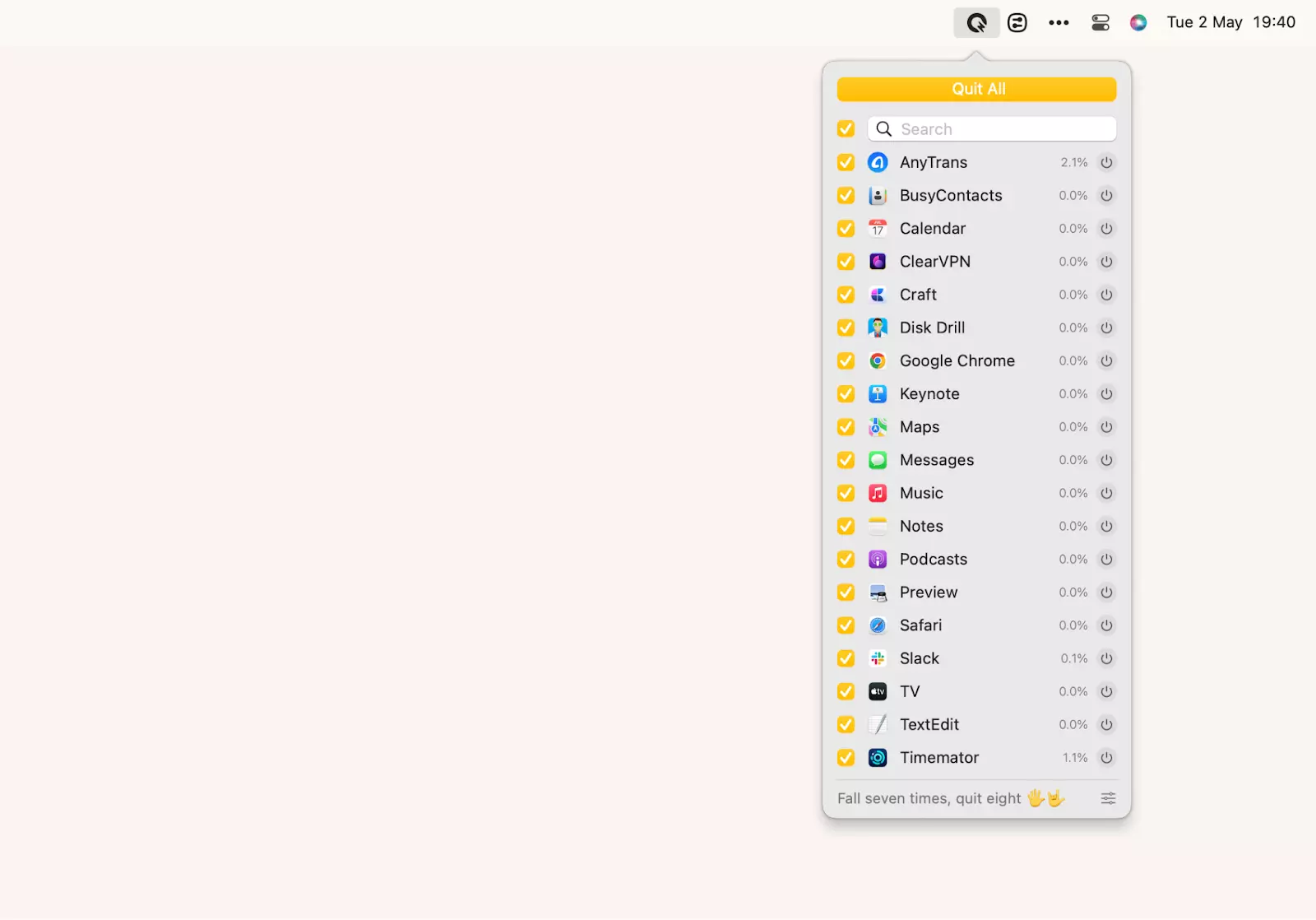 4. Tame CPU-hungry apps with App Tamer
While quitting essential apps may not be an option, you can regain control over resource-intensive programs with App Tamer. This powerful tool automatically adjusts the performance of apps that consume excessive CPU power, allowing you to decide which apps to keep in check. With App Tamer, you have complete control over managing and optimizing the performance of your Mac, ensuring that CPU-hogging apps no longer hinder your productivity or drain system resources.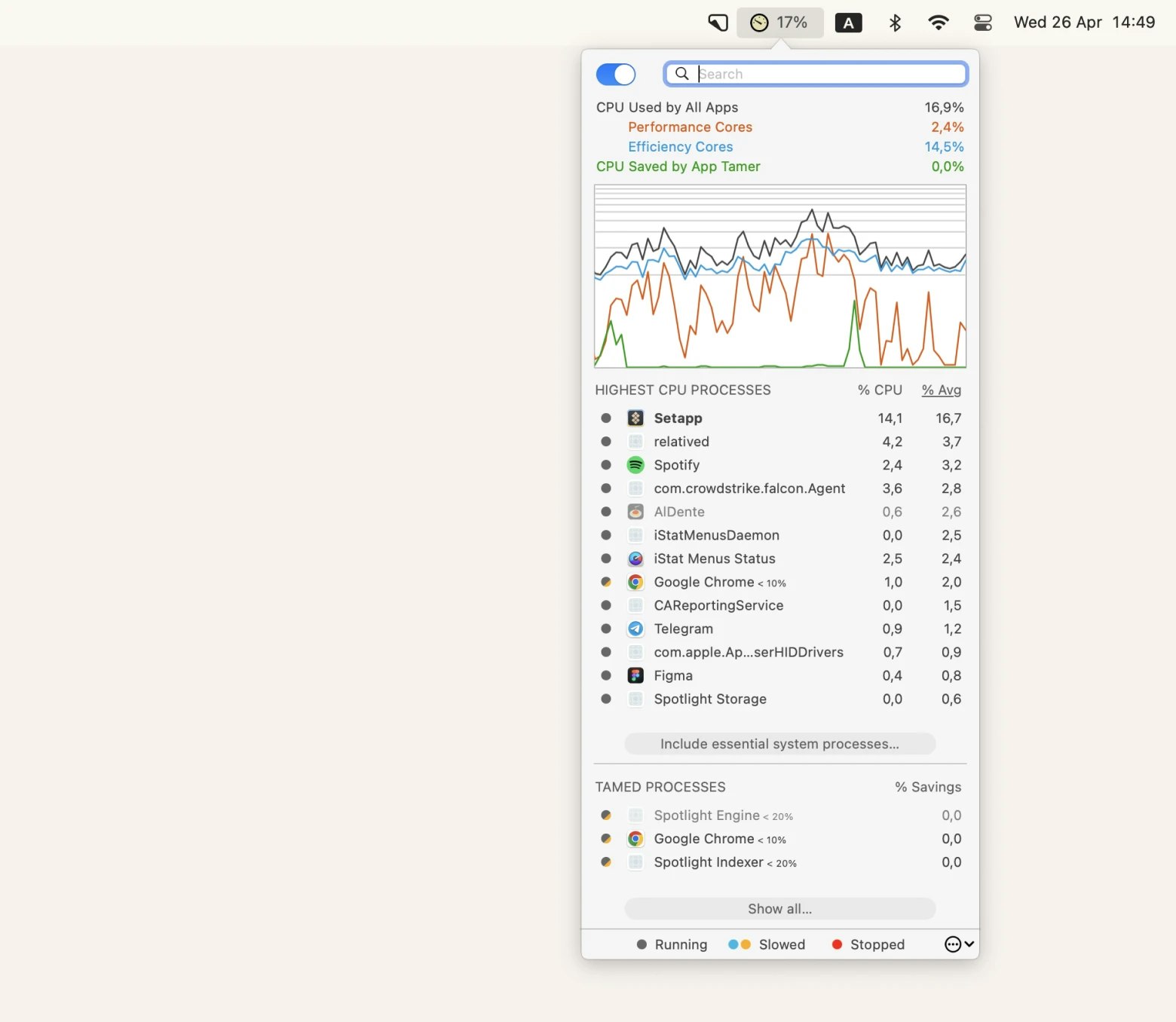 Personalization
1. Set up multi-touch gestures with BetterTouchTool
Exactly the way that suits your flow. This is how you can work on a Mac with BetterTouchTool. The app fully customizes your input devices – from touchpad to keyboard. Unveil general adjustments in the Basic Settings and start using those that you find handy. Add custom gestures and app-specific shortcuts to accelerate your performance even more.
2. Personalize Dock with uBar
The Dock on your Mac is the entry point for everything. However, it doesn't always predict your needs, displaying the apps you simply forgot to quit or hardly ever used. uBar is a great alternative that you can install on a Mac to fully personalize your Dock: from marking favorites to defining the order of apps.
3. Add widgets to Mac desktop with WidgetWall
With the WidgetWall app, you can add widgets of your choice to your Mac desktop and access them whenever you want for at-a-glance information, quick actions, and more.
Widgets included in the WidgetWall app are weather, clock, system statistics, photos, chatGPT, calculator, web page shortcuts, sticky notes, and more. These widgets are highly customizable; you can place them anywhere on the desktop and change their size, background color, and options.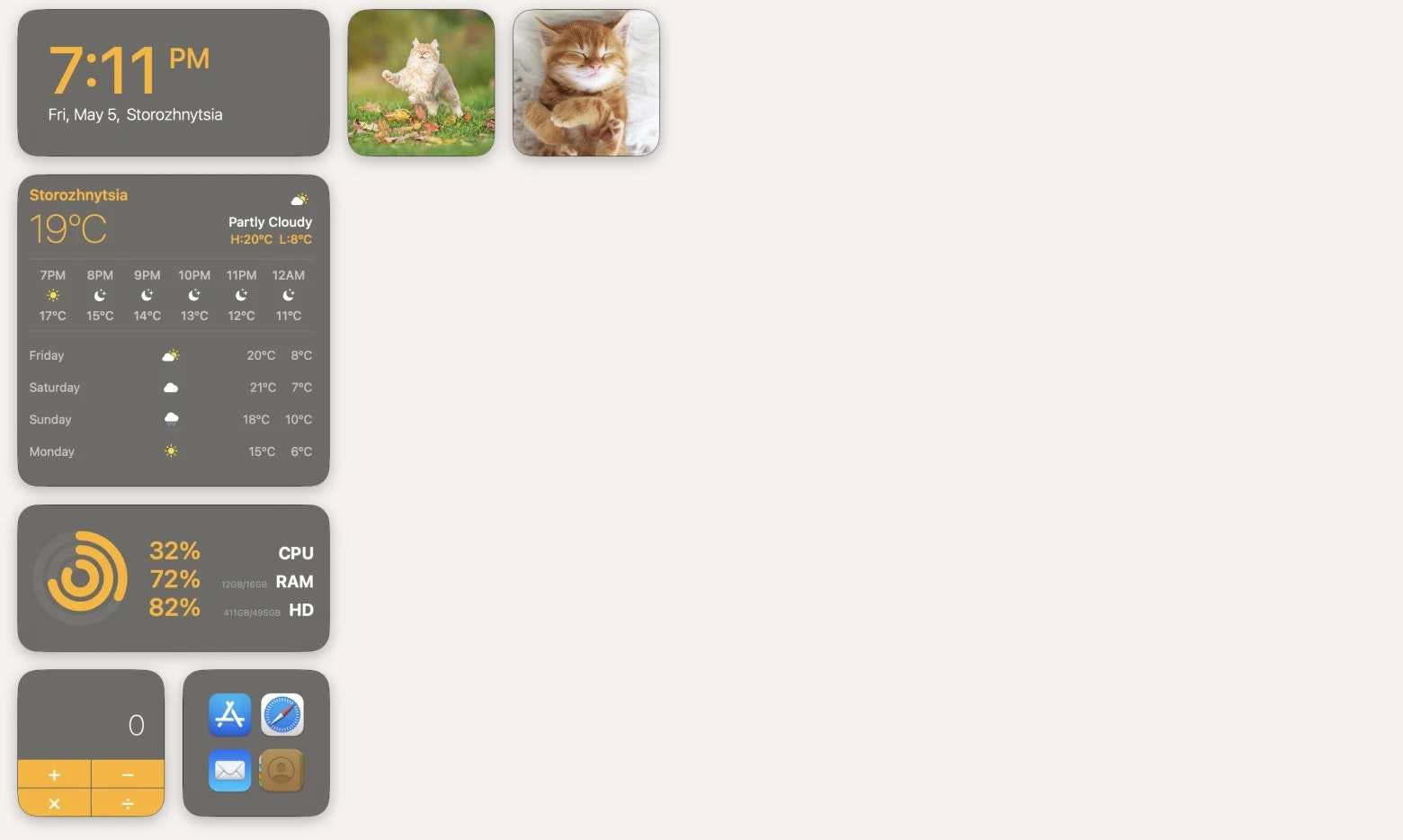 4. Grab stunning screensavers with Magic Window Air
When Apple announced the new macOS Sonoma screensavers, we weren't impressed. That's because we have Magic Window Air. It contains hundreds of beautiful screensavers, including Sonoma itself. Give it a try and let your Mac take you on an adventure to destinations around the world!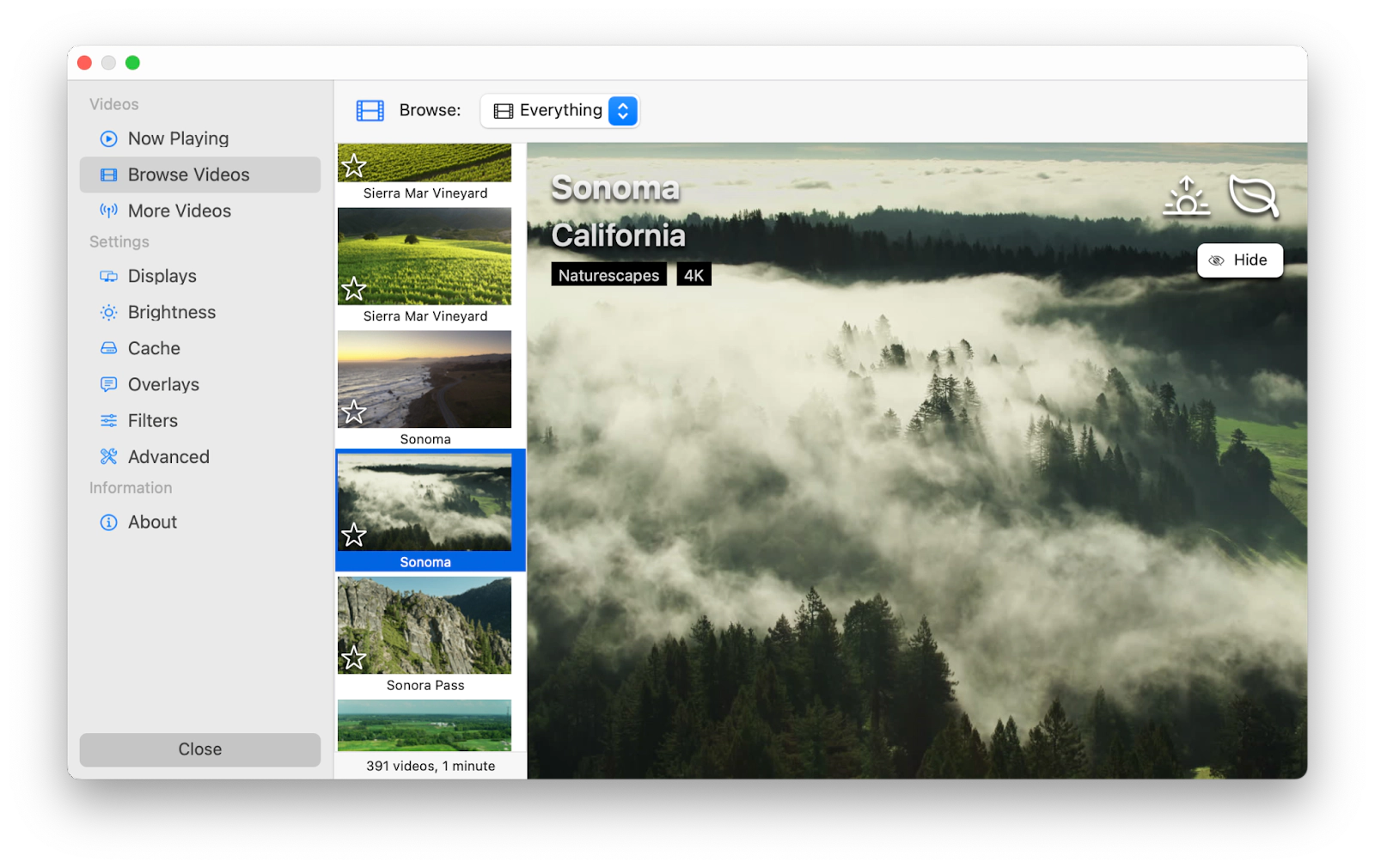 Backup and recovery
1. Keep your information safe with Get Backup Pro
Time Machine is a great backup tool, but you should never rely on having just one backup – if that fails, you'll be in trouble. Get Backup Pro is a perfect addition to your backup strategy. You can use it to make regular, scheduled backups, copying only the files that have changed since the last backup. Or you can clone your entire Mac, meaning if the worst happens, you can just plug in the clone and boot from it. Get Backup Pro also allows you to synchronize files with other Macs on your network.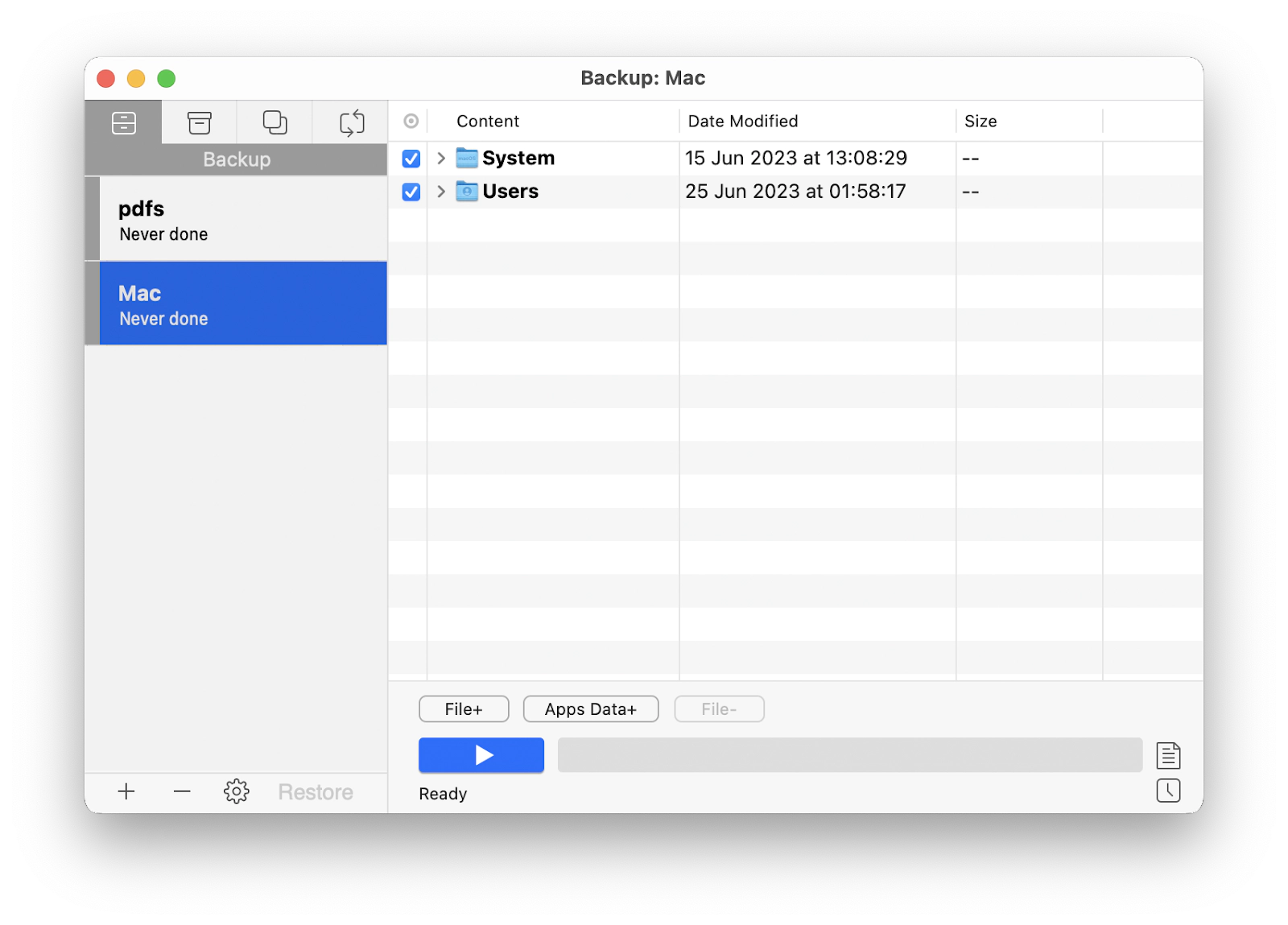 2. Recover lost files with Disk Drill
We dare to say that Disk Drill is the best data recovery software for a Mac. It can help you recover deleted files even after you've emptied the Bin. And yes, even if those files weren't backed up. So it's truly a magical tool that will save you in case there's a weird software glitch, hard drive failure, or any other problem that leads to data loss.
Photo and video
1. Create beautiful photos with CameraBag Pro
Everyone needs a photo editor from time to time, but why settle for Photoshop when there are so many alternatives? For example, CameraBag Pro does everything you would expect from a photo editor, such as resizing, cropping, and adjusting color and lighting in photos. And it also has lots of built-in filters and effects.
2. Remove unwanted items from images with TouchRetouch
Continuing the theme of macOS photography, here's one more must-have app for your new computer – TouchRetouch. Whether you want to cover up a logo, adjust color, or remove unwanted objects, the app takes your photos to the next level. Test TouchRetouch alongside CameraBag Pro, and get a perfect photo editing suite for your new Mac.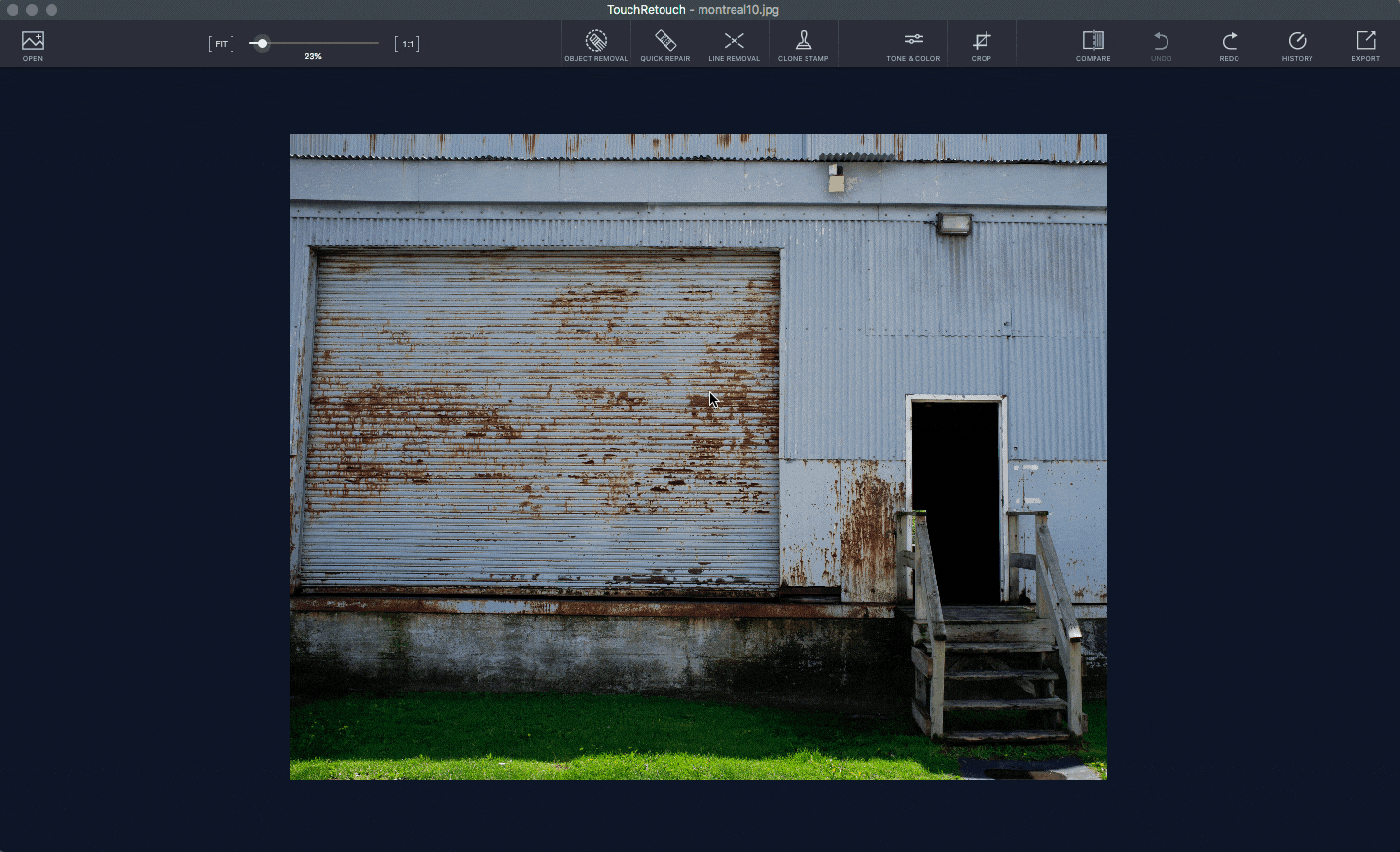 3. Colorize black and white photos with PhotosRevive
Got a family reunion or grandpa's birthday coming up? PhotosRevive helps you get ready for the event. The app uses AI to automatically colorize black and white photos. Breathe new life into old shots and wow your loved ones with the results.
4. Edit your photos like a pro with Luminar Neo
Luminar Neo is a professional-level photo editor with some incredible built-in artificial intelligence tools for automatically enhancing photos. The app also allows for detailed manual editing, with dozens of built-in filters to choose from as a starting point for editing photos or as a finishing touch to your cropped or edited image. Use the histogram to quickly see the balance of your final edited image.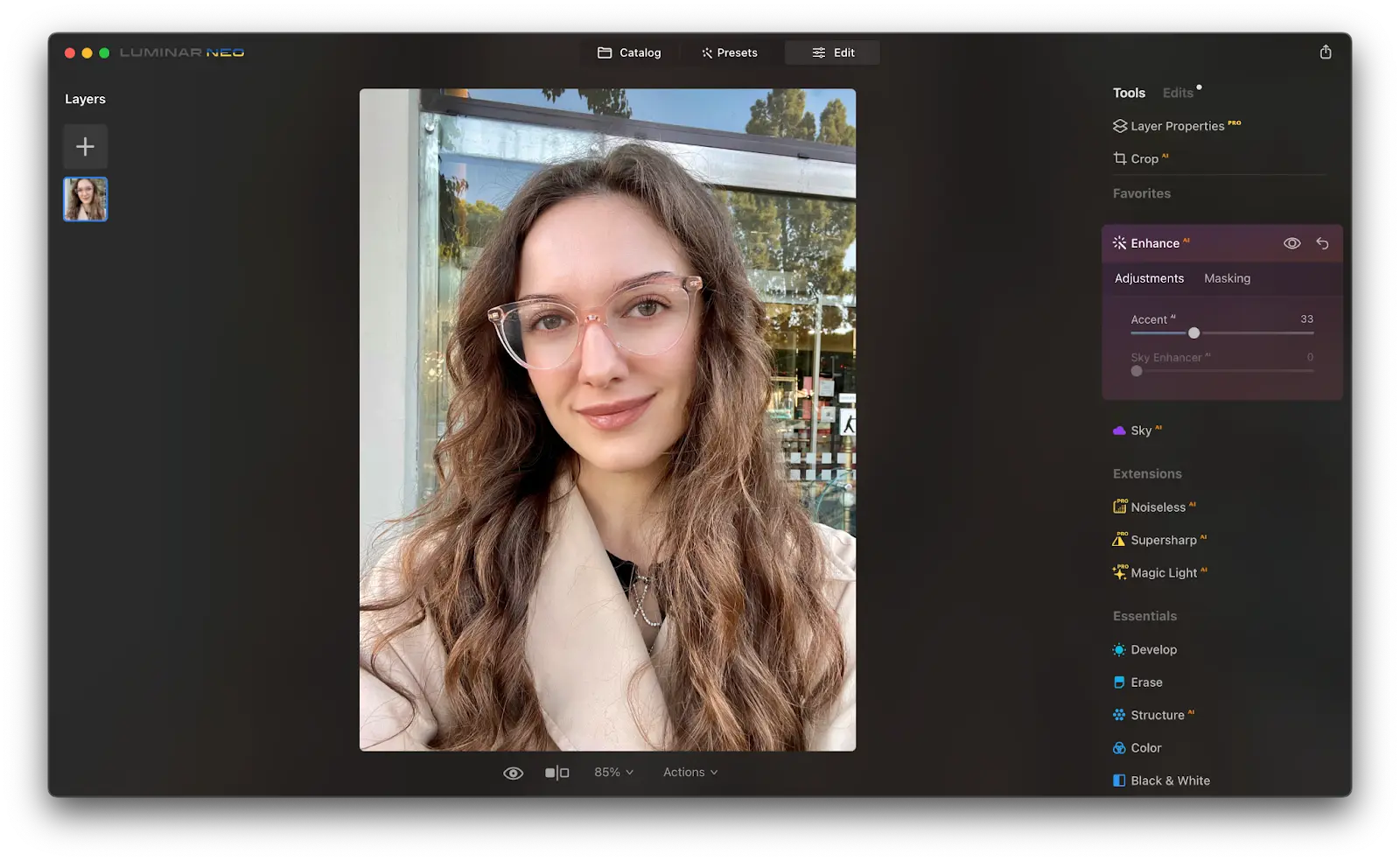 5. Get rid of duplicate photos and files with Gemini
The presence of duplicates is a common thing when working on any computer. You accidentally downloaded a file multiple times, dragged a file to your desktop and made a copy, took similar photos, etc. Even if you're a careful user, you'll probably still end up with duplicates, and that's okay. The main thing is to clean them up in time. One of the easiest ways to get rid of duplicate files is to use Gemini. This is an app that scans your hard drives and intelligently selects files for deletion. Files that Gemini is sure are similar will be marked as recommended for deletion. If the app thinks you might want to keep files for some reason, it offers to preview them in an easy-to-use interface and then group, select, and get rid of them all with a single click.
6. Play any media file with Elmedia Player
Think about the future of your media on the Mac. While the standard macOS apps are good for basic tasks like playing music and video, there's definitely room for improvement. Unlike Apple's native alternative, QuickTime, Elmedia Player supports virtually all media file types. It's also a handy live YouTube player that instantly streams ad-free videos to your Mac.
7. Twick video, audio or image format with Permute
Need to convert a video/audio/picture from one format to another? Drop or upload your file into Permute, select the format you want to convert to, and click Start. The app can also batch-convert multiple files at once to save you time.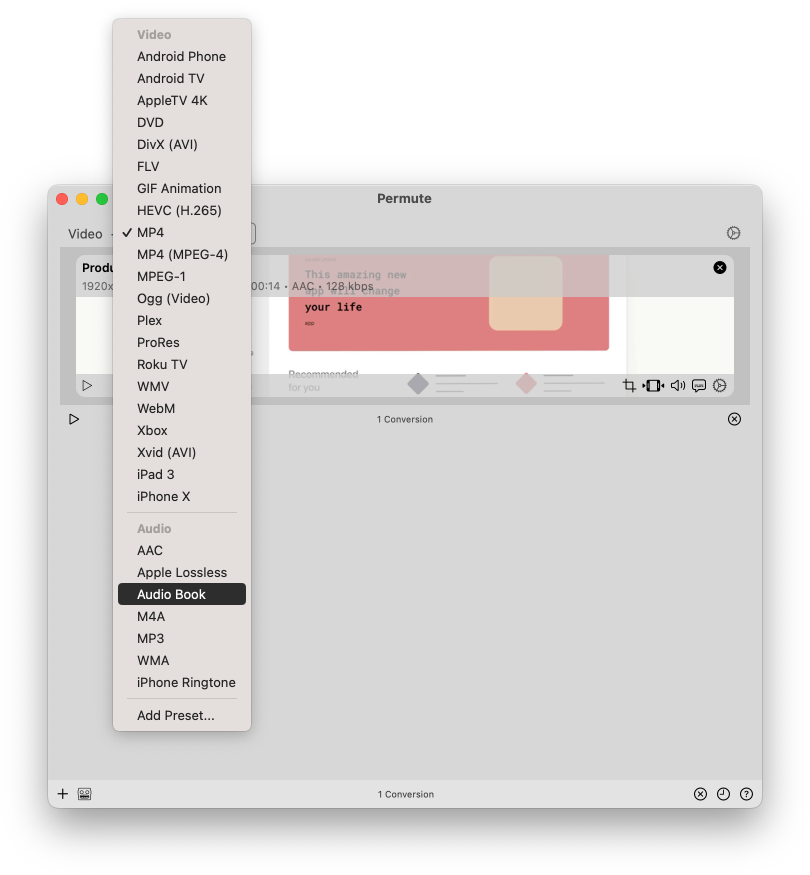 8. Download videos on Mac with Downie
Need to save a video to watch offline? Just drop in any video link. Downie will start downloading. You can also search for media on YouTube, Vimeo, TED, and Soundcloud right in the app without switching to a browser. On top of that, Downie lets you extract just the audio and download videos with subtitles.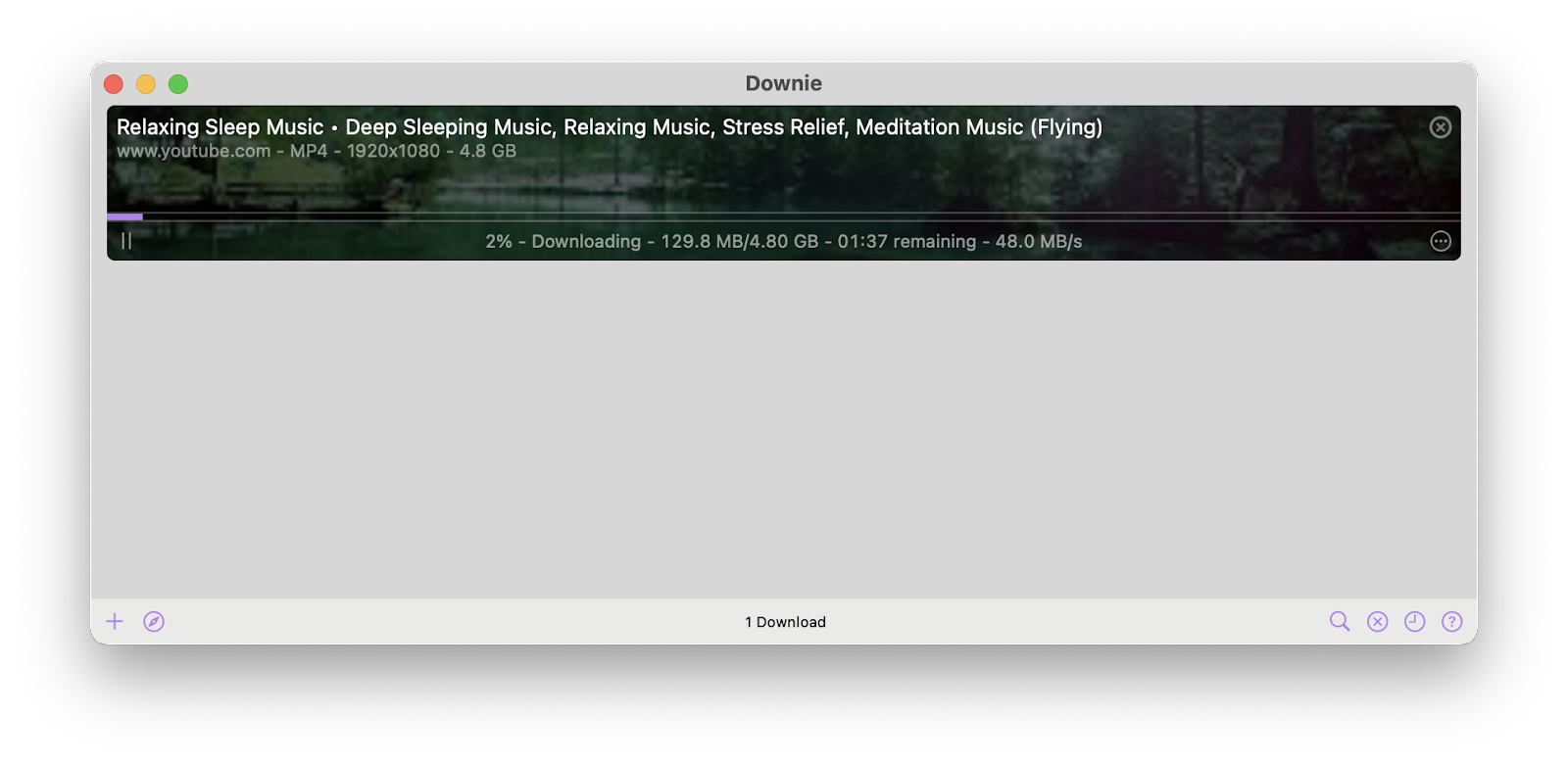 9. Record and edit screencasts with Capto
Do you make tutorials? Try Capto. It's a simple screen recorder with a built-in video editor. Best of all, Capto can record video with audio, so you don't have to add voiceover later. Just record and speak at the same time. When you're done recording, you can trim the video and add text annotations in the Capto editor.
10. Edit video like a pro with Filmage Editor
Creating stunning videos shouldn't be difficult. Filmage Editor helps you create professional-looking montages with ease. The app lets you ripple, delete parts of your montages, adjust the aspect ratio and speed, create picture-in-picture, and more.
News and entertainment
1. Be on top of everything with News Explorer
You're a news hound and own a Mac? A good newsreader is absolutely worth adding to your Dock! Whether you want to keep up with the latest news, breaking stories on your favorite RSS feeds, WordPress blogs, or Twitter accounts, News Explorer has you covered. Auto-discovery makes adding feeds easy – just start typing the URL and News Explorer will do the rest. You can mark feeds to save for later, share them on social media, or sync them via iCloud with the iOS version of News Explorer. Feeds can be filtered and viewed in different layouts, and a choice of themes means you can set it up exactly the way you want it.
2. Download Instagram video with Grids
Do you want to send your favorite Instagram reel to your mom in Messenger? It is not necessary to record your screen. Just install Grids and download videos in one click. The app also offers a clean and intuitive interface. It makes it easy to navigate through Instagram content and discover new accounts. Grids supports multiple accounts, so you can easily switch profiles and connect with your favorite creators.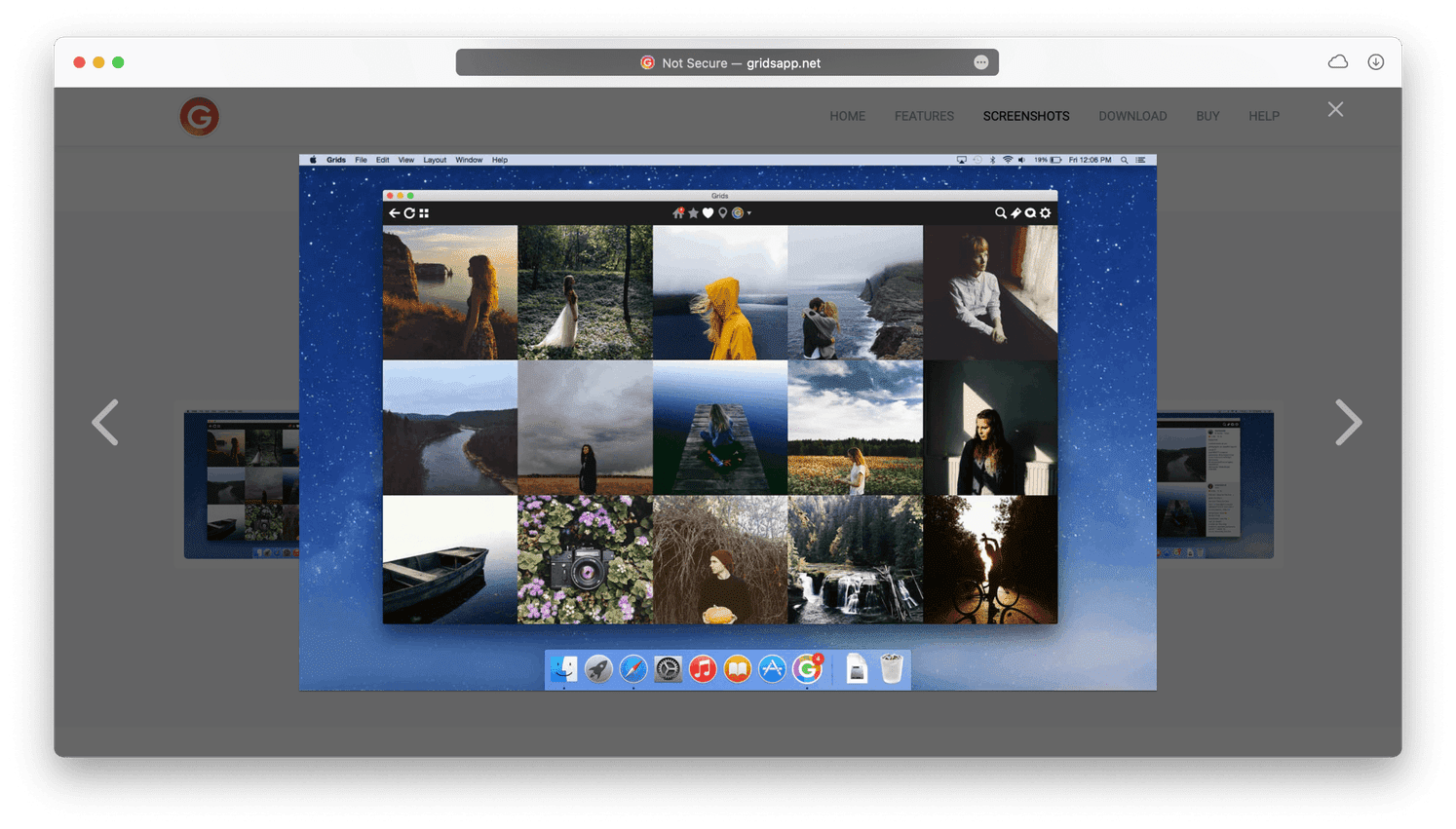 In addition, the app offers a number of customization options that allow you to personalize your Instagram experience. You can adjust the app's layout, choose different themes, and even resize the interface to your liking.
3. Bring all messengers into one with IM+
While we're talking about entertainment, it's impossible to ignore messengers. Before you start filling your Dock with Slack and Telegram logos, here's a hack: install IM+ and use it as a messenger box – one app that includes all your favorite communication channels.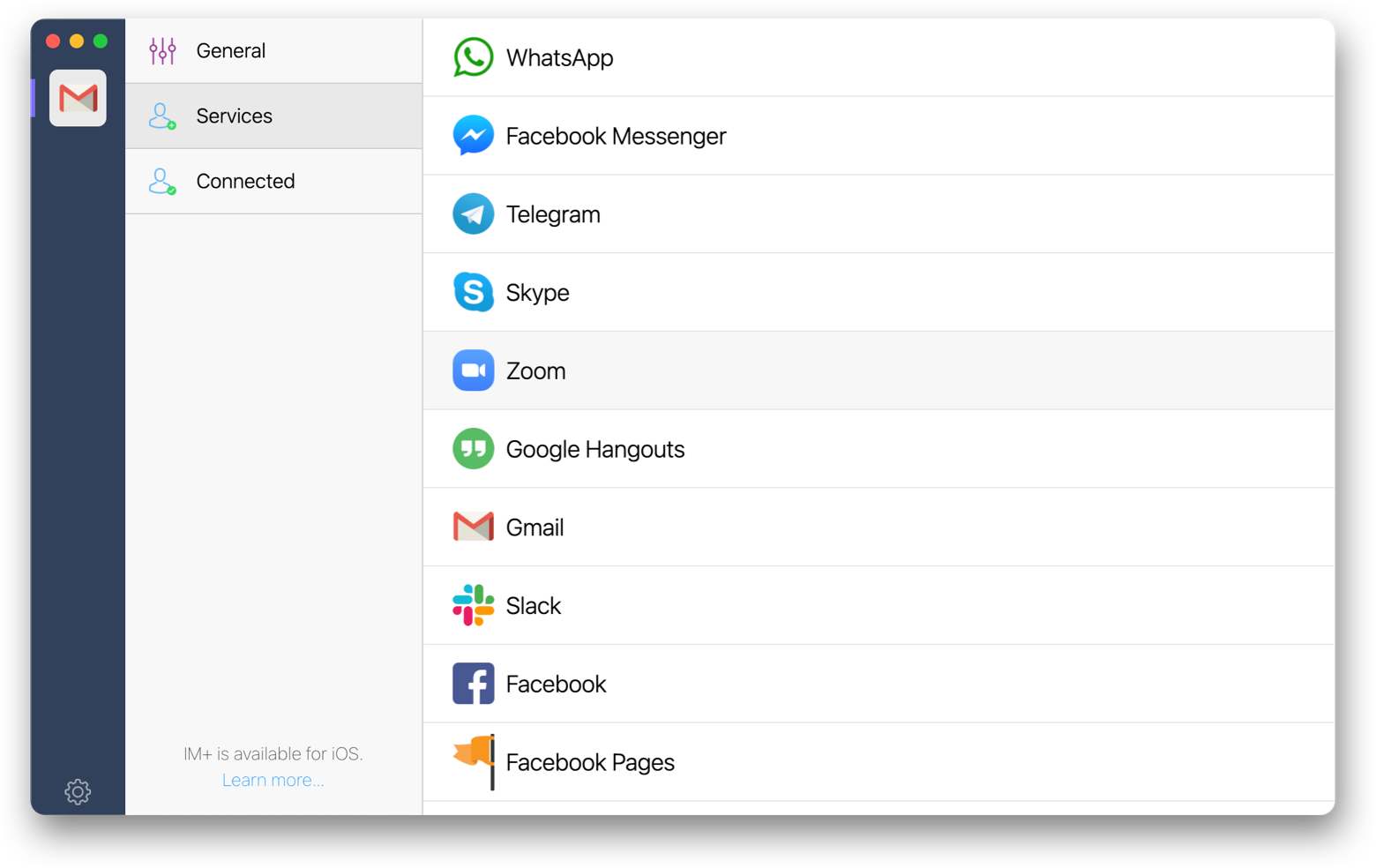 4. Unlock your favorite content with ClearVPN
Want to watch your favorite content that is currently not available in your region? With ClearVPN, you don't have to miss those highly anticipated TV shows anymore. It provides a reliable solution by cleverly routing your internet connection through different servers around the world. In doing so, ClearVPN makes it appear as if you're accessing the content from a region where it's readily available.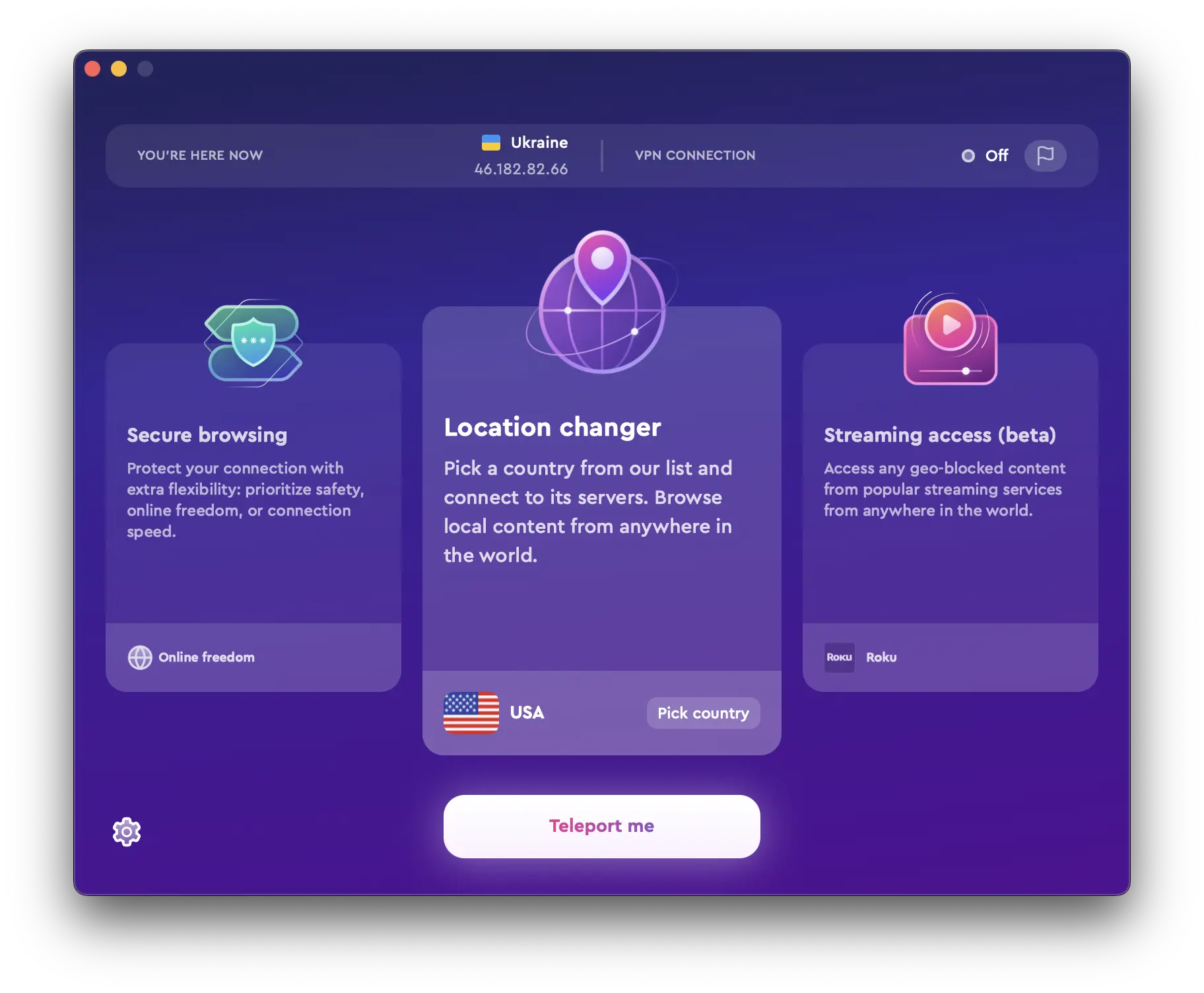 Study
1. Do quick calculations with Soulver, a smart replacement for your calculator app
Are you bored with Apple Calculator with the same layout and design? Try Soulver. It lets you type both arithmetic and readable calculations. It works with a wide range of units, including time, length, currency, volume, computer memory, math operators, CSS functions, etc. What's more, it saves all your work so you can use it again later.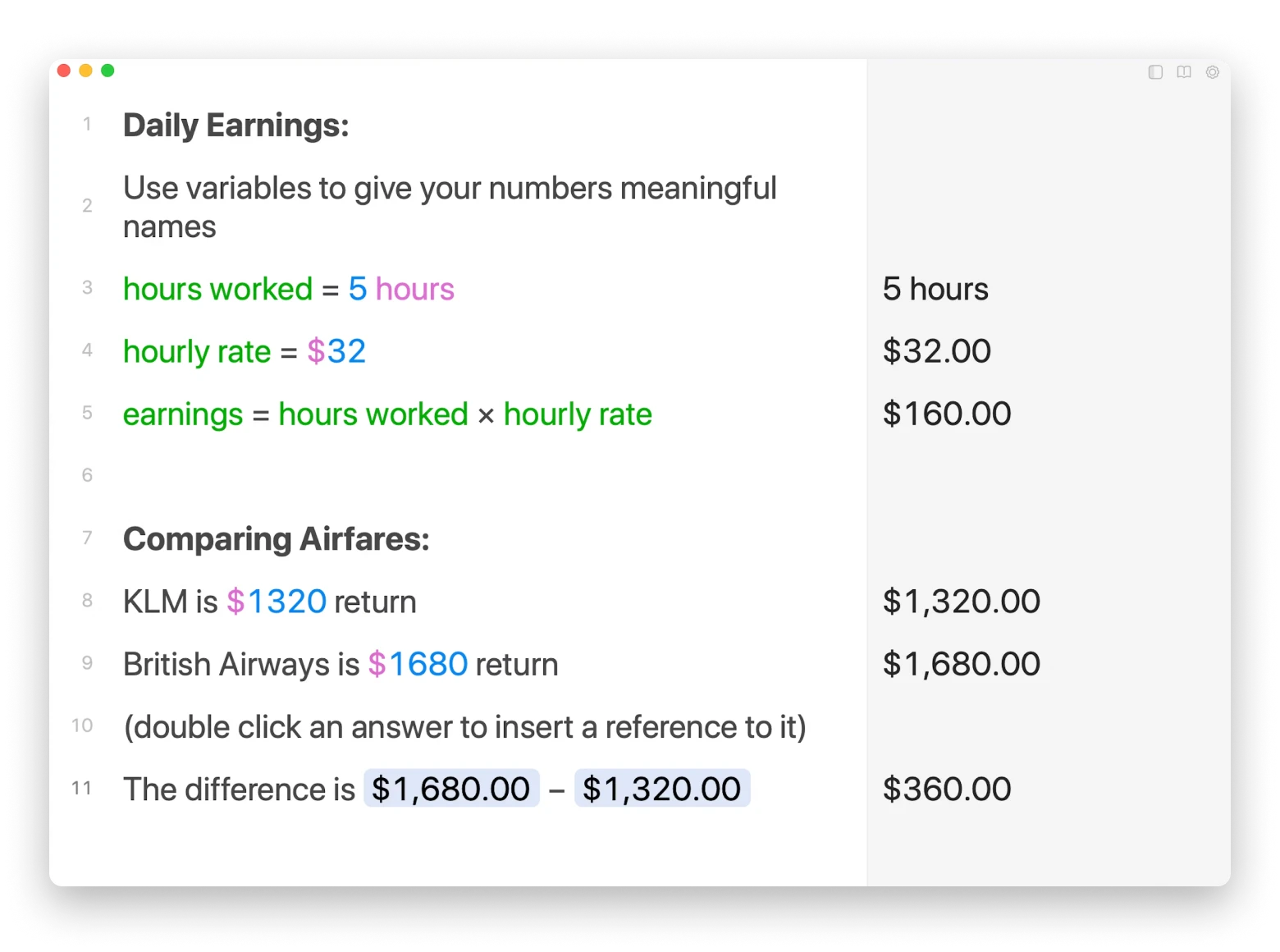 2. Read, take notes, and brainstorm with MarginNote
"I don't remember anything from what I just read." Does this sound familiar? Try changing the way you read. First, upload your reading material to MarginNote so you can easily interact with the text. This allows you to annotate and bookmark as you read.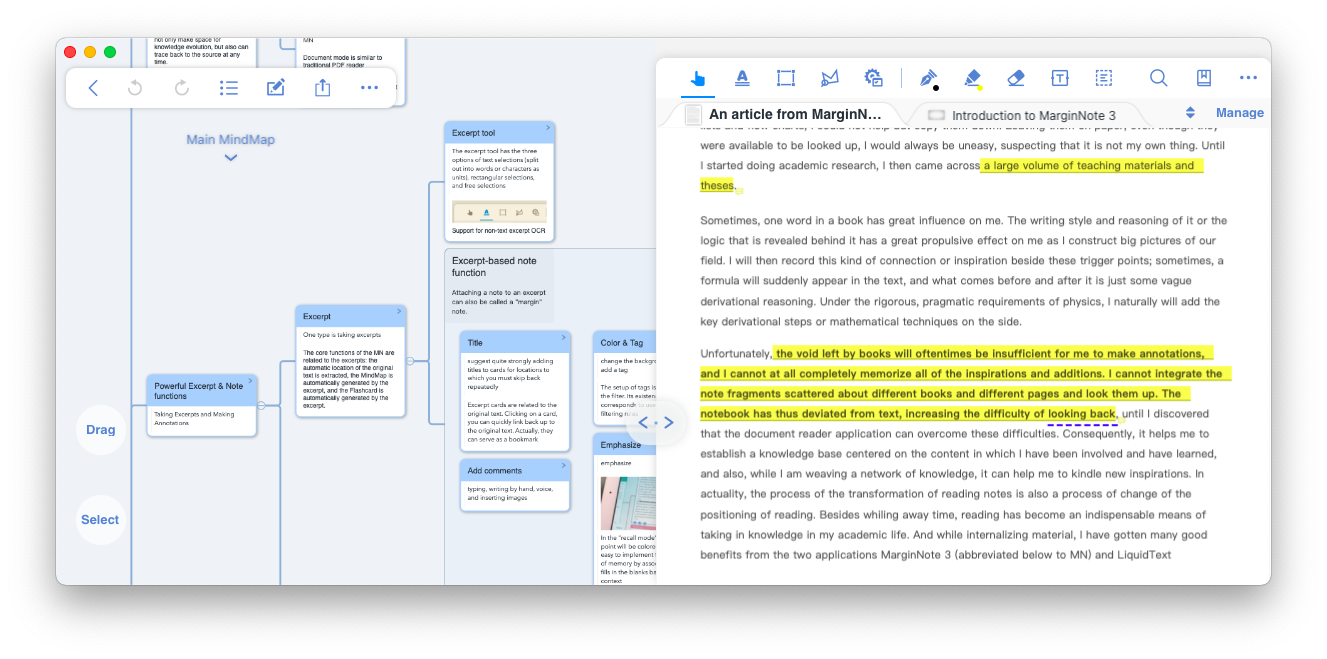 Next, take notes. You can save notes right in MarginNote! And here comes our favorite part: not only can you edit the text of the note, you can also turn on the microphone and add your personal audio note, use the drawing tool, or attach photos.
Finally, make sure you're brainstorming as you read. This will help you organize the information in your head and prepare for the next steps. MarginNote can be split into two panes – your reading on the right and your mind map on the left – so you don't have to switch between apps.
3. Study and test your knowledge with Studies
Whatever subject you study – art, history, languages, law, mathematics, medicine, music – Studies is a great companion. This educational app can help you achieve your learning goals faster. With its help, you can set goals, create notes, set study reminders, track your progress, and even quiz yourself to reinforce your knowledge. Stay motivated and achieve your learning goals with Studies, your go-to app for efficient studying.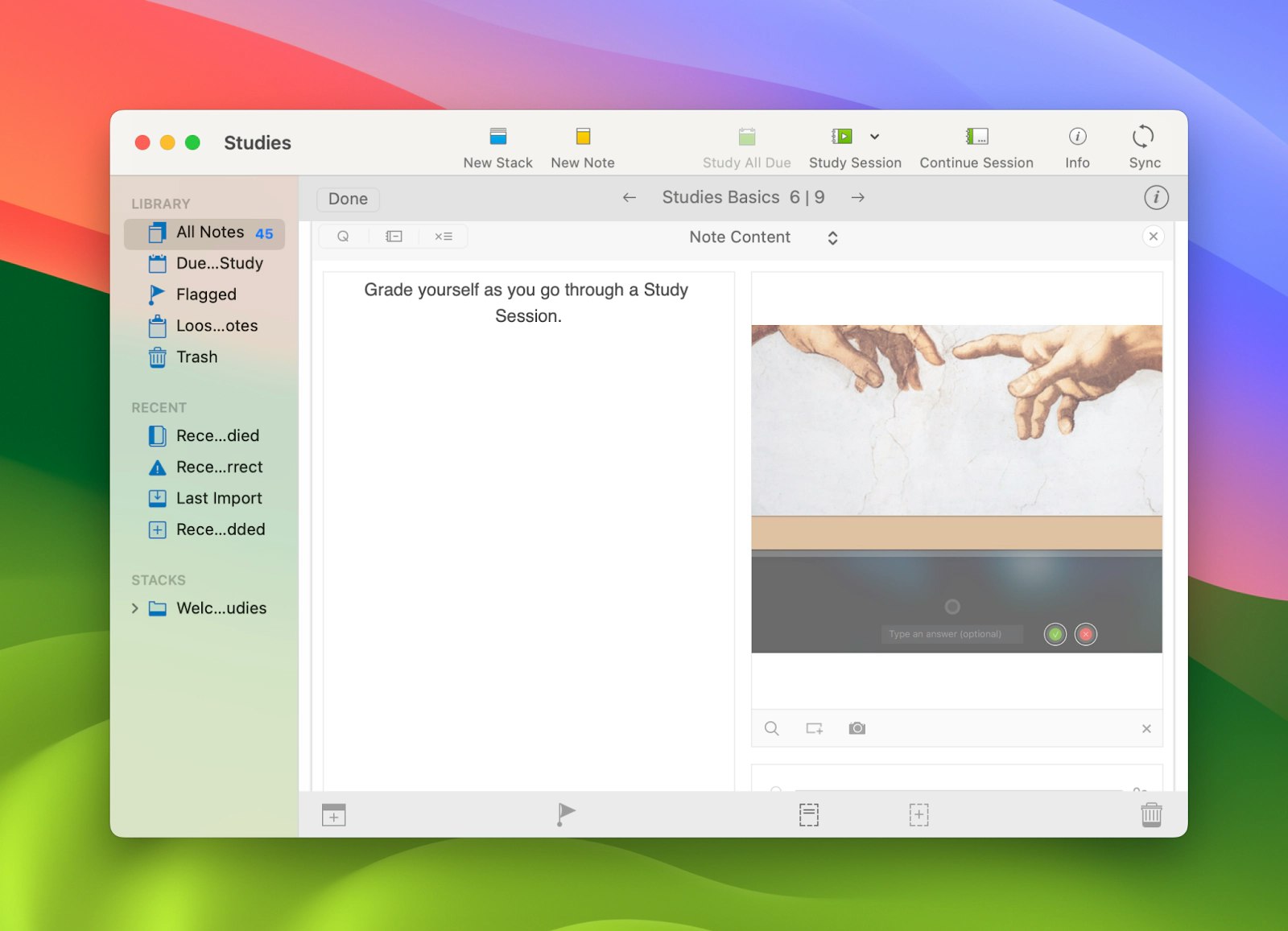 Writing apps
1. Write better with Ulysses
Ulysses is among the best writing apps on any platform. The Library allows you to keep everything you write, from blog posts to the outline of that novel you've been meaning to start, all in one place and organized into projects. The Markdown editor makes formatting text a breeze, using characters that are at your fingertips on the keyboard; and the distraction-free writing mode makes sure you stay focussed. If you're writing a blog post, Ulysses can publish directly to WordPress or Medium. Or you can export to PDF or eBook format.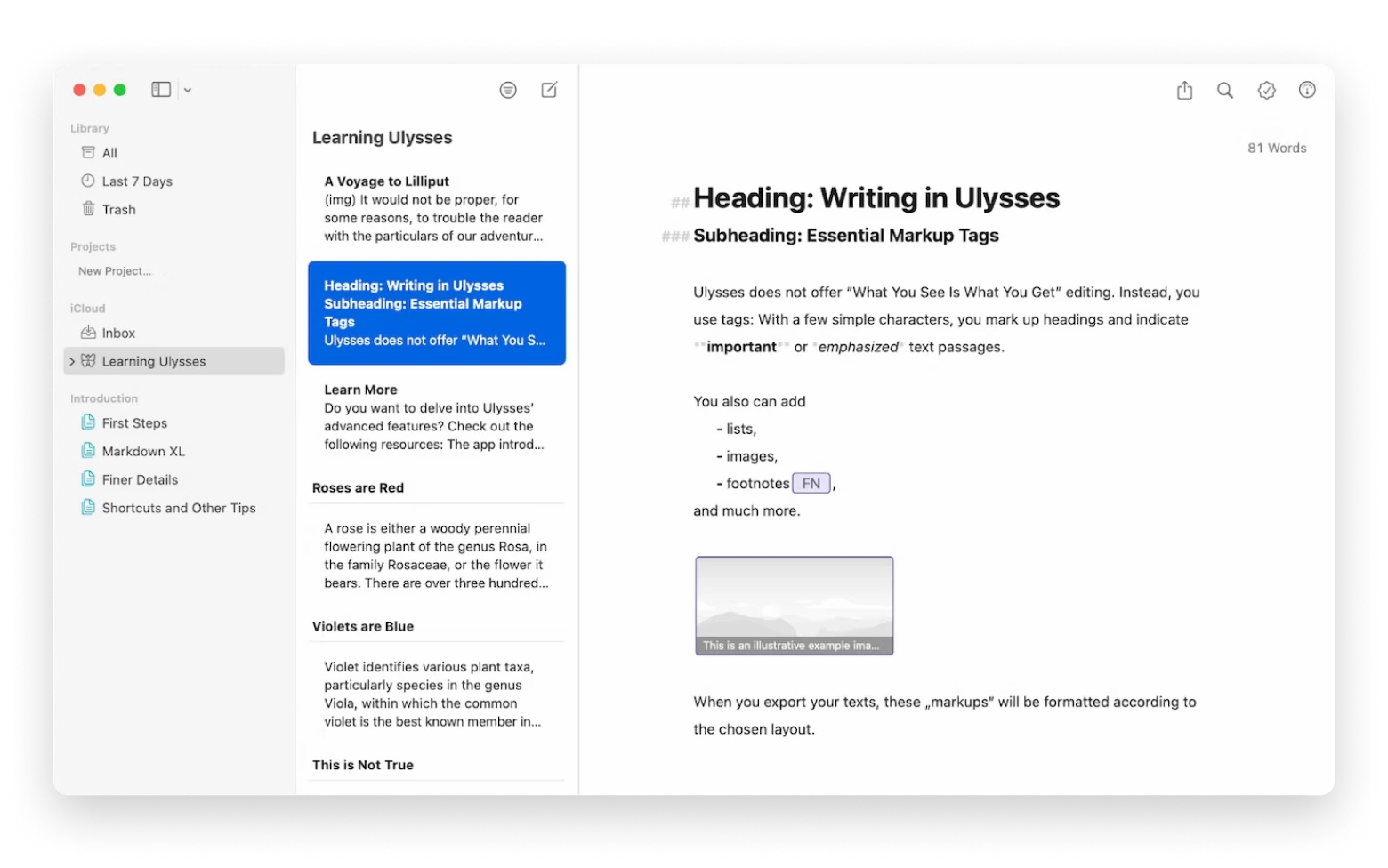 2. Overcome creative block with Craft
Want to get over blank-paper syndrome and unleash your creativity? Look no further than Craft, the ultimate app for overcoming creative block. Craft provides a versatile digital canvas where you can freely express your ideas, collaborate with others, and bring your imagination to life. And with its AI assistant by your side, you'll never run out of inspiration. The AI assistant in Craft can suggest relevant content, offer creative prompts, and make helpful suggestions to enhance your creative process.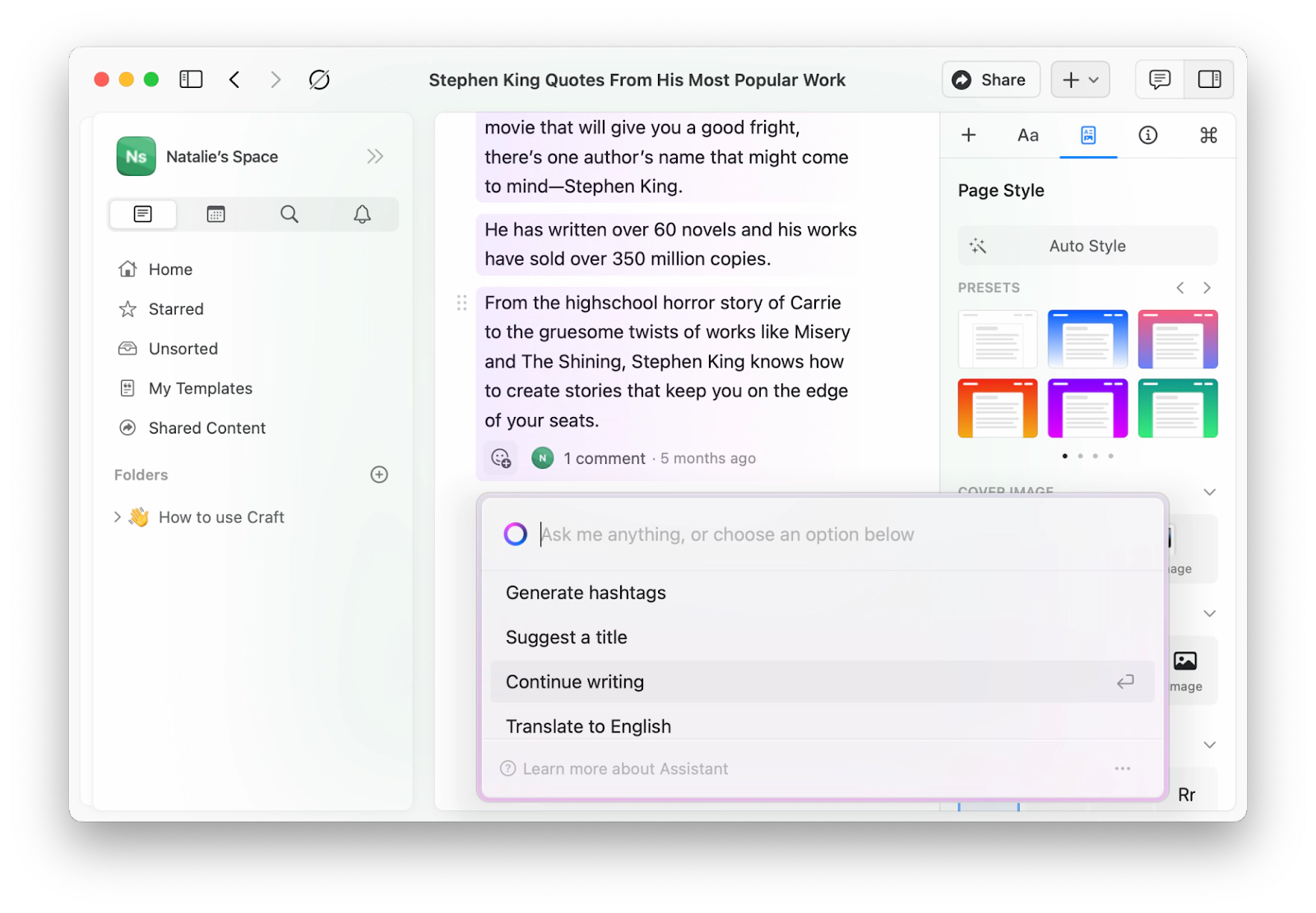 3. TypingMind
Dealing with AI chats regularly? Try TypingMind. It is designed to enhance the AI chat experience and make it more customizable and enjoyable. The chat folders, search, and export are one of the outstanding features of TypingMind. All of them make it easy to find important information when you need it, as you can easily organize and search your chat history.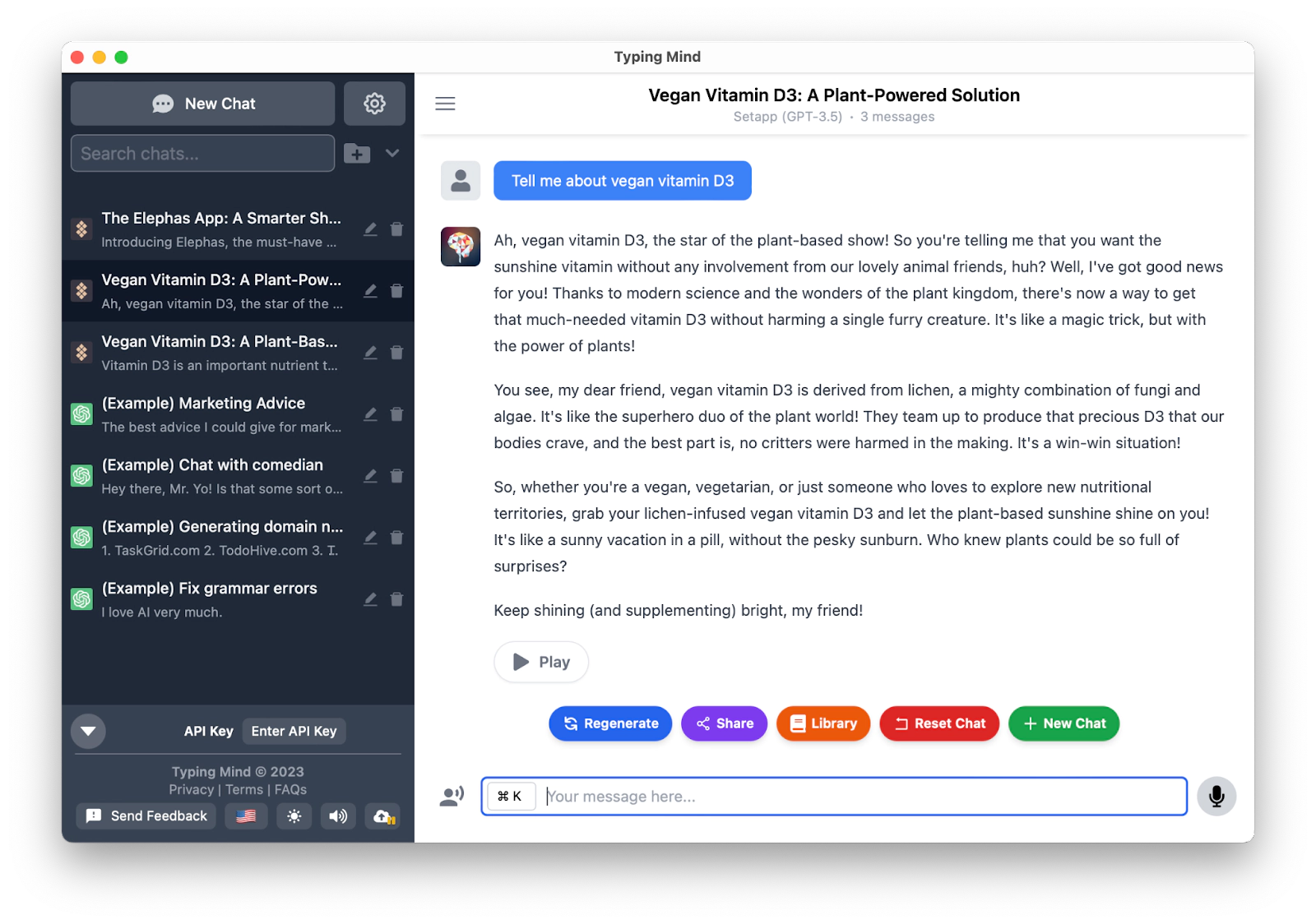 Another great feature of TypingMind is the prompt library. With this library at your fingertips, you can easily generate ideas, start conversations, and explore different scenarios with AI chat.
Focus
1. Take control of your productivity with Session
Start tracking your productivity to achieve more. In Session, you can set up your flexible work sessions, rate them, and then receive detailed statistics on your performance.
2. Eliminate distractions with HazeOver and Focus
But come on; this is a new Mac. With so many stunning apps and online attractions, it's nearly impossible to stay focused on work. That's where site-blocking solutions come to help. Focus is a nice addition to your Mac if you want to deny access to specific apps or websites that are particularly distracting.
To avert your attention away from desktop clutter and pop-ups, you could additionally install HazeOver, a screen dimmer for Mac.
3. Keep most used apps at hand with Slidepad
Tired of constantly switching between windows and apps while working or surfing the web? Say goodbye to the hassle with Slidepad, the app that solves your multitasking problems. Slidepad revolutionizes the way you navigate and access your favorite apps and websites by providing a convenient slide-out sidebar on your desktop. With a simple swipe, you can effortlessly switch between different tools, eliminating the need for excessive window shuffling.
Meetings
1. Enhance your contact management on Mac with BusyContacts
Looking for a robust solution to manage your contacts on the Mac? BusyContacts has you covered. Say goodbye to the limitations of Apple's native Contacts app. With BusyContacts you can enjoy a wealth of features that enhance your contact management experience.
Customizable views are at your fingertips, allowing you to organize and view your contacts exactly the way you want. Create custom filters, sort contacts effortlessly, and organize them into multiple groups tailored to your specific needs.
But that's not all. BusyContacts integrates seamlessly with popular social media platforms such as Twitter, LinkedIn, and Facebook. You can easily access and view your contacts' social media profiles right from the app. You can even import their profile pictures for a more personalized experience!
Stay on top of your interactions with the handy activity feed in BusyContacts. Get a complete history of your communications with each contact, so you can track and manage your connections effectively.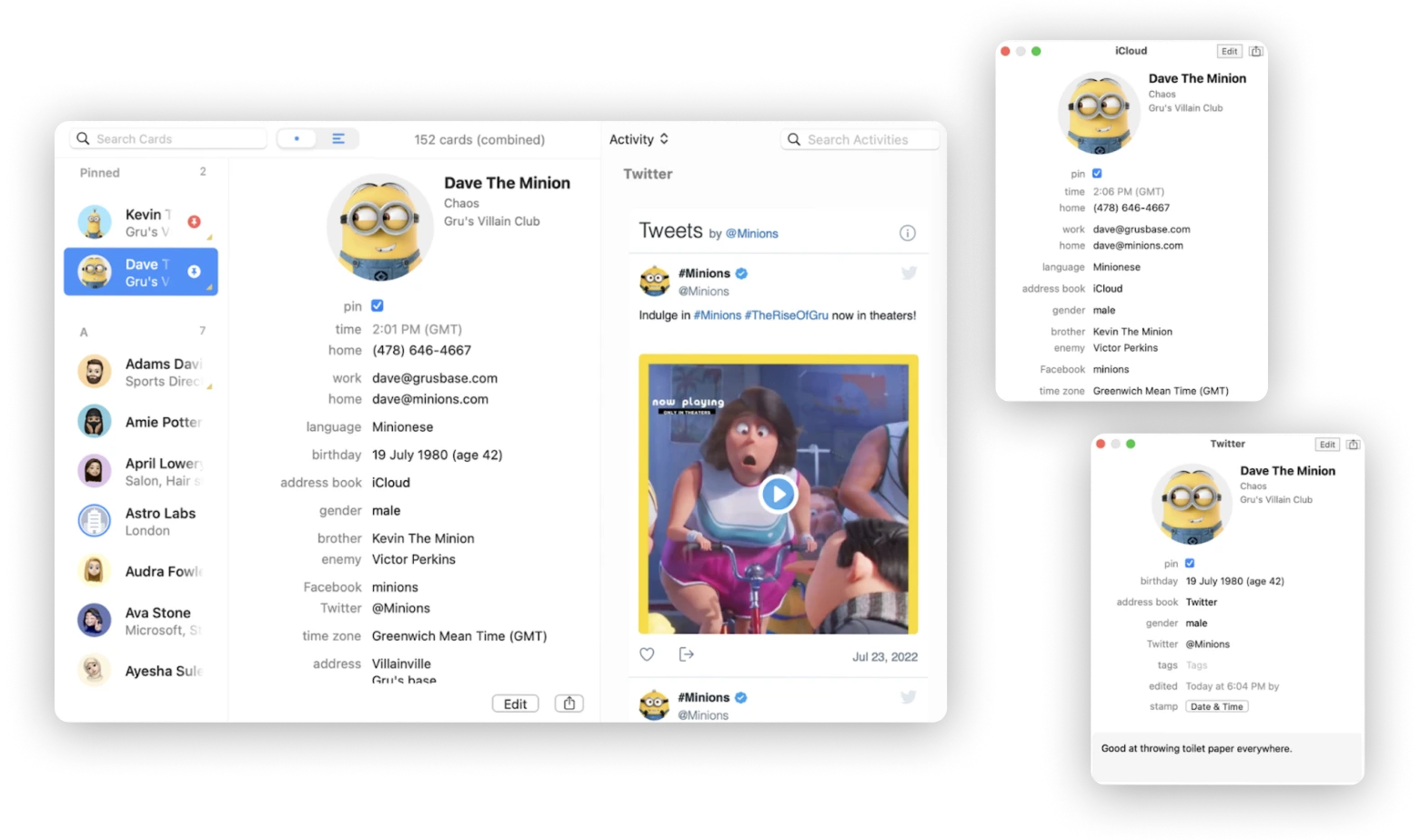 2. Record audio during meetings with Backtrack
It's important to be engaged in meetings, but you don't want to be stressed out. If you're worried about missing something important, install Backtrack, an app that lets you go back in time and retrieve the audio of your past online calls. No kidding, Backtrack actually records audio from your Mac in the background and stores the recordings privately on your Mac.
All these best apps for Mac will make your work and life much easier, from optimizing performance to helping you scratch things off your to-do list. And best of all, all of them are available for seven days at no cost on Setapp. Just try these apps to see how they can improve your day-to-day. If you like the tools, continued access to Setapp is $9.99/month.